Telehealth, and the many branches that fall underneath it, is a reinvention of healthcare. It is a modernized approach that combines convenience with life-saving expertise through the use of telecommunication technology.
Telehealth is a broad healthcare vertical that includes a range of remote health services. The Health Resources and Services Administration (HRSA) of the U.S. Department of Health and Human Services defines telehealth as "the use of electronic information and telecommunications technologies to support and promote long-distance clinical health care, patient and professional health-related education, public health and health administration." The World Health Organization (WHO) says that Telehealth includes "surveillance, health promotion and public health functions" and can be defined as the "use of telecommunications and virtual technology to deliver health care outside of traditional health-care facilities." The Clinical and Translational Research Center (CTRC) defines Telehealth as "a collection of means or methods for enhancing health care, public health, and health education delivery and support using telecommunications technologies."
One of the most important subsets of Telehealth is Telemedicine. These terms are often used interchangeably but while Telehealth can include non-clinical services such as provider training, administrative meetings, and medical education for patients and providers, telemedicine is a more specific area of telehealth referring to clinical healthcare services from a distance (i.e. remotely).
In this guide we will be discussing telehealth as it relates to telemedicine: its history, how it works, its applications for patients and providers, pros and cons, methods of providing it and much more. This guide will serve as a roadmap for what telehealth was, is and what it can become.
Telehealth is where technology meets healthcare. The practice of telehealth leverages digital information and communication technologies and services to provide care and services at a distance. It refers to remote healthcare services, including telemedicine, remote monitoring, provider training, non-clinical training, prescription delivery, health education, provider-provider communication and more. On a hierarchy, or a taxonomy - telehealth is at the top.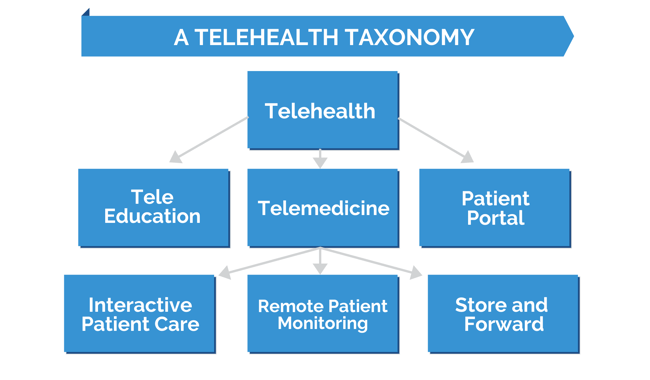 Telemedicine is a subset of Telehealth that focuses on clinical services, i.e. clinical applications of technology. While its most popular use is in patients with chronic conditions that require consistent disease management - diabetes, chronic obstructive pulmonary disease (COPD), CHF, and hypertension, it has also been used for a variety of other illnesses including addiction treatment, maternal health, behavioral health, primary care, surgical care, physical therapy and much more.
Telemedicine also has a variety of ways that it can be applied. These include Remote Patient Monitoring (RPM) services (i.e.biometric monitoring), videoconferencing (or synchronous telemedicine), store and forward, and mobile Health (or mHealth).
Read: The Difference Between Telehealth and Telemedicine,
and Where Remote Patient Monitoring Fits In
History of Telehealth & Telemedicine
---
The birth of telecommunications technology, which provides the ability to transmit data and information over a distance, paved the way for the concept of Telehealth. Early technology like the telegraph, gave soldiers a way to communicate the need for medical supplies, deaths on the battlefield, and give medical consultations during the Civil War. Throughout the 19th century telecommunication technologies, like the phone and radio, were invented and became more widely used.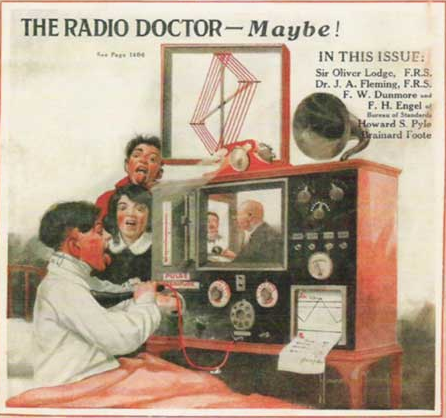 However, it wasn't until the early 20th century that the population realized that these technologies could be used in medicine. One of the earliest depictions we see the concept of telehealth appear is in an April 1924 issue of Radio News Magazine. In this issue we see the use of a television, microphone and monitoring devices to communicate from doctor to patient - named the Radio Doctor (above). Though this was simply a cartoon at the time, we can see aspects of this concept that are now commonplace in the world of telehealth and healthcare delivery today.
A few decades later, more advanced technology found its way into healthcare as hospital systems and university medical centers began putting the concept of telehealth into practice. In 1959, clinicians at the University of Nebraska invented a way to transmit neurological examinations and other patient data to students and staff members across the campus. By the mid 1960s, they were providing health services via telecommunication technology to Norfolk State Hospital, 112 miles away.
The late 1960s brought more research and other projects began in academic settings with the goal of providing healthcare in rural areas and for medical emergencies. Then in the early 1970s, NASA took on a project that would allow them to test the concept of a telehealth program terrestrially for use later in space. The result was a government-funded program called Space Technology Applied to Rural Papago Advanced Health Care, or STARPAHC. NASA, with the help of many other partners, developed methods of using two-way video, audio and data communications for remote diagnosis to provide telemedical care to the Papago American Indian tribe in the remote location of the Tohono O'odham reservation.
The success of NASA's telehealth program led to more grants and government-supported projects over the next decade. These projects explored how telehealth could be used in a variety of settings for a variety of applications: providing medical care in war zones, in remote locations in the Arctic and Antarctic, and to correctional facilities across the country. As technology advanced, so did the research and practice of medical engineering. Thus, a new age of telehealth was born.
Though old projects that experimented with telecommunication in the medical field had set the stage for what we think of as telehealth today, most of those projects are now obsolete. The innovations of high-speed internet and increased access to portable devices, such as laptops and mobile phones, has naturally fueled the growth of telehealth.
With these advancements in technology, the practice of telehealth has transformed from a service used for war, remote locations and medical facility shortages, into a service used for everyone - for the sake of health promotion, prevention and education in a comfortable and convenient way.
As technology advances faster than ever before, the global population is gaining more and more access to the technology and the know-how to make telehealth grow. In fact, nearly 3.5 billion people worldwide have a smartphone in 2020 - giving those people direct access to internet, video chatting and text messaging, features that are found at the highest level of telehealth today.
Health organizations utilizing self-tracking and cloud-based technology, along with multiple methods of delivery, has allowed telehealth to make its mark on nearly every medical practice. From primary care to addiction recovery, from surgical care to diabetes management.
Today, roughly 71% of Healthcare providers use telehealth and telemedicine tools in their practice. And there are hundreds of companies, apps and software programs providing access to telehealth in one form or another.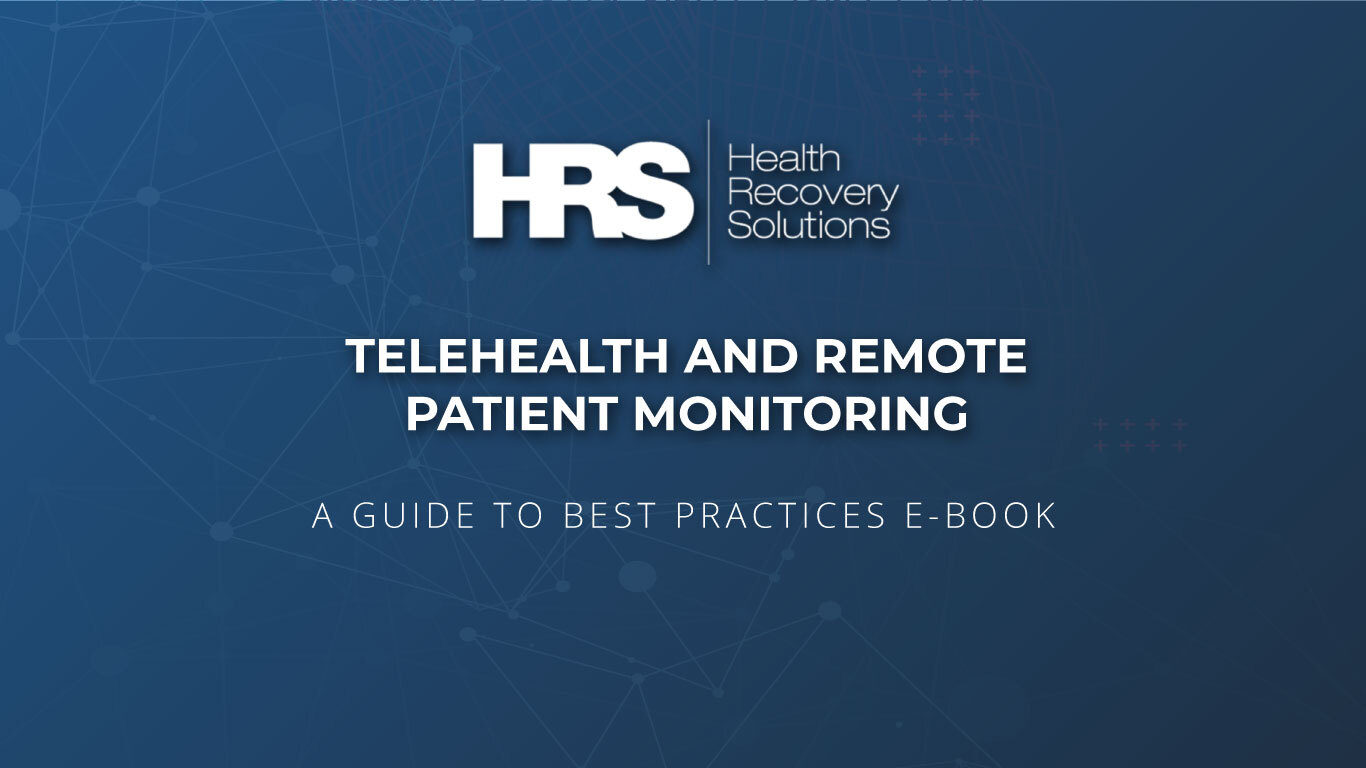 How Does Telehealth Work?
---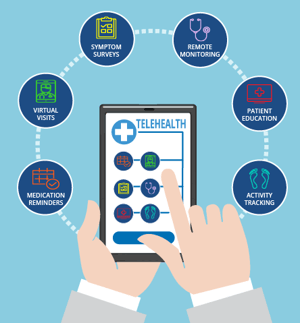 At the most basic level, telehealth is the distribution of health-related services and information via electronic information and telecommunications technologies. It is the use of the internet, phone and computer to provide remote clinical services (diagnosis and monitoring), education, consultations, provider-provider communication, non-clinical training, and much more. There are various ways telehealth is leveraged across the care continuum and telehealth strategies differ across providers based on their location, patient population, and many other factors. Depending on the type of telehealth provided, there are different approaches. For example, provider organizations that utilize a remote patient monitoring strategy often provide the technology needed directly to the patient for them to utilize at home. In this case, the health system would provide a piece of technology (for example, a tablet) with the telehealth software installed and activated, and the patient would engage with that technology. The provider may provide other equipment that may be used to measure vitals from home, such as a blood pressure cuff, pulse oximeter, scale, or thermometer.
In other cases, the patient may already have all the technology needed for the telehealth program to work - the patient may already have a personal phone or tablet that they would download the app or software to directly from the application store.
Telehealth can be delivered by any provider organization - health systems, home health agencies, physician groups, hospice and palliative organizations, federally qualified health centers (FGHC) and senior living facility, among others, have all seen success with telehealth programs.
In many cases, a telehealth program starts at the health system level, where then the program is adopted by the rest of the system - affiliated hospitals, home health, hospice, physician groups, etc. In other cases, the hospital, home health agency, hospice care facility or physician practice may inquire to a telehealth technology provider individually, and for a variety of reasons, given they have the budget and resources to support the program. The health system may inquire to many vendors to ensure they find the one that fits their strategy and needs.

The telehealth vendor would provide the tools, software and resources needed to begin the telehealth program. Additionally, the vendor will help the telehealth program get up and running by providing training, education and tactics to help the providers achieve maximum utilization of the program both internally, and externally with their patients. It is important that providers and patients understand why the telehealth program is taking place. Educating patients on how to use the technology and why it is beneficial is key to their long term engagement. Equally essential is educating staff on how to fully operationalize the telehealth program.
Once the telehealth program is up and running, the health system will constantly want to measure performance against their goals, review patient and provider satisfaction and adjust where needed. The vendor's Account Management team works with the telehealthprogram's leaders and users throughout the tenure of the program to ensure the program is successful by providing ongoing training and education.
Telehealth is desirable because it helps reduce readmission and emergency department utilization, while also decreasing overall cost of care and improving clinician lives. Telehealth helps improve the lives and health outcomes of patients, and improves accessibility to health services for a variety of patient populations.
There are many benefits that come from telehealth as a whole. Telehealth provides a more convenient, accessible way to provide healthcare and reduces costs associated with regular doctor visits and readmissions
Pros of Telehealth
Secure Patient Portals
With the adoption of telehealth came the adoption of secure, customizable data centers for patients and providers. These "patient portals" are a hub of patient vitals, progress, goals, information and education that the patient and provider have direct access to at all times.


Patient portals foster stronger relationships between patients and providers. Providers can have a constant view of the past and current health of the patient and changes from day-to-day; and patients have resources to learn about and manage their condition/disease at their fingertips. Combined, these things lead to better overall outcomes for both patients and providers
Provider/Patient & Provider/Provider Communication, Health Promotion & Education
As discussed earlier in this guide, one of the earliest applications for telehealth was for communities that did not have access to adequate medical care, especially in rural areas. Telehealth allows medical professionals to bridge this gap and not only provide healthcare to the people that need it when they need it, but also give them access to educational materials to help communities be more health conscious so they ultimately won't need to seek in-person medical care as much, if at all.


The pros of telehealth are not just found in the provider/patient relationship but also in the provider/provider relationship. As telecommunication technology found its way into healthcare, the ability for healthcare providers to communicate with other healthcare providers drastically improved. From instant messaging to phone calls to video conferencing, communication between healthcare professionals is faster, more secure and more accessible than ever before.


Telehealth technology allows health professionals to expand and spread their knowledge to other health professionals. Primary care doctors are able to gain insight from specialists who could be anywhere in the world. Health professionals across all fields can educate and inform health professionals in underdeveloped countries who may not have access to the required tools or education.

Cost Savings: One of the biggest and most obvious benefits of telehealth.
Patients who actively use telehealth reduce costs associated with visits to their hospital or physician.

This includes cost savings from travel, readmissions due to existing illness/issues, and cost of having to miss work due to hospital visits
A recent study showed that Synchronous telemedicine saved patients anywhere from $19 - $1500 per visit based on where the patient was seeking care (retail health, physician office, urgent care or emergency department)

Healthcare systems are also experiencing rapid cost savings as well.
Increasing Patient Engagement & Satisfaction
Any telehealth program, no matter the organization's size, staffing structure, or patient demographics, is meant to be a system that will engage patients in their own care, empower them to improve lifestyle habits, and take more control in managing their condition(s).
A fundamental aspect of telehealth is to engage patients in their own care, empower them to improve lifestyle habits, and take more control in managing their condition(s).
Telehealth software allows for providers to give daily reminders to take vitals, answer symptom-related questions and manage medication, while also presenting educational content on conditions through videos and teach-back quizzes.
Patients actively using telehealth gain access to information and education that helps them better understand and manage their health.
Health promotion
As discussed earlier in this guide, one of the earliest applications for telehealth was for communities that did not have access to adequate medical care, especially in rural areas. Telehealth allows medical professionals to bridge this gap and not only provide healthcare to the people that need it when they need it, but also give them access to educational materials to help communities be more health conscious so they ultimately won't need to seek in-person medical care as much, if at all.
Cons of telehealth
State by state regulations
One of the biggest cons of telehealth today is the varying rules and regulations that govern how telehealth can work on a state by state basis.


While this is not a "con" that is caused by telehealth, it is a barrier of entry for those looking to start a telehealth program and provide care to patients across state borders.
Telehealth is still very new and there is a lot of "catching up" to do for the laws and regulations of healthcare practices. Thus, there still exists many grey areas without updated regulations.
For example: how will licensing work when one clinician is providing care to multiple different communities in various states? Will they need one license for each place they provide care or one overall license for practicing telehealth?
Reimbursement
Reimbursements can get tricky when it comes to medicare. Today, Medicare can reimburse for telehealth services, but only if the patient lives in an area where specialists are in shortage.
Privacy/Security
Whenever there is the use of the "cloud" to transmit data from one party to another, there is always a concern with security. With both patients and providers communicating with telecommunication devices (phones, tablets, computers, etc.), there is risk of data breaches. The data that is being transmitted is of utmost importance - it is not only who they are (Social Security Number, name, address, etc.) but includes their vitals and other information that could be dangerous if intercepted.
Telemedicine is a type of telehealth. It is defined as "practicing medicine at a distance" - healthcare providers examining, observing, and treating patients is telemedicine. A virtual visit, for example, falls within the realm of telemedicine, as does medication management, specialist consultation, and chronic disease management.
Just as there are many applications for telemedicine - chronic illnesses, physical therapy, primary care, etc., there are many methods for which telemedicine can be delivered. Below, are the 4 most adapted methods in telemedicine.
Live Video / Live Video Conferencing / Synchronous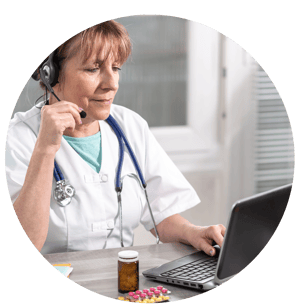 Synchronous telemedicine (i.e., real-time telemedicine) is a virtual alternative to an in-person doctor's visit: think FaceTime or Video chat between a patient and their provider or caregiver.
Real-time telemedicine video visits improve access to quality care by reducing the barrier of transportation and time, facilitating communication between the provider and patient from anywhere. By diverting patients away from costly care settings, this format of patient-provider communication achieves significant cost savings while also maintaining a high standard of care.
Some real-life applications/benefits of synchronous telemedicine being used are ensuring that COPD patients are using inhalers properly; inspection of wounds or incision sites post-op to check for symptoms of infection; as well as providing "face-to-face" emotional support for patients with high anxiety or depression.
Store and Forward
The store and forward method is the collection of clinical health information (store) to then be sent electronically to another site (forward) to be analyzed at a later time. This clinical data includes but is not limited to demographic information, test results from a lab, medical history, or image, video, and sound files.
The patient or clinician providing the data would typically upload the information to a secure portal or website and would make it readily available for the other party. The main benefit of this method is that the patient and provider do not need to be available at the same time as they would need to be in synchronous telemedicine. This method allows multiple parties (specialists, other clinicians) to be involved in providing the highest quality of care to the patient.
Some real-time applications of the store-and forward method being used is in teleradiology and teledermatology. Patients are able to provide x-rays or other imagery - taken in a lab or testing site - to clinicians or specialists in any capacity, even if they are halfway across the world. The files can be analyzed and a diagnosis or special instructions can be given back to the patient via the store and forward method - in the form of a written document, or recorded video or voice files.
Remote Patient Monitoring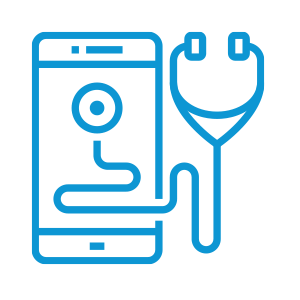 Remote patient monitoring (RPM) is a method that uses technologies that allow a provider to monitor a patient remotely. RPM can be used to monitor and measure a patient's vital signs - heart rate, O2 saturation, blood pressure, etc.
Real-time applications of the remote patient monitoring method are mostly found in chronic diseases that require constant monitoring - these include diabetes, chronic obstructive pulmonary disease (COPD), CHF, and high blood pressure. Alerts are set up to inform the medical professional if the patient is in trouble based on vital signs and biometrics. Often, when an alert is triggered, the medical professional is able to use synchronous telemedicine to observe, diagnose and provide next steps to fix the issue - whether that be to call 911 or have the patient fix their oxygen levels.
Mobile Health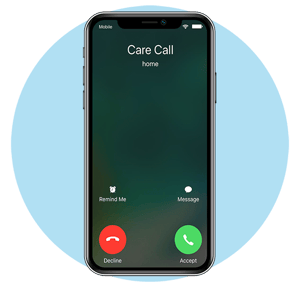 Mobile health, like telehealth, is a broader term that encompasses the application of telemedicine through mobile devices, like cellphones, smart watches, tablets, or personal digital assistants (PDAs).
Mobile health may incorporate all of the methods above - a patient can have an on-the-go video conference with their physician on their smartphone; a patient can post their vital measurements to a portal that is accessed through an app on their iPad; and a physician can perform and analyze an EKG taken via a smartwatch. But mobile health can also include applications that don't involve a medical professional. Those with smartphones may look up symptoms of an infected cut; a person working out may check their heart rate on their smartwatch to determine the effectiveness of their workout or use an app to track the effectiveness of their sleep on a nightly basis.
These are all examples of mobile health and telehealth and represent how far the medical field has come in the last decade. If you want to lose weight, it may no longer require going to a nutritionist, a clinician and a therapist - you can download an app and get a customized workout and diet plan based on your demographic data and vitals.
We have already discussed the methods of how telehealth is practiced and touched on some real life applications of those methods. But let's dive deeper into exactly what kind of patients use telehealth, how they use it, and a few "non-traditional" uses of telehealth that will be at the forefront of the industry taking off.
Chronic Diseases / Primary Care - Telenursing
As we discussed earlier in this guide, telehealth's most popular use has been in patients with chronic diseases such as chronic obstructive pulmonary disease (COPD), congestive heart failure (CHF), and high blood pressure
Chronic diseases like these are often accompanied by a variety of symptoms, including dyspnea, orthopnea, exercise intolerance, fatigue, and muscle weakness. The multivariate nature of these diseases calls for a multidisciplinary management approach, including physical therapy, nursing, and physician follow up. Telehealth is well suited for this type of approach, as it facilitates communication not only between patients and providers, but also between providers from various health disciplines.
With telehealth programs, nurses can conduct weekly phone calls with the patients to review disease status, discuss symptoms, and address diet, lifestyle, and medication adherence. Physical therapists can video conference with patients on a weekly basis to discuss the training level of physical activity, establish weekly rehab goals, and provide motivation for exercise participation. Additionally, medical professionals can use things like pulse oximeters or portable electrocardiographs, which allow for real time monitoring of cardiorespiratory biometrics.
Surgical Care
Telehealth can be applied to surgical care in a variety of ways. Healthcare providers can use telehealth to conduct pre- and post-operative surgical consultations, administer remote monitoring, and provide surgical education. A December 2018 systematic review focused on these applications of telehealth and explored the broad use of telemedicine in surgical care.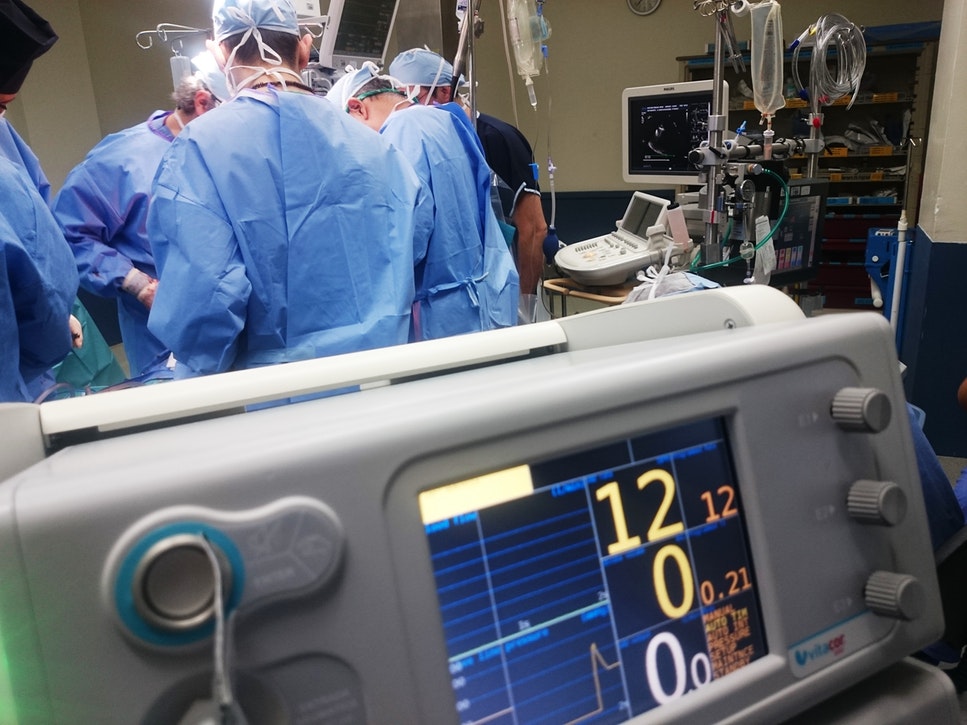 The modes of telehealth technology that can be used in surgical care (that are also seen in the studies) primarily consisted of teleconferencing, mobile applications, digital images, and text messaging. Telehealth can be used for a variety of interventions, including, preoperative assessment, diagnosis, consultation with other surgical departments, post-operative wound assessment, or as a replacement for in-person follow-up (i.e. synchronous telemedicine).
Addiction Treatment and Recovery - Telerehabilitation
In contrast to other fields in healthcare, substance abuse disorder treatment lacks a significant technology component. Telehealth technologies have yet to be implemented on a universal scale in addiction recovery programs. While studies show that telehealth has the potential to transform and improve the way we rehabilitate substance abuse patients and can help to reduce the number of people impacted by the opioid crisis in the United States, there is a severe underutilization of these technologies in substance abuse treatment and rehabilitation centers.
According to a 2018 research article, adoption of telehealth technologies in substance abuse care was found to be less than 1%. This study also showed a large gap between patient interest in using telehealth for treatment and recovery and the substance abuse treatment centers that were actually using it.
Telehealth can be leveraged in addiction treatment and recovery in a variety of ways including computerized screening and assessment tools, text appointment reminders and motivational messages, video and telephone-based therapy, support chats, and other helpful treatments and tools. There is patient interest in the technology and there is a significant need for it, especially in rural areas that tend to have a higher average opioid use. Telehealth programs allow for patients to gain access to treatment options, improve the quality and frequency of care, as well as giving them constant reminders and tools to make progress and stay on track even after leaving a doctor's office or treatment center.
Read more about the The Role of Telemedicine in Addiction Treatment and Recovery
Mental Health / Telepsychiatry / Telebehavioral Therapy
The prevalence of mental illness is increasing worldwide. In America, 18% of people have some type of mental health condition, and this number seems to be on the rise. Telehealth has been seen to work for those battling mental illnesses, whether it be from stressful periods in life - like college students, or from patients with chronic pain - in which depression can be found in over 20% of cases.
Access to behavioral therapy for the chronic pain population is limited by a multitude of factors, including stigma, cost, geography, and system-wide barriers. Additionally, patients with chronic pain who would likely benefit from behavioral therapy are often not identified and do not actively seek treatment. Of those who are referred to therapy, ⅔ of patients fail to complete their prescribed treatment programs.
Telehealth provides a solution to this problem. Telehealth-delivered behavioral therapy (telebehavioral therapy) for chronic pain removes many of the barriers that limit access to care for this patient population. It provides direct access to social workers who can provide care via phone or videoconferencing to the patient in the comfort of their own home.
Check out this August 2017 study of a telebehavioral health program
used for patients with chronic pain.
Pharmacy Services / Telepharmacy
Healthcare is becoming increasingly dependent on telehealth technology to remotely monitor patients. Medical centers are frequently in search of remote patient monitoring systems that will improve patient outcomes and bolster the efficiency of healthcare delivery. Additionally, healthcare practitioners are constantly pursuing innovative models of patient care that will allow them to maximize the benefits of telehealth.
A particularly unique application of telehealth is in the pharmaceutical industry. Specifically, clinical pharmacy specialists using telecommunications to deliver clinical pharmacy services to patients living in rural areas or areas where there are a limited number of full time pharmacists available.
Remotely based pharmacists can provide real-time medication support via video conferencing, telephone, and secure messaging directly to a patient or to a medical team that is located at the patient site. The "telepharmacy" model allows for enhanced chronic disease management and comprehensive care to patients when they need it most.
Read more about Using Telehealth to Deliver Clinical Pharmacy Services
Telehealth in the Age of COVID-19
---
As we have seen many times before, it may often take a crisis to ignite innovation in order to solve a problem. Though telehealth has been used in healthcare for a few decades now, it is more important than ever with the current global pandemic: COVID-19 or the novel coronavirus.
The importance of telehealth is two-fold given the current global pandemic: 1) telehealth programs allow patients to receive care for many types of illnesses at home, preventing them from going to healthcare facilities where they may be exposed to the virus and 2) if the patient believes they have the virus, they are able to receive consultations from specialists from anywhere - again, preventing them from having to go to a healthcare facility where they could risk spreading the virus to others.
Focusing on the importance of item one from above - many patients who use telehealth use it because they have high-risk chronic diseases. These people represent the most vulnerable population to COVID-19 and thus it is vital for them to be able to receive care from a distance.