In recent years, the healthcare industry has been undergoing a paradigm shift from volume-based to value-based care. With this shift, there is a clear call for innovative solutions that improve access to healthcare across all patient populations—solutions where transportation, provider shortages, geography, and finances are not a hindrance to the delivery of quality and efficient health care.
Virtual care solutions open the door for patients who otherwise would have limited or no access to care due to financial constraints or geographical hurdles, who need to or prefer to stay at home and "age in place," and who benefit from on-demand and real-time connection to their care team for monitoring and virtual visits. For patients with chronic conditions, ranging from hospice and palliative care to behavioral health and beyond, virtual care is the solution to delivering efficient quality care across an array of disease conditions.
Currently, in the United States, 6 in 10 adults have a chronic disease, and 4 in 10 adults have two or more chronic conditions. Chronic diseases are the leading cause of death and disability in the United States and the primary driver of the nations $3.3 trillion in annual health care costs. Of all hospital admissions in the US, 81% are attributed to chronic disease.
As the national population ages, these staggering statistics will steadily increase alongside concurrent population growth. The demands of this growing patient population will strain the already insufficient supply of adequate care. Virtual care solutions can bridge this gap by providing accessible, on-demand, quality care to patients at home.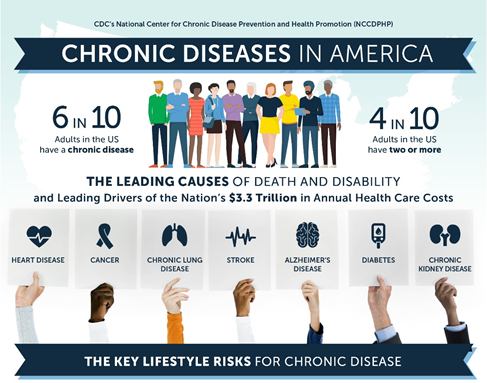 Source: CDC National Center for Chronic Disease Prevention and Promotion
Changing the Face of Healthcare with HRS Telehealth
Health Recovery Solutions (HRS) offers a comprehensive suite of virtual care solutions that address many of the concerns outlined above. HRS enables providers to actively monitor their patients' health outside of the hospital or clinic setting and facilitates behavior change by empowering patients to take an active role in their health and care management. HRS not only engages the patient and provider but also establishes communication with the patients' caregiver. With tablet offerings, mobile applications (for patient, provider, and caregiver), advanced biometric Bluetooth devices, and more, HRS is built to meet the unique needs of every patient and provider.
HRS telehealth is a nimble technology that adjusts to fit the unique needs of both patient and provider. Users can follow up between appointments via virtual visits, monitor biometric data to avoid readmission and ED utilization, promote condition-specific education, and manage medications with HRS' 4-tiered approach to patient care.
On the provider side, workflow is optimized, access is improved, and costs are reduced by replacing in person visits with virtual ones. Partnering with HRS allowed Frederick Memorial Hospital to decrease 30-day readmissions by 84% and emergency department utilization by 52%, resulting in $2.7 million dollars in cost avoidance over a six-month period. The patients enrolled in the chronic care management telehealth program had one of several chronic conditions including congestive heart failure (CHF), chronic obstructive pulmonary disease (COPD), diabetes, and hypertension.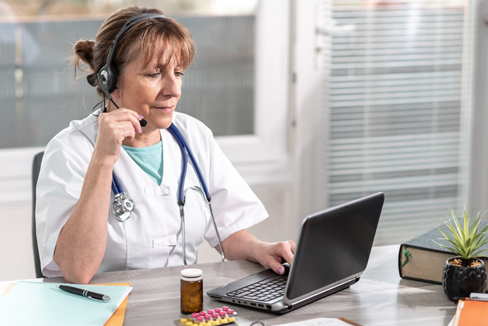 Telehealth Practice Supported in the Literature - Notable Examples
Many studies support the use of virtual care solutions, especially as the practice becomes more commonplace. A recent study in Cincinnati, Ohio investigated the impact of virtual care solutions on hospital readmission rates for 143 heart failure patients with a median age of 81. The study found that hospital readmission rates were reduced by 29% when patients were provided with telemanagement interventions like biometric monitoring, video visits, and education. Researchers concluded that implementing the telehealth technology enhanced communication and timeliness of care delivery.
A 2019 study out of University of Mississippi Medical Center researched the efficacy of telehealth interventions for diabetic patients in rural areas. Researchers examined the effects of telehealth on diabetes outcomes and found that there was a significant difference in hemoglobin A1C (hbA1c) levels from baseline to 12-months (the study period). Additionally, they found a significant difference between baseline and 12-month measures for total cholesterol, low density lipoproteins, high density lipoproteins (HDL), triglyceride, creatine clearance, glomerular filtration rate, and potassium. This indicates the potential of remote monitoring to empower patients to check important health determinants on their own, ultimately resulting in improved health outcomes.
Health Recovery Solutions' Comprehensive Telehealth Solutions
HRS' approach to virtual care offers telehealth solutions for patients across the care continuum. For patients recently discharged from the hospital who are at risk of readmission, patients who require intermittent follow-up through virtual visits, or patients who seek peace of mind through a connected care platform, HRS offers solutions for all.
Read below to learn more about our innovative product suite and visit our solutions page for more information about our products, our clinician portal (ClinicianConnect™), and our unique offerings to improve provider workflow and deliver care to as many patients as possible.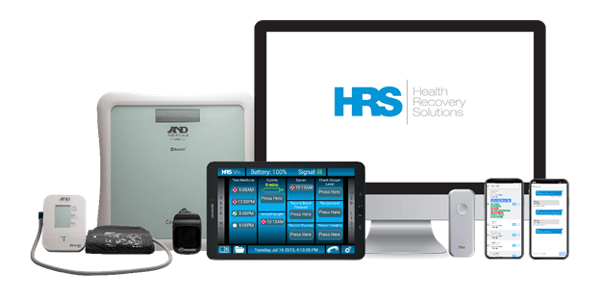 What is PatientConnect™ Complete?
Patient profile: high-risk chronic disease patients recently discharged from the hospital or at risk of readmission (regardless of their last hospital admission). These patients require comprehensive monitoring tools to support ongoing management of their disease(s).
HRS was founded on PatientConnect™ Complete, a tablet and advanced biometric Bluetooth offering. With Bluetooth paired biometric tracking devices and an HRS tablet, patients can record their vitals at home while providers monitor from afar. Providers can collect biometric data in real-time and respond to potential issues as soon as they arise, ultimately avoiding hospital readmissions and unnecessary emergency department and clinical visits. PatientConnect™ Complete empowers providers to take a proactive approach in ensuring any necessary interventions are carried out before severe problems arise.
Provide educational videos and teach back quizzes, medication management, wound imaging, symptom surveys, questionnaires, and more with this offering.
All patients on PatientConnect™ Complete are monitored in ClinicianConnect™, a cloud-based platform available on the providers desktop or personal device. Visit our solutions page to learn more about ClinicianConnect™ and CareConnect™, our clinical call center.
What is PatientConnect™ Mobile?
Patient profile: any patient with an Android or iOS device who will benefit from on-demand communication, education tools, medication management, and more. This offering excels for younger populations, as a care transition solution and a lower cost option for patients who own a mobile device. PatientConnect Mobile provides patients the same comfort and access to care as HRS' other offerings.
HRS' Bring Your Own Device (BYOD) solution, PatientConnect™ Mobile, enables patients to access the HRS patient engagement software from their personal smart device. Available on any iOS and Android device, PatientConnectTM Mobile empowers patients to remain active in their health with condition-specific education, symptom surveys, and provider communication tools.
Utilize PatientConnectTM Mobile across all patient populations to increase access and maintain unsevered connections between patient, provider, and caregiver.
All patients on PatientConnect™ Mobile are monitored in ClinicianConnect™, HRS' central web portal for providers. Visit our solutions page to learn more about ClinicianConnect™.
What is PatientConnect™ Voice?
Patient profile: any patient who would benefit from automated calling reminders and symptom surveys. This offering excels as both a stand-alone feature and an augment to other HRS solutions.
PatientConnectTM Voice offers interactive voice response (IVR) calling directly to the patient's phone. Organizations can leverage PatientConnectTM Voice to deliver reminders to patients across the healthcare spectrum, whether it be for upcoming physician visits, medication reminders, medication refills, and more. Organizations can utilize this solution to deliver customized messages or reminders, at their decided cadence.
Increase patient engagement and improve adherence with custom reminders and symptom questions through automated calling.
All patients on PatientConnect™ Voice are monitored in ClinicianConnect™, HRS' central web portal for providers. Visit our solutions page to learn more about ClinicianConnect™.
What is PatientConnect™ Core?
Patient profile: any patient who would benefit from medication reminders and survey questionnaires but does not need extra biometric tracking peripherals in their daily care plan. This offering excels in hospice and palliative care, for patients who do not require Bluetooth biometric readings or who have access to their own biometric peripherals and are capable of manual entry.
For palliative, hospice, behavioral health patients, and more, PatientConnect™ Core delivers an on-demand connection between the patient and provider.
Provide educational materials, communicate with patients, and manage medications with HRS' tablet-only offering.
All patients on PatientConnect™ Core are monitored in ClinicianConnect™, HRS' central web portal for providers. Visit our solutions page, to learn more about ClinicianConnect™ and about PatientDirect, HRS' shipping and logistics service.
Resources:
(2019). Chronic Diseases in America | CDC. Retrieved from https://www.cdc.gov/chronicdisease/resources/infographic/chronic-diseases.htm
Dadosky, A., Overbeck, H., Barbetta, L., Bertke, K., Corl, M., Daly, K., … Menon, S. (2018). Telemanagement of Heart Failure Patients Across the Post-Acute Care Continuum. Telemedicine and e-Health, 24(5), 360–366. doi: 10.1089/tmj.2017.0058
Davis, T. C., Hoover, K. W., Keller, S., & Replogle, W. H. (2019). Mississippi Diabetes Telehealth Network: A Collaborative Approach to Chronic Care Management. Telemedicine and e-Health. doi: 10.1089/tmj.2018.0334
The Growing Crisis of Chronic Disease in the United States. Retrieved from https://www.fightchronicdisease.org/sites/default/files/docs/GrowingCrisisofChronicDiseaseintheUSfactsheet_81009.pdf
Wack, R. (2019, July). Telehealth Promises to Transform U.S. Health Care. Retrieved from https://www.bbcmag.com/broadband-applications/telehealth-promises-to-transform-us-health-care