REMOTE PATIENT MONITORING CASE STUDY
Southcoast Health Case Study
How Southcoast Health Reduced In-Home Care Costs and Hospital Readmissions with Virtual Visits and Remote Patient Monitoring
Beginning in 2002, the Southcoast VNA became an early adopter of telehealth and remote patient monitoring (RPM), launching a small program aimed at reducing hospital readmission for high-risk patients. In 2017, Southcoast partnered with Health Recovery Solutions (HRS), the KLAS-leader in remote patient monitoring, to expand their targeted patient populations and program objectives.

Since partnering with Health Recovery Solutions (HRS) in 2017, Southcoast VNA has focused on expanding its RPM partnerships across the health system and developing new partnerships within their ACO to meet the needs of their patients. Throughout the expansion, Southcoast has shifted the goals of its RPM program to address growing challenges in the healthcare industry—including staff retention and value-based care.
The COVID-19 pandemic exposed to the masses what many in the healthcare industry had known and been experiencing for several years—healthcare organizations were understaff and providers were overworked.

Southcoast VNA aimed to address the nursing shortage—reducing clinician workload—without sacrificing care quality and safety. In 2021, launched a Virtual Visit Program, leveraging video conferencing capabilities available through HRS' remote patient monitoring platform.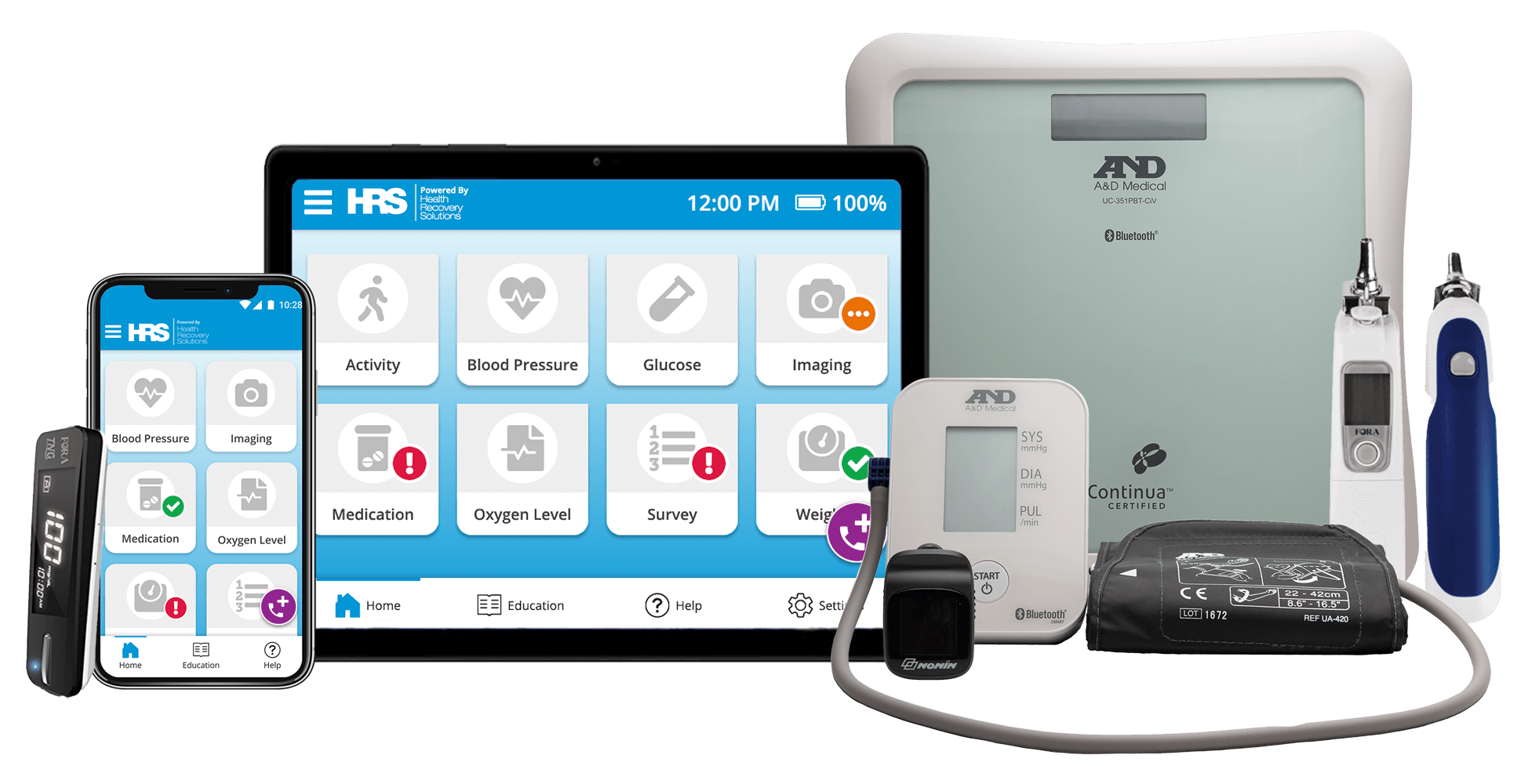 Get Started with Remote Patient Monitoring
Connect with an HRS Digital Health Advocate to learn more about virtual visits and remote patient monitoring options for your organization.
Get Your Free Demo
The innovative care model replaces at least one in-person visit a week with a virtual visit, offering a critical patient touchpoint while reducing critical travel time for Southcoast's care team. The additional patient touchpoint has significantly improved physician-patient trust and communication, while decreasing care costs and staff workload by avoiding unnecessary in-home visits and potential exacerbations.

In addition, the multi-party functionality of virtual visits allows Southcoast to incorporate patients' primary care physicians in virtual visits to meet the face-to-face CMS home health requirement.
Our partnership with HRS and incorporating video visits into our daily routine has allowed us to provide care outside of the patients home as well as improve outcomes in term of hospitalization and cost savings. Having the tools to connect with a patient daily and monitor their vital signs closely has allowed many of our patients to remain at home with an improved quality of life.

Jessica Magalhaes
Southcoast Visiting Nurse Association
Patients Enrolled in the Virtual Visit Model
30-day Rehospitalization Rate
Over 16 months, Southcoast's Virtual Visit Program saved an average of four in-home nursing visits per episode of care, generating over $500,000 in cost savings to the organization. The added support of remote patient monitoring and timely clinical interventions also resulted in an average 30-day rehospitalization rate of 7% for the more than 2,600 patients enrolled in the Virtual Visit Program.

In the coming months, Southcoast looks to develop new partnerships with health plans and providers to treat patients in need of the round-the-clock care offered by their RPM team.