Ninety percent of U.S. healthcare expenses are related to chronic conditions. Through remote patient monitoring (RPM), healthcare organizations can reduce costs while improving patient outcomes.
What is Chronic Care Management?
The Centers for Medicare and Medicaid Services (CMS) defines chronic care management as "care coordination services done outside of the regular office visit for patients with two or more chronic conditions expected to last at least 12 months or until the death of the patient, and that place the patient at significant risk of death, acute exacerbation/decompensation, or functional decline."
In the U.S. today, around 117 million adults have a chronic health condition—from diabetes to depression to congestive heart failure—and one in four adults have two or more chronic diseases. Most chronic conditions last for years, restrict the activities of daily life, and aren't easily cured. As a result, long-term, coordinated healthcare is required to properly manage them.
Through chronic care management (CCM), patients receive the services they need outside of a physician office or hospital setting. For healthcare organizations, this can be an efficient way to elevate care for patients while significantly lowering costs. CCM often refers to the services provided to beneficiaries of Medicare who have more than one chronic condition. These services include face-to-face visits—virtually or in person—as well as innovative technology that allows patients to monitor and take control of their own health in their own homes.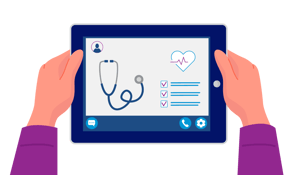 ---
Chronic Care Management
Chronic care management (CCM) helps patients manage chronic conditions through long-term, coordinated healthcare. One in four U.S. adults struggle with two or more chronic diseases that require CCM.
Goals and Challenges of Chronic Care Management
The biggest challenge of CCM is the need to monitor each patient's chronic conditions on an ongoing basis. Without consistent, coordinated care, the patient's health can deteriorate quickly, leading to ER visits and hospital readmissions—and increased costs for both the patient and provider. According to the Centers for Disease Control and Prevention, 90% of our nation's $4.1 trillion in healthcare expenditures are for people with chronic and mental health conditions.
Clearly, it's in the interest of both patients and healthcare organizations to find more cost-effective ways to manage chronic care. The right care management plan, coupled with advanced technology like remote patient monitoring, can:
Dramatically lower the cost of care
Reduce visits to the physician's office and hospital
Encourage patients to take greater control of their own health
Offer direct, 24-hour contact with an integrated CCM team
Increase convenience, comfort, and quality of life for patients
Allow the care team to stay informed about the patient's medical status
What are the Most Common Diseases Related to Chronic Care Management?
Some of the most common diseases in chronic care management include Congestive Heart Failure (CHF), Chronic Obstructive Pulmonary Disease (COPD), Diabetes, and Hypertension (High Blood Pressure). In this section, we'll cover each of these individually and discuss how digital health solutions like remote patient monitoring and telehealth help patients manage these conditions.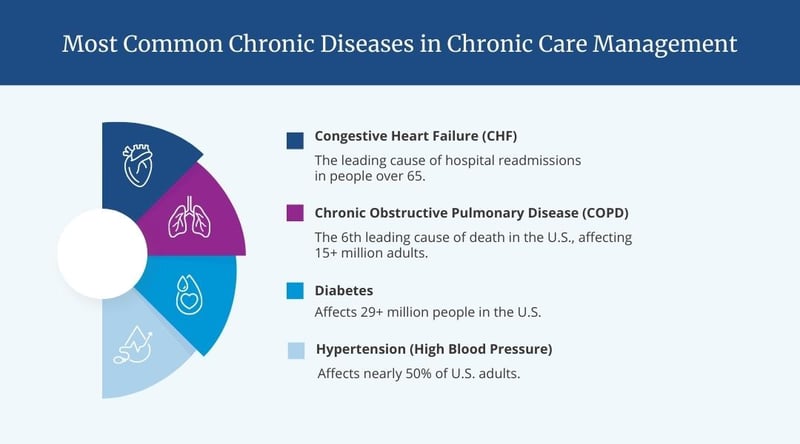 Congestive heart failure (CHF)
For people over 65 in the U.S., CHF remains the leading cause of hospital admission and readmission. CHF has the highest 30-day rehospitalization rate among medical and surgical conditions, accounting for 26.9% of the total readmission rate. In addition, 1 in 4 heart failure patients is reported to be re-admitted within 30 days of discharge. By reducing readmissions in this single area, organizations could substantially lower the cost of care.
Studies show that telehealth and RPM are proven ways to reduce CHF rehospitalization and mortality. RPM educates patients on CHF causes, symptoms, and treatments, giving them a better understanding of their condition. It also allows patients who underwent treatment to access quality care from their homes, since physicians can easily monitor vital signs for abnormal readings that require intervention.
RPM can not only prevent readmissions—it can create a comfortable environment for patients that helps them comply with treatment protocols without disrupting daily routines. This can lead to higher patient satisfaction scores.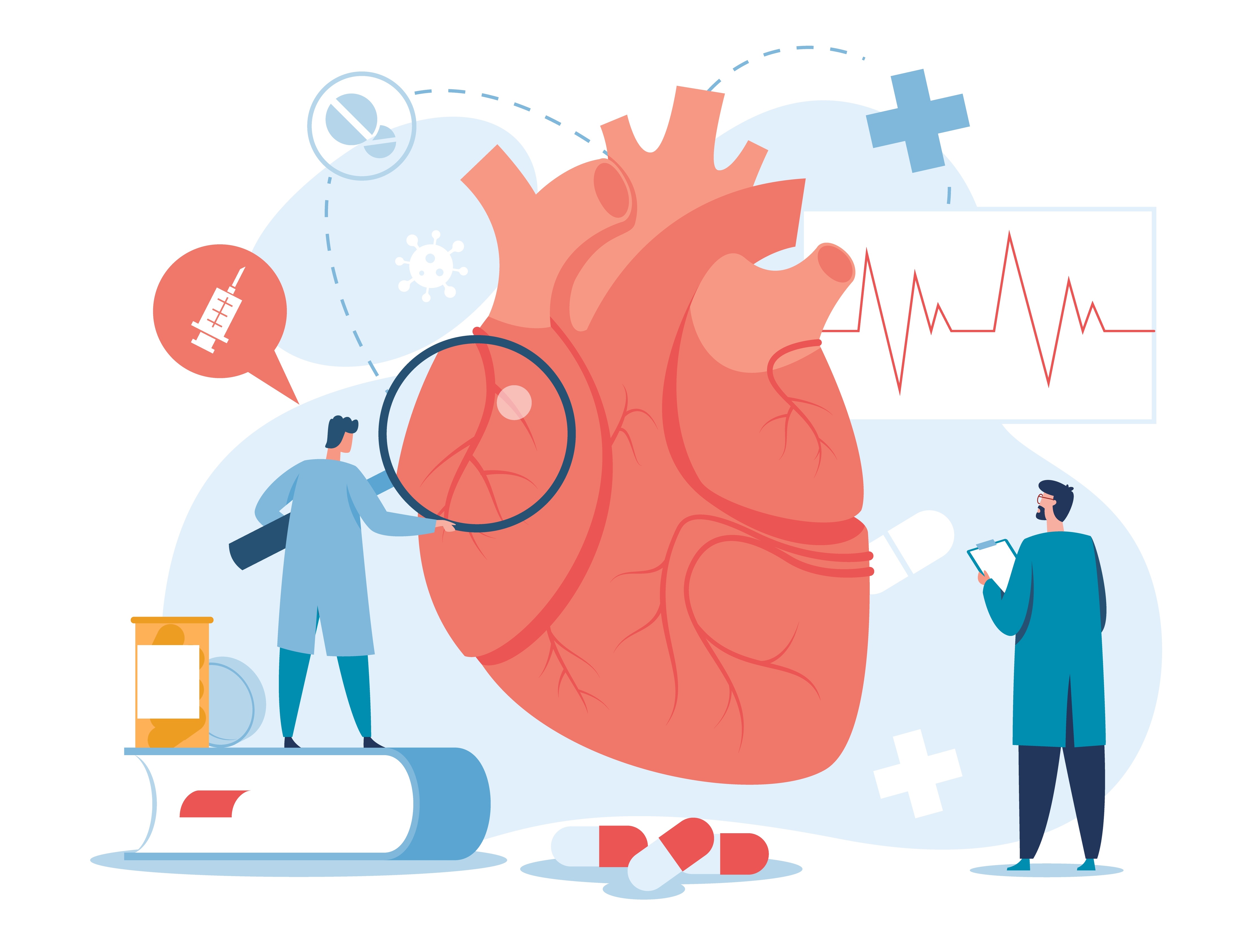 Reducing CHF Hospital Readmission Rates with Remote Monitoring
In this blog post, we discuss the benefits of RPM for CHF patients, how patients and healthcare providers can benefit from this technology, and how HRS can help.
Read this post on the HRS blog
Chronic obstructive pulmonary disease (COPD)
While CHF is related to the heart, COPD is a progressive disease of the lungs that makes it hard to breathe. COPD affects more than 15 million U.S. adults, and many more don't know they have it. It's also the sixth-leading cause of death in the U.S., according to the Centers for Disease Control and Prevention (CDC). Most people who have COPD suffer from both emphysema and chronic bronchitis, but the seriousness of each condition varies from person to person.
Acute exacerbations of chronic obstructive pulmonary disease (AECOPD) are a leading cause of hospitalizations in the U.S. and the major driver of COPD costs. However, one study found that RPM decreased the frequency of all-cause hospitalizations for participating COPD patients by 65% and decreased emergency room visits by 44.3%. In addition, most patients adhered to RPM program requirements 90% of the time or more during the 12-month post-initiation period. 
As with CHF, RPM be a valuable tool in lowering the costs of care through education, patient monitoring, and timely caregiver intervention—all while improving the quality of life for patients with COPD.
For a real-life example, watch this 90-second patient success story about George, a COPD patient, who used telehealth and RPM to help manage his condition from the comfort of home.
Diabetes
An ever-growing problem, an estimated 29 million people in the U.S. are living with a diabetes diagnosis and an additional 8.5 million have not yet been diagnosed. Combined, this amounts to 11% of the U.S. population. When not properly controlled, diabetes can lead to a broad range of medical complications, which in turn can create large financial impacts. According to estimates, diabetes and its related comorbidities account for $245 billion in total annual health expenditures in the U.S.
Proper management of diabetes is absolutely crucial to improve patient health while curbing healthcare spending. RPM allows patients and caregivers to get a detailed, ongoing picture of a patient's medical status. There are nearly 1,400 apps on the market today designed to help diabetes patients manage their condition but they are not created equal. Patients are more likely to engage with solutions that provide access to their health data and enable them to easily share this information with their healthcare provider.
Patient activation and self-management of diabetes is critical and strongly connected to lifestyle modifications, which can be continuously monitored on telehealth platforms. With the right RPM solution, this information can be conveyed to healthcare providers in real time. RPM also lets providers reach patients in rural or underserved communities and provide them with quality care at an efficient cost.
Hypertension
Hypertension, or high blood pressure, affects nearly 50% of adults in the U.S.  As people get older, the risk of high blood pressure increases as well. If left untreated, hypertension can lead to more serious health issues, including kidney damage, stroke, heart failure, and heart attack. Hospital readmissions are also more common among older hypertension patients over the age of 65.  
Multiple barriers can hinder adequate management of hypertension, including poor blood pressure management techniques, the lack of evidence-based treatment protocols, and poor patient participation in their own care.
Each of these barriers can be effectively addressed through RPM, which helps patients develop a consistent measurement technique, understand their condition, develop new behaviors, and record their readings consistently.
For providers, RPM offers insights into the patient's blood pressure trends over time, leading to better-informed decisions. If a blood pressure reading moves out of the patient's ideal range, the provider can contact the patient to understand why the change occurred and plan next steps. In short, RPM allows providers to be more proactive about treating their patients.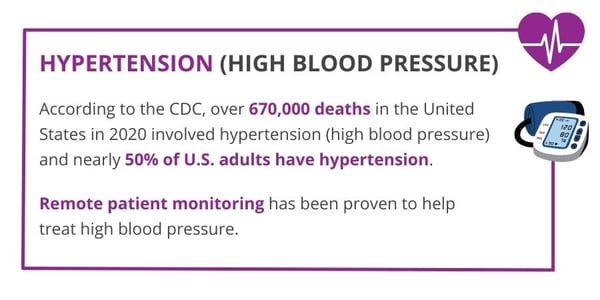 Reimbursement for Chronic Care Management
Does Medicare pay providers for chronic care management?
The Centers for Medicare and Medicaid Services (CMS) has a set reimbursement rate for all medical services and equipment covered under Medicare. Generally, CCM involves services delivered outside of regular office visits and is provided to Medicare beneficiaries with two or more chronic conditions. These conditions are expected to continue at least 12 months or until the patient passes away, and place the patient at significant risk of death, acute exacerbation or decompensation, or functional decline.
CCM can be billed in a calendar month when at least 20 minutes of non-face-to- face staff time—at the direction of a physician or other qualified health care professional—is spent on a Medicare patient with multiple chronic conditions.
What conditions qualify for chronic care management?
The list of covered conditions for CCM includes, but isn't limited to:
Alzheimer's disease and related dementia
Arthritis (osteoarthritis and rheumatoid)
Asthma
Atrial fibrillation
Autism spectrum disorders
Cancer
Cardiovascular disease
Chronic obstructive pulmonary disease (COPD)
Depression
Diabetes
Hypertension
Infectious diseases such as HIV/AIDS
Substance use disorders
What CPT codes are related to chronic care management?
To help with reimbursement, Medicare has specific CPT codes to report CCM services, remote patient monitoring and telehealth. Click on the links below for easy-to-use overviews of the specific codes involved.
The Beneficial Role of RPM in Chronic Care Management
The chronic conditions discussed above represent only a few of the many diseases that must be carefully managed to improve results. Others include Alzheimer's disease, osteoarthritis, rheumatoid arthritis, autism spectrum disorders, cancer, and HIV/AIDS.
For all types of chronic conditions, telehealth and RPM can raise the standards of care management for healthcare organizations through:
Virtual visits. These visits can connect patients and physicians wherever they're located. The physician can evaluate symptoms, review medications, and discuss other aspects of the patient's care plan.
Symptom surveys. Daily surveys give providers real-time information about the patient's condition, from pain to mental health to comorbidities.
Medication Reminders. Most patients with chronic conditions take medication, both over the counter and prescribed, to ease symptoms. Medication reminders encourage patients to take the right dose at the right time.
Condition-Specific Education. It's hard to overestimate the value of education in CCM. In addition to monitoring vital signs, RPM can give patients key information about their conditions, leading to greater engagement and control over their own health.
By supporting patients where they are, providing real-time patient data to clinicians, and helping patients take more responsibility for their health, RPM can be a highly effective tool for healthcare organizations in their quest to provide continuous, cost-efficient management for chronic conditions.
Case Study: How Frederick Health Uses RPM to Support Chronic Care Management
Frederick Health is a leading healthcare provider in Maryland, consisting of Frederick Health Hospital, James M Stockman Cancer Institute, home care and hospice providers, an ACO group, and a network of primary and specialty care providers. Frederick Health's Chronic Care Management (CCM) program, a division of Frederick Health Home Care, first launched their telehealth program with HRS in 2017. Over a six-month period, hospital readmissions among telehealth patients was reduced by 83%, resulting in nearly $5.1 million in cost savings to the health system.
Hospital readmissions reduced by 83%
$5.1 million in cost savings to the health system
50% reduction in Emergency Department visits
Hear from Lisa Hogan, Chronic Care Management Team Lead at Frederick Health in this 5-minute video clip providing an overview of their program or view the full one-hour webinar on "The Role of Telehealth and Remote Patient Monitoring in Chronic Care Management" for a deep-dive into this case study.
For more information about RPM and its growing role in chronic care management, request your free demonstration from Health Recovery Solutions today.
The Future of Chronic Care Management
The integration of telehealth and remote patient monitoring (RPM) has revolutionized patient care. The demand for digital health services has surged not only among healthcare organizations but also among physicians, patients, and their families. Looking ahead into the future of chronic care management, we expect to see increasing demand for hybrid care models, the expansion of telehealth across various patient populations and disciplines, and increased collaboration within health systems to provide care across the full care continuum.
Adoption of a Hybrid Care Model
The utilization of telehealth and RPM soared to new heights during the COVID-19 pandemic. Coming out of the pandemic, the need for virtual visits and alternatives to traditional in-person care has become a common expectation among patients and their families. The convenience, reduced exposure to potential risks, and direct access to clinicians have made telehealth an attractive option for many. This demand extends beyond the younger, tech-savvy generation, as even elderly patients are embracing virtual care to limit contact with healthcare providers and ease the burden of finding transportation for in-person appointments. The conversation surrounding virtual healthcare has shifted significantly, empowering patients to take an active role in their care, and many will prefer a hybrid care model moving forward.
Expanded Access to Telehealth & RPM
Telehealth and RPM are no longer confined to a niche within home health services. Healthcare organizations are increasingly recognizing the broader applications and benefits of these technologies. The expansion of telehealth spans diverse patient populations and involves various healthcare providers. It is not limited to nursing but extends to disciplines such as physical therapy, occupational therapy, and social work. Moreover, the ability to bill for virtual visits has further fueled the adoption of telehealth.
The future of chronic care management lies in the nationwide integration and acceptance of telehealth and RPM. Having a comprehensive and sound approach to virtual care is crucial for organizations. It allows them to cater to patients who may not qualify for home health services but still require some level of care. The involvement of resources like the Chronic Care Management team at Frederick Health, which provide robust patient interaction and engagement, is vital across various sections of the healthcare system.
Increased Collaboration within the Health System
Chronic care management programs have only scratched the surface of their potential. As evidenced by Frederick Health, collaboration with other aspects of the healthcare system presents numerous opportunities to expand patient outreach. Whether through medication reconciliation programs or other initiatives, integrating chronic care management with different healthcare domains holds immense promise for the future. This level of collaboration allows for enhanced patient care, improved outcomes, and a more comprehensive approach to managing chronic conditions.
The future of chronic care management is intertwined with the ever-evolving landscape of telehealth and RPM. The onset of COVID-19 accelerated the demand for virtual healthcare services, and patients of all ages are increasingly embracing this new care paradigm. The expansion of telehealth across various patient populations and disciplines, along with the collaboration between providers and physicians, has reshaped the healthcare industry. It is imperative for organizations to develop comprehensive strategies that leverage these technologies and resources to deliver high-quality care to a broader range of patients.
The future holds immense potential for chronic care management programs, and with continued innovation and collaboration, patient outcomes are set to improve significantly.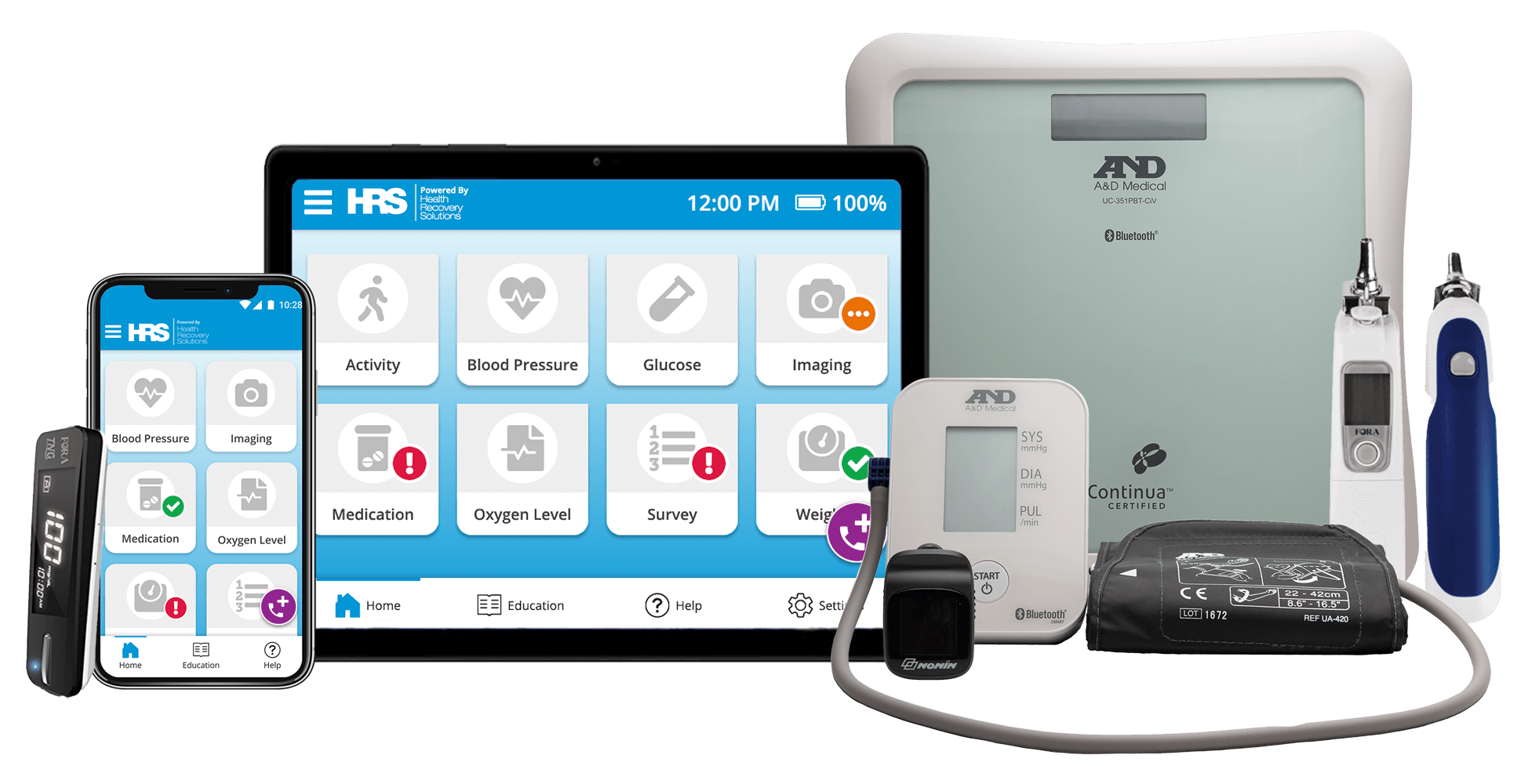 Ready to get add remote care to your chronic care management program? See how our flexible, user-friendly solutions can support your patients.
Explore HRS Solutions
Download the 6 Essential Steps to Building a Scalable and Profitable Telehealth Program White Paper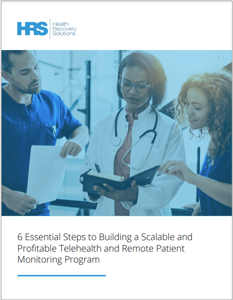 In this white paper, learn about:
Establishing goals

Determining your financial plan

Choosing a technology partner

Building clinician and patient buy-in

Other essential factors to consider to ensure your program is successful