The COVID-19 pandemic led to an unprecedented acceleration of telehealth services, making remote care a standard practice. Healthcare providers increasingly recognize the benefits of telehealth, including increased access to care, reduced costs, and improved patient outcomes. However, to sustain telehealth programs, healthcare providers require reimbursement for remote patient monitoring (RPM), chronic care management (CCM), and remote therapeutic monitoring (RTM) services.
Recently, the Centers for Medicare & Medicaid Services (CMS) have made significant changes to telehealth and remote patient monitoring reimbursement, which were highlighted by Health Recovery Solutions' Vice President of Revenue Cycle Management, Charika Wilcox-Lee in a webinar.
This post is part 1 of a 2-part series. In part 1, we'll explore 5 different reimbursement models and answer your telehealth reimbursement questions. In part 2, we'll do a deep-dive into CMS reimbursement codes, the new home health agency G-codes, and look at HRS' automated reimbursement report.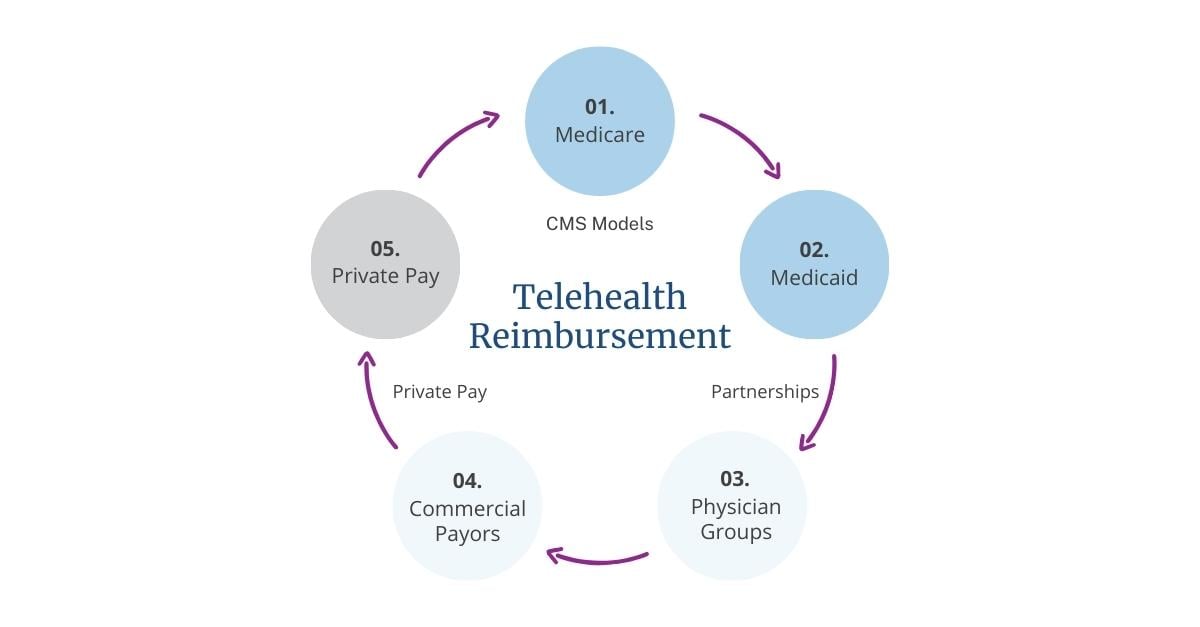 Model 1. Medicare Telehealth Reimbursement
The CMS Part B reimbursement model is the most popular option for many organizations. To bill for RPM services, providers must be a Part B provider, and home health agencies with a palliative care program may also obtain reimbursement. However, providers must be a Part B provider or have a palliative care program in place that has that Part B number to receive reimbursement for RPM and RTM services. Additionally, there is currently no standalone reimbursement for rural health clinics (RHCs), federally qualified health centers (FQHCs), or all-inclusive rates or prospective payment systems.
Watch this 3-minute overview video from Charika Wilcox-Lee, Vice President of Revenue Cycle Management at HRS for a quick look at your CMS reimbursement eligibility.
Model 2. Medicaid Telehealth Reimbursement
There is Medicaid coverage in around 35 states, which is ever-evolving, with more states adding coverage. Since Medicaid coverage is state-dependent, traditional Part A-only home health agencies, FQHCs, and rural health clinics may obtain reimbursement for telehealth and RPM services through Medicaid on a state-by-state basis. Certain states, such as Colorado, cover traditional Part A-only home health agencies to bill RPM services. Healthcare providers must identify the appropriate solutions for their state and workflows.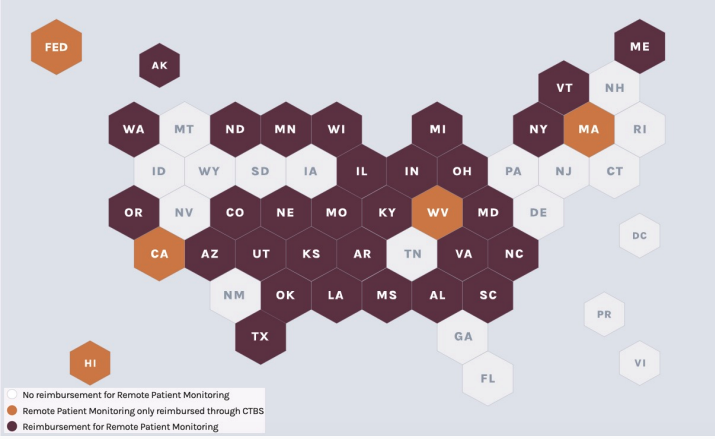 Model 3. Partnering with Physician Groups
Partnering with physician groups allows healthcare providers to obtain reimbursement for telehealth and RPM services while avoiding additional staffing costs. The telehealth staff provides monitoring services to patients, reviews data, and reports alerts and changes in the patient's condition back to the physician group. The physician group then pays the telehealth provider for their monitoring services and coordinates any changes to patients' care plans. Finally, the physician group submits claims to CMS under the appropriate NPI or Tax ID and with the proper billing codes. For a home health agency, the reimbursement structure is a percentage of collections after the claims have been adjudicated from the payor or a flat rate, where providers have a contractual relationship to receive a certain amount for each patient.
Let's say you see 100 patients for a provider in a given month and you have a contractual relationship of $65 per patient, you would send that invoice to that provider group and get reimbursed. In that aspect, the benefit is providing that potential resource of revenue to allow coverage for the RPM kits. The challenge with this reimbursement model is one, finding that physician to participate, and two, ensuring you have a contract in place that has that anti-kickback statue verbiage within it.
Model 4. Partnering with Commercial Payors
Having a relationship with a commercial payor can be very beneficial for any organization, whether it's a health system, a hospital, a home health agency, or a physician group. One of the main benefits is that commercial payors often offer higher reimbursement rates than Medicare, and providers can negotiate those rates with the payor. This can be especially helpful for home health agencies looking to obtain reimbursement for services like chronic care management, remote patient monitoring, and transitional care management. It's also a good idea to connect with payor representatives to discuss strategies for reducing hospitalizations, emergency department visits, and hospital stays.
In addition to these benefits, there may be opportunities for home health agencies to become the preferred vendor for a commercial payor in their region. For example, if the payor sends all of their congestive heart failure patients to the agency, the agency can determine if those patients are a good fit for remote patient monitoring and negotiate a contract for those services. This trend is growing in the market and can be beneficial for all involved.
Model 5. Private Pay Programs
Private pay is another way to pay for remote patient monitoring. Sometimes families have the financial means to pay out of pocket to keep their loved ones on the RPM program. This is a great chance for healthcare providers to offer more payment options and diversify their revenue stream. It's recommended to have different payment models available to cater to all patients, which can increase patient satisfaction and increase the likelihood of reimbursement for the healthcare provider.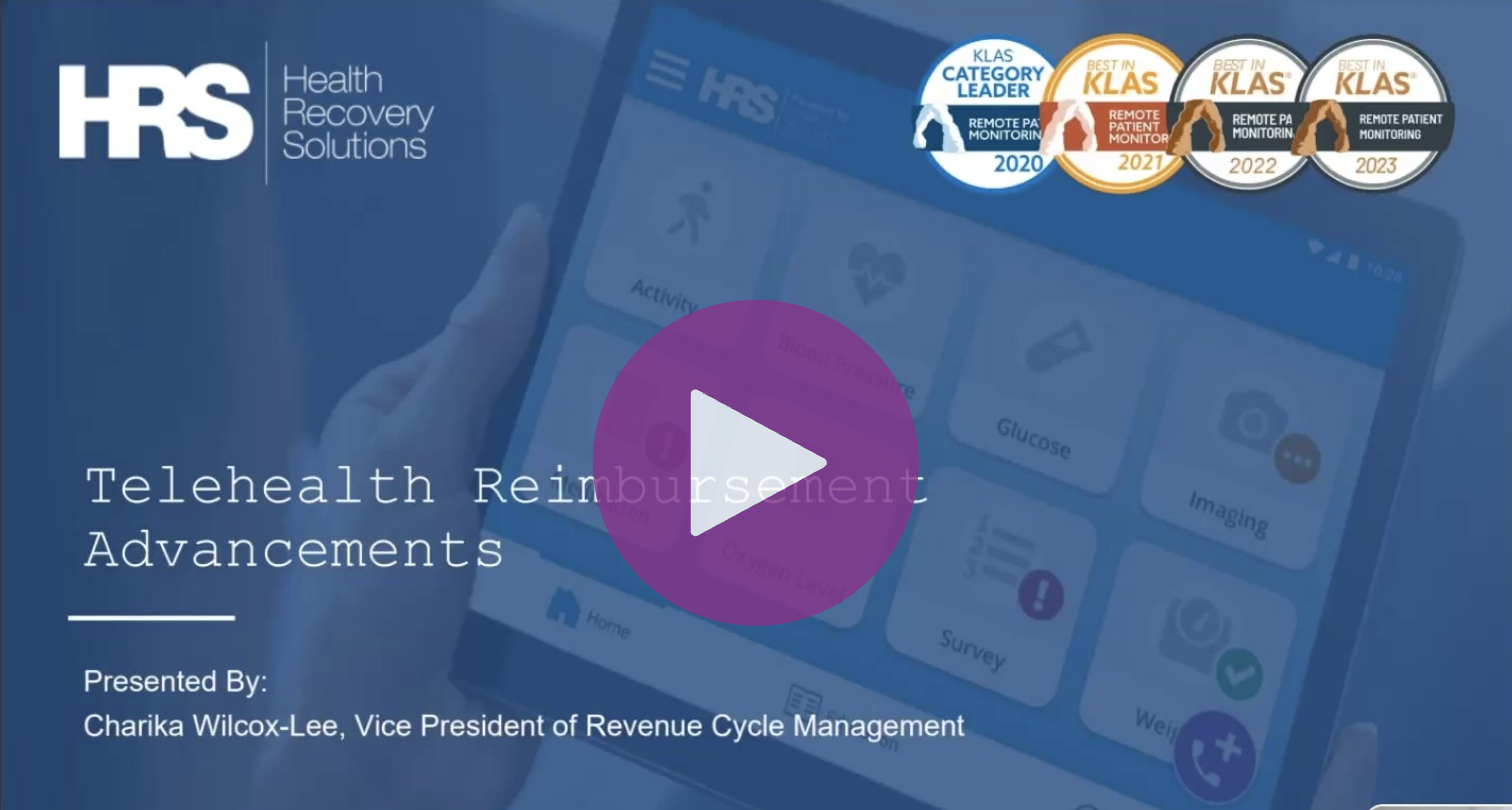 HRS WEBINAR SERIES
2023 Telehealth Reimbursement Advancements
In this 30-minute session, HRS' Vice President of Revenue Cycle Management presented on the 2023 updates to telehealth reimbursement rates and reviewed how HRS can support your reimbursement efforts.
Watch Webinar On-Demand
Answering Your Telehealth Reimbursement Questions
There are still many questions surrounding reimbursement for telehealth services. With the rules and guidelines constantly evolving, it can be challenging to stay up-to-date and ensure that your telehealth services are being properly reimbursed.

In this section, we address some of the telehealth reimbursement questions that were asked during the live webinar and provide clear and concise answers to help you navigate this complex area of healthcare.

Isn't home health a designated health service? Would that eliminate the chance of a referral relationship?

No, being a designated health service does not eliminate the chance of a referral relationship. It's important to have a contract in place to reduce any legal risks. A contract relationship with a physician group partnership can provide value by eliminating any potential legal issues.


Who qualifies as a "qualified healthcare professional (QHCP)"?
Nurse practitioner (NP)
Certified nurse specialist (CNS)
Physician assistant (PA)
Certified nurse mid-wife (CNM)
Certified registered nurse anesthetist (CRNA)
Clinical social worker (CSW)
Physical therapist (PT)
What is the difference between Cellular versus Bluetooth devices?
RPM devices must meet the FDA definition of the device, which is as follows:
"Radio frequency (RF) wireless medical devices performing at least one function that utilizes wireless RF communication such as Wi-Fi, Bluetooth, and cellular/mobile phone to support health care delivery," — FDA, Wireless Medical Devices
Each device uses a different technology to connect to the Internet and report captured vitals into the RPM platform.
Does the RPM order need to come from a provider in order to bill?
Yes, there does have to be an order in place to bill for RPM.
Does the patient care plan (documentation) need to be developed by the provider in order to bill?
No, in many instances, the clinical staff conducts the documentation. However, HRS recommends creating a workflow to include review of patients' charts by the supervising provider to ensure proper documentation, especially when there are changes to the metrics/readings.
HRS Helps Providers Claim Reimbursement for RPM
In conclusion, healthcare providers must stay up-to-date on all CMS changes to telehealth and remote patient monitoring reimbursement. Providers must explore all reimbursement models, including CMS Part B, Medicaid coverage, partnerships with physician groups or commercial payors, and even private pay. Healthcare providers who invest in telehealth and remote patient monitoring services are likely to generate a return on their investment while providing efficient, cost-effective care to their patients.
Health Recovery Solutions is a committed partner that helps healthcare organizations navigate the evolving telehealth reimbursement landscape and get reimbursed for providing telehealth and RPM solutions. From our automated reimbursement report to our team of reimbursement specialists, we're here to help maximize the value of telehealth.
Calculate Your Potential Reimbursement
Our team of reimbursement specialists is dedicated to helping our partners receive reimbursement for RPM services. We invite you to use our interactive calculator to see how RPM can be a new revenue stream for your organization.
Use the reimbursement calculator