The pandemic drove unprecedented growth of remote patient monitoring (RPM) services in the United States. A recent report shows a 1,300% increase in the use of RPM between 2019 and 2022. As a result, there are a lot of different types of RPM service providers on the market today and the landscape continues to evolve as smaller companies collapse and new companies emerge. One thing is clear and it's that not all remote patient monitoring services are created equal.
In this blog post we delve into the complete set of services that makes an RPM provider best-in-class. A successful RPM program is about more than just the remote monitoring devices. To drive meaningful results for your healthcare organization, you need to consider a number of different factors.
Watch this 5-minute video clip of Florence Kariuki, Chief Clinical & DEI Officer at Health Recovery Solutions detailing our solution at the 2023 American Telemedicine Association Conference or keep scrolling for a quick overview of the features that go into 'Best in KLAS' remote patient monitoring services.
1. Implementation Support
When you partner with Health Recovery Solutions, we provide policies, guidelines, and training for your staff to quickly and easily get your remote patient monitoring program off the ground. With our industry-leading platform and clear, defined, implementation process, we're able to launch a new remote patient monitoring program in just one month.
2. EMR Integration
As you add new healthcare technology to your organization, it's critical to have a centralized system that everything plugs into. This is often your Electronic Medical Records (EMR) system. At HRS, we have an in-house integrations team to help integrate your new remote patient monitoring solution to your existing EMR. We integrate with all of the major EMR systems and we can support new integrations without the need for you to engage a third-party vendor.
3. Logistics
Once we identify the patients, HRS will do the logistics. We handle all of the identification of the equipment, bringing it into the patient's home, and setting the patient up. We'll call the patient at home and walk them through how to use the remote patient monitoring devices. Our team will help the patient understand what exactly has just come into their house and how to use all of it to actively engage in their care plan. Once the patient is discharged from the remote patient monitoring program, HRS will pick up the equipment, bring it back into our warehouse, clean, sanitize, and then send it back out to the next patient. We handle all of that, taking it off of the healthcare organization's back.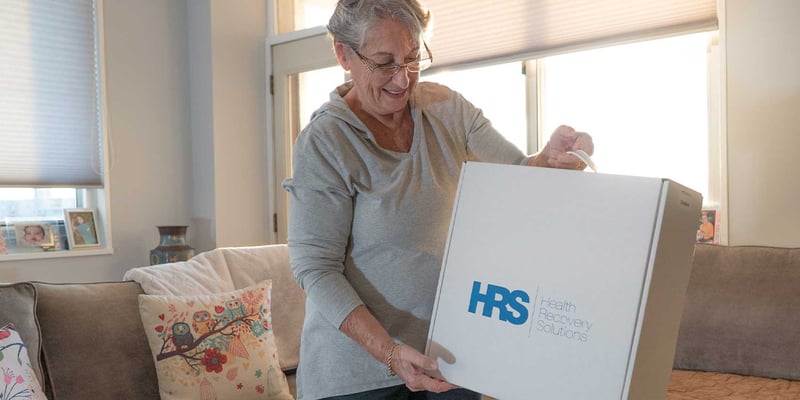 A patient receives their HRS remote patient monitoring kit.
4. Biometric Monitoring Devices
Remote patient monitoring devices are a key component of any RPM program and at HRS we have a variety of different Bluetooth-connected devices to serve diverse patient populations. Patients record vitals using a blood pressure cuff, pulse oximeter, or other device and those readings are sent to a pre-configured tablet in the home. From there, the readings pass into our ClinicianConnect® portal – which is integrated with your EMR – for clinicians to review.
5. Condition Presets
Our solution includes what we call "condition presets." If you think about a patient that has a specific disease condition like CHF or COPD, we've developed solutions that include the condition-specific biometrics as well as interactive survey questions that help clinicians understand changes in the patient's condition. We also have a library of educational videos that align to specific conditions to help educate and engage the patient.
6. Patient-First Design
We design everything with the patient in mind. When the RPM kit gets into the patient's home, it's ready to go. In addition to easy-to-use devices, we build the clinical content very intentionally, keeping it simple at a second-grade level so that patients understand what they're looking at. Our average patient age is 75 years old and we want to make sure that they're not looking at medical jargon. We want patients to understand how well they're managing their condition and ensure that they're successful. This includes providing content in multiple languages and keeping our solution flexible to meet the needs of each patient. There are some patients who only need a tablet. Other patients only need the mobile app and they use their own smartphones. We support whatever the patient needs.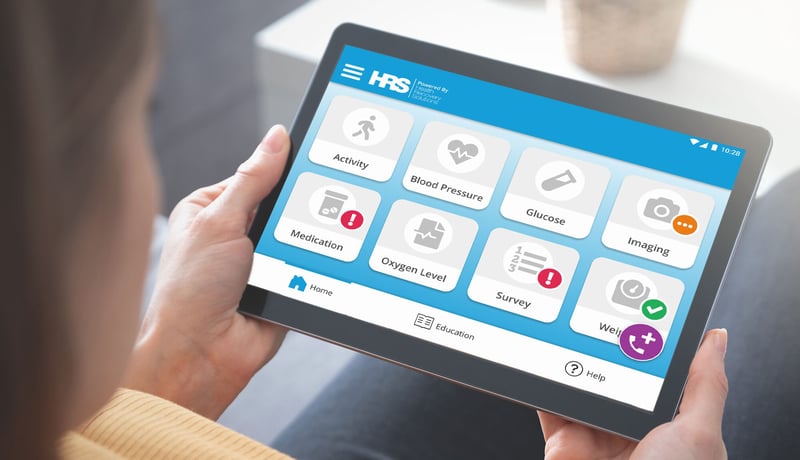 A patient views the HRS dashboard on the tablet in their remote patient monitoring kit.
7. Clinical Monitoring
Once the patient is up and running, some healthcare organizations need support with clinical monitoring. There may be concerns about an influx of vital signs at the start of the remote patient monitoring program and having to track and monitor all of that. To assist with this, HRS provides clinical monitoring services. We will triage, intervene, and escalate patient risk alerts based on a customized workflow. We operate as a partner to healthcare organizations to make sure that the patient's clinical care and clinical outcomes are aligned with expectations.
8. Reimbursement
When you think about reimbursement and how you're going to bill for remote patient monitoring services, HRS has a team that helps with that too. Our revenue cycle operations team partners with healthcare organizations to help identify the appropriate CPT codes and navigate the billing process. As the reimbursement landscape evolves, this team provides guidance and resources to help providers stay on top of the latest changes and get reimbursed for their services.
9. 24/7 Technical Support
We provide 24/7 technical support. If a patient's equipment is broken, the healthcare provider doesn't have to deal with that. Our technical support team is responsible for addressing any questions users have about HRS' products and services including technical, software or hardware issues.
10. Reporting & Analytics
Our RPM solution comes with a reporting and analytics suite. As part of this we provide a monthly reimbursement report that gathers the appropriate CPT codes for you and delivers them in an easy-to-use format. As a healthcare provider, all you have to do is bill and get paid for your services. On top of that, we've recently expanded our reporting with a focus on providing actionable insights into your organization's performance to help drive ROI.
11. Clinical Advisory Services
Last but not least, we provide clinical advisory services through our in-house clinical team. This is a team of nurses who provide clinical guidance and support to HRS clients. Their goal is to ensure every program operates with clinical best practices in mind. In addition to supporting client programs day-to-day, the clinical services team lends their expertise to the development of the product roadmap and solution innovation.
Remote Patient Monitoring: It's More Than Just Devices
When you think about remote patient monitoring, it's really more than just the devices. It's answering questions like how do I get my program up and running? How do I train my staff? How do I get the correct workflows up and running? How do I get my physicians on board?
Launching a successful RPM program requires more than just bringing the equipment into the patient's home. RPM service providers need to partner with healthcare organizations and develop easy-to-use solutions that support the needs of both patients and clinicians at every stage.
At HRS, we've worked with hundreds of healthcare organizations and seen a lot of success with the model we've developed over the course of a decade. We have over 40 remote patient monitoring case studies demonstrating success with our customers and we've been honored to win the 'Best in KLAS' award – a result of customer feedback – for the last four consecutive years. If you're looking for best-in-class remote patient monitoring services, look no further.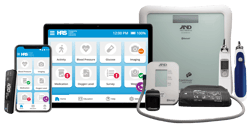 Ready to partner with HRS?
When it comes to remote patient monitoring, you should focus on what you do best, caring for your patients. HRS will handle everything else.
Get My Free Demo