Change is difficult. Or at least that is what many of us are made to believe. But to advance from the current state to a desired state, change is inevitable.
For healthcare organizations that are planning to introduce telehealth and remote patient monitoring programs, the process may seem daunting. But with proper guidance and support, it can be made seamless.
Here is a step-by-step guide to help you get started with your telehealth and RPM implementation journey with confidence:
Step 1: Define clinical and operational goals and objectives
Before you start any project, the first and most crucial step is to define your goals and objectives. Common goals for introducing telehealth and RPM programs include:
Now, what are your goals?
Use the classic SMART goal model to define your goals and establish your program's vision.
Specific – What outcomes do you need to see to consider your goals accomplished
Measurable – How will you measure success with quantitative and qualitative data
Attainable – Given the availability of resources, ensure that is is feasible or you to accomplish these set goals
Relevant – How will these goals help achieve your organization's overall vision and mission
Time-bound – What is the specific timeline to achieve these goals
Once your SMART goals are defined, determine the care delivery model that best suits your objectives and organization. Among the care delivery models commonly used by healthcare organizations are:
Access to Care Model
Hospital at Home Model
Cost Savings Model
Chronic Care Management Model
Post-Acute Model
Step 2: Select a technology partner
Once your goals are defined, the next step is to choose a technology partner that best aligns with your goals and project scope. Consider these points when evaluating your technology partner:
Ask each potential partner the same questions

Ask about the ease of use, security integrations, product roadmap, the total cost of ownership, logistics, clinical support, and reimbursement resources, among others

Focus on features, support, and clinical expertise
Discuss success stories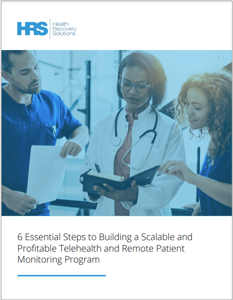 6 Essential Steps to Building a Scalable and Profitable Telehealth Program
Launching or expanding a telehealth and remote patient monitoring (RPM) program can be an intimidating task. In this white paper, informed by HRS health system, home health, and hospice clients across the country, we guide you through your telehealth implementation journey.
Download White Paper
Step 3: Identify telehealth project champions and leaders
Two roles of involvement will significantly impact your program's success—Telehealth Executive Champions and Telehealth Leaders.
Telehealth Executive Champions
Who: CEO, Chief Nursing Office, Chief Medical Officer, Chief Operating Officer, Chief Technology Officer, Chief Medical Information Officer, or a VP/Director governing the telehealth program
Their role: Ensure telehealth options are evaluated as part of the planning process each year and allocate appropriate financial, operational, clinical, and technical resources
Telehealth Leaders
Who: The eyes and ears of the executive champions and leadership who runs the day-to-day telehealth program, serves as a role model and coach to the telehealth team, and manages the relationship with telehealth partners
Their role: Lay the foundation for key operational and clinical elements of the telehealth program and its future development and growth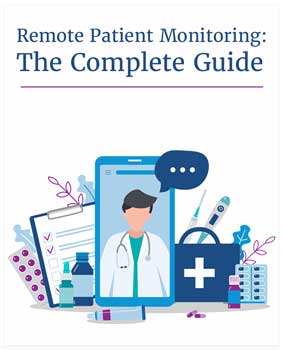 The Ultimate Guide to Remote Patient Monitoring
Learn everything you need to know about remote patient monitoring (RPM) in this complete guide.
View the Guide
Step 4: Define financial objectives, rules, regulations, and reimbursements
Break your financial conversation into two parts:
Objectives and goals
Reimbursement, rules, and regulations
Financial objectives and goals
How will you measure your short- and long-term financial goals in relation to your telehealth and RPM program? How and when will you measure financial success?
Every organization has a unique way of approaching financial considerations for telehealth and RPM programs. Ensure that your internal team meets to discuss what their financial expectations are for the program.
A clear plan is essential to ensure the program's success. All financial models should include cost avoidance metrics in the plan. Grants are another important consideration when determining your financial objectives.
Rules, regulations, and reimbursements
The telehealth and RPM regulations and reimbursement climate are continuously evolving. Regulations vary from state to state, so you must be aware of the unique rules in your location. That's why it is important to choose a technology partner with reimbursement experts on the team who can help you navigate the regulations regardless of your location.
Step 5: Establish telehealth buy-in and educate your clinical team
Buy-in across your organization is crucial to ensure your telehealth program's success. Here are some ways to educate your team on the value, outcome, and need of the new or expanded program:
Make sure your clinicians and supporting staff understand their roles within the program
Reiterate the effectiveness of the program by sharing patients' stories, data, and trends from time to time
Explore new opportunities for telehealth to help provide safer and more efficient care for patients
Step 6: Determine your patient populations
Some organizations utilizing an RPM program will select their patient populations by diagnosis-related groups or care setting (e.g., home health, home, hospice). No matter how you stratify your patient population, ensuring they align with your SMART goals and objectives is essential.
Since telehealth and RPM are not a one-size-fits-all solution, it is also essential to consider each patient's response to the program and tailor it according to their needs. Some important considerations include their cognitive and physical abilities, home environment, social determinants, caregiver support, and, most importantly, the patient's willingness to participate in the program.