How Lee Health, the 4th largest public health system in the U.S., transformed care delivery by transitioning from remote patient monitoring to remote patient management
In a recent webinar, Dr. Zsolt Kulcsar, System Medical Director, Virtual Health, at Lee Health shared insights into the health system's journey transforming their remote patient monitoring (RPM) program into a remote patient management program. This innovative approach not only improved patient outcomes but also provided valuable lessons for healthcare professionals looking to embark on a similar path.
Lee Health had an RPM program within their home health suite for 10 years before Dr. Zsolt joined the team. Over the last 12 months, he has worked with strategic partners to evolve that program to serve more patients across the health system, improve clinical documentation to streamline billing, and decrease acute care visits by over 50% for patients at high risk of readmission.
In this post, we explore some of the key steps in that process of transformation, the current state of the RPM program at Lee Health, and plans for the expansion of virtual care services.
Hear from Dr. Zsolt in this 6-minute video clip or keep scrolling to read the highlights of Lee Health's RPM program transformation.
The Evolution from Monitoring to Management
A year and a half ago, Dr. Zsolt took on the challenge of evolving the existing RPM program, which was focused on monitoring heart failure conditions, COPD, and hypertension for approximately 150 patients, into a more comprehensive solution.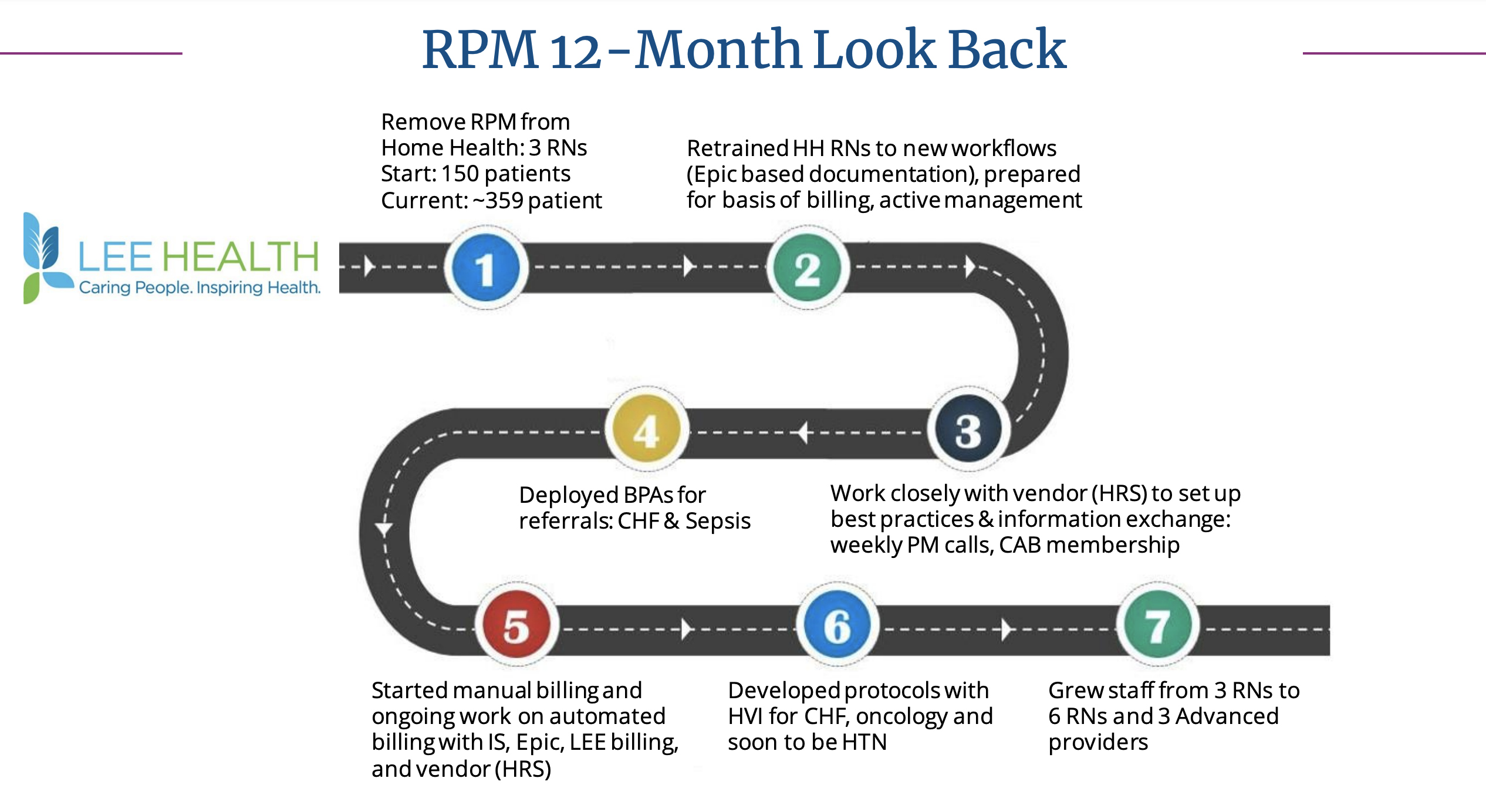 The first decision was whether to buy an existing service or build one from the ground up and Lee Health chose to build their RPM program with HRS as a key strategic partner.
Once they settled on HRS as their RPM vendor, one of the next steps was to create a comprehensive care management team. This new focus would help to improve documentation for billing purposes.
The program didn't stop at remote monitoring; it moved into active management of outpatient problems. The collaboration with HRS was crucial in setting best practices and establishing a deep information exchange. Weekly project management calls between Lee Health and HRS ensured alignment with the RPM program's objectives.
To further strengthen this partnership and align HRS' solutions with the broader healthcare industry needs, Dr. Zsolt also joined the HRS Client Advisory Board.
VISION TO VIRTUAL 2023
How Telehealth Can Help Mitigate Healthcare Staffing Shortages
This 45-minute webinar explores the impact of staffing shortages on the healthcare industry and how Lee Health is using telehealth & RPM to address challenges.
Watch On Demand
Current State: Program Wins & Care Pathways
Today, the new remote patient management program is expanding across the health system to support a growing number of disease states and patients, while easing the burden on clinical staff.
One of the key program successes, was deploying best practice alerts for high-risk patients to pass referrals directly into the RPM program. This streamlined the patient referral process, ensuring patients received the appropriate level of care, at the right time to improve outcomes and reduce hospital readmissions.
With this new clinical workflow, when there is a readmission problem at one of the campuses, the virtual care team can turn on the risk score within their Epic EMR to trigger for anyone who is discharged and high risk of readmission. The hospitalist then refers these patients to the virtual care team and that department eases the transition from hospital to home.
The number of clinical staff on the virtual care team has doubled from 3 to 6 RNs and the team has expanded to include Advanced providers under the leadership of the Medical Director. This team currently supports 600 patient encounters each month with an RN to patient ratio of 1:65.
The program's portfolio has also expanded to include several disease states, strategically chosen to address the biggest drivers of chronic care and hospital utilization. These include CHF, COPD, Hypertension, High-risk OB, Thoracic Surgery, Sepsis, and Oncology.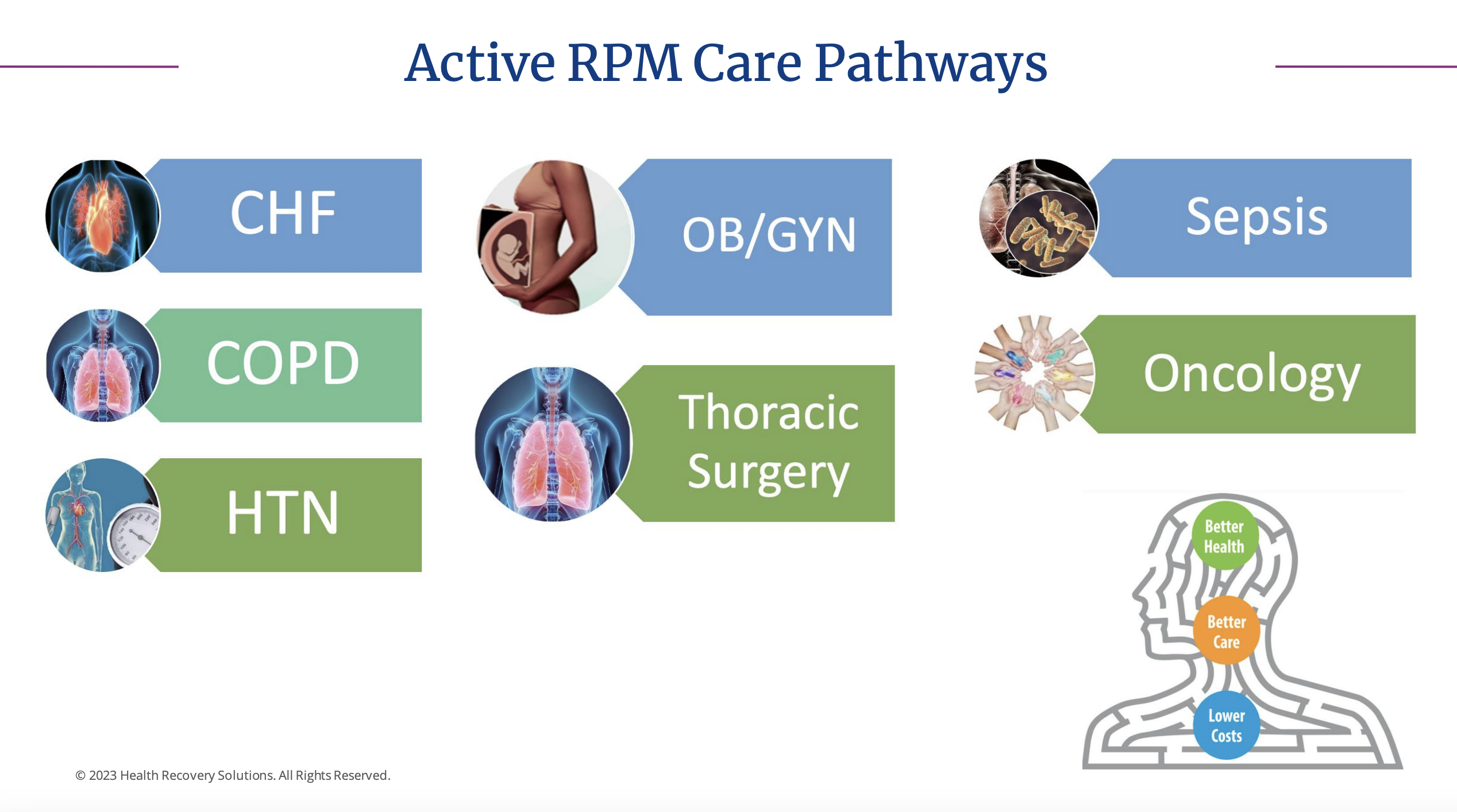 Looking Ahead: Pioneers in Virtual Care
Looking ahead, Lee Health is exploring what else a health system can do when you have a centralized virtual care department. Now established with a pool of nurses and Advanced providers that are actively involved in patients' lives, they have lofty goals for their program to grow to a minimum of 1,500 lives covered for high-risk patients.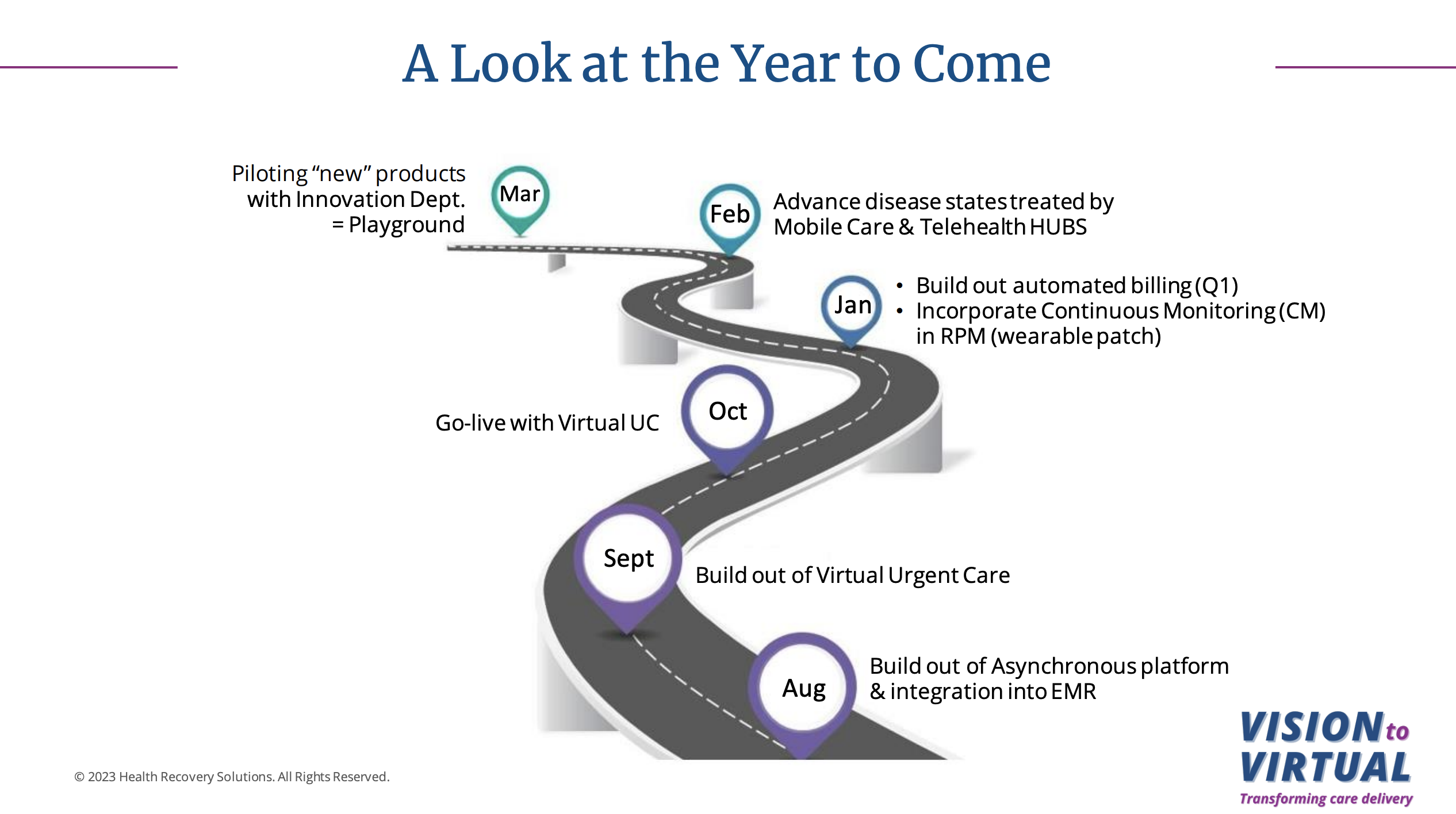 The journey doesn't stop at RPM. The virtual care department at Lee Health is poised to take on new challenges and opportunities in the realm of virtual health. Their Advanced providers are now being deployed for RPM escalation and other innovative virtual health products.
One of the most intriguing developments is the creation of an asynchronous platform integrated into their Electronic Medical Record (EMR) system. Patients will be able to visit the website, input their symptoms, and complete a validated survey. The platform then generates a SOAP note, a differential diagnosis, and a treatment algorithm. Patients can either be directed to a virtual care video visit or an in-person touchpoint. This innovative approach is not only cost-effective but also provides a faster alternative to urgent care.
Some other initiatives on the roadmap include:
Virtual Urgent Care Department -

Taking virtual care a step further by launching a virtual urgent care department staffed by the same Advanced providers currently supporting the RPM program.
Continuous Remote Monitoring

- Working closely with HRS on

continuous monitoring

to utilize smart patches that allow for real-time monitoring of vital signs (heart rate, respiratory rate, etc.) and early intervention when needed. The patches will be used at discharge to monitor patients while the

complete RPM kit

is being delivered by HRS, which is a 3-4 day window.
Advanced Remote Care - E

xploring different disease states that can be treated through Mobile Care & Telehealth Hubs. As well as piloting new technologies within the home that can support wound care and passive care (collecting patient data in the background without the need for the patient to interact with the devices).
E-Consults -

Introducing virtual consultations to facilitate clinician-to-clinician discussions, enabling specialists to provide guidance and insights for complex cases.
As the health system continues to push the boundaries of virtual care, they envision a healthcare landscape where more patients can receive specialized care without the need for in-person visits. By leveraging the latest healthcare technology and clinical expertise, they aim to transform patient care delivery and augment their staffing capabilities. Patients that don't need to come through the door can be helped virtually, freeing up resources to focus on new patients.
Transforming Care Delivery
The journey from remote patient monitoring to remote patient management was not without its challenges, but through a strong partnership and collaboration with HRS, Lee Health was able to transform care delivery and continues to advance their virtual care capabilities. Their approach serves as a valuable blueprint for innovative healthcare leaders seeking to transform patient care through remote care technology. By embracing best practices, fostering partnerships, and continually expanding their offerings, Lee Health has paved the way for improved patient outcomes and a brighter future for healthcare delivery.
Vision to Virtual 2023 Webinar Series
This year, HRS' annual Vision to Virtual event will explore the proven clinical and business outcomes driven by HRS telehealth and RPM programs and how healthcare organizations can support their staff, scale their programs, and demonstrate results.
View All Webinars