Over the last few years, delivery of health has evolved from in-person office visits to virtual visits and remote patient monitoring. Consumers today value convenience as much as quality and cost, and health systems and other providers have adapted in response to this demand. For the majority of health care providers, workflow revolves around the Electronic Medical Record, the one-stop shop for care coordination, medical data storage, and progress tracking.
How Electronic Medical Records Work in Telemedicine
Important definitions:
Bi-directional Interface: Utilizes two-way communication in which both systems (for example the EMR and the telehealth platform) are sending and receiving data.

Electronic Medical Record (EMR): Everything you'd find in a paper chart, such as medical history, diagnoses, medications, immunization dates, allergies, documented in a digital format.
As the industry has shifted steadily towards adopting telehealth technology, the conversation about the interoperability of EMRs has spiked. Most health systems today have an EMR in place and rely on the digital version of paper-based medical records for improved continuity of care, lower drug interaction rates, decreased mortality rates, and better provider communication.
When health systems are determining whether to implement the telehealth care delivery model, they are looking at whether telehealth will make care delivery more seamless, or more difficult. EMR integration is a critical component to consider, as it increases provider efficiency and improves quality of care. When the EMR and telehealth or telemedicine software are integrated, they communicate with one another through a bidirectional workflow enabling the physician to interact with a single platform rather than duplicating work on two or more systems. This enhances provider efficiency while empowering providers to make science-based decisions, facilitating faster diagnosing, lowering prescribing errors, and as a result, improving patient outcomes. EMR integration bridges the gap between different telemedicine applications and patient data.
Telemedicine software that is integrated with an EMR minimizes duplication of records and processes. When a virtual visit occurs or when biometric data is recorded by remote monitoring devices on the platform, it will integrate into the EMR, streamlining record collection and ensuring that all patient data is consolidated in one place. This streamlined workflow allows doctors to see more patients throughout the day without overburdening their office-visit scheduling, all the while increasing revenue for the organization.
EMR & Telemedicine Integration in Practice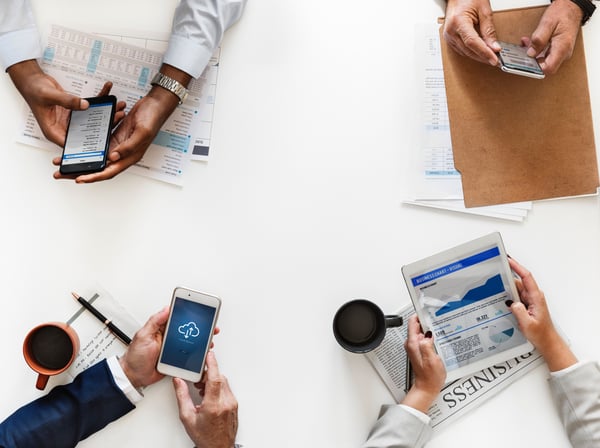 Frederick Memorial Hospital (FMH), one of HRS' partners created the Chronic Care Management Program (CCMP) pilot to monitor patients with high risk conditions, such as COPD, CHF, hypertension and diabetes who did not qualify for home health or were unwilling to take part in a home health program. FMH released results showing an 89% reduction in hospital readmissions and a 49% reduction in emergency department visits for the patients enrolled. Due to this sharp decline, FMH decreased the average cost of care for these patients by 52%.
HRS is integrated bidirectionally with FMH's EMR, Healthwyse. Through this integration, the data that is tracked on the HRS tablet is communicated directly to the EMR. This improves continuity of care, while also saving the physician time and reducing the possibility of error. With our in-house integrations team, we've built connections with many of the most popular EMR systems used today. We are also able to support our clients with new EMR integrations when needed.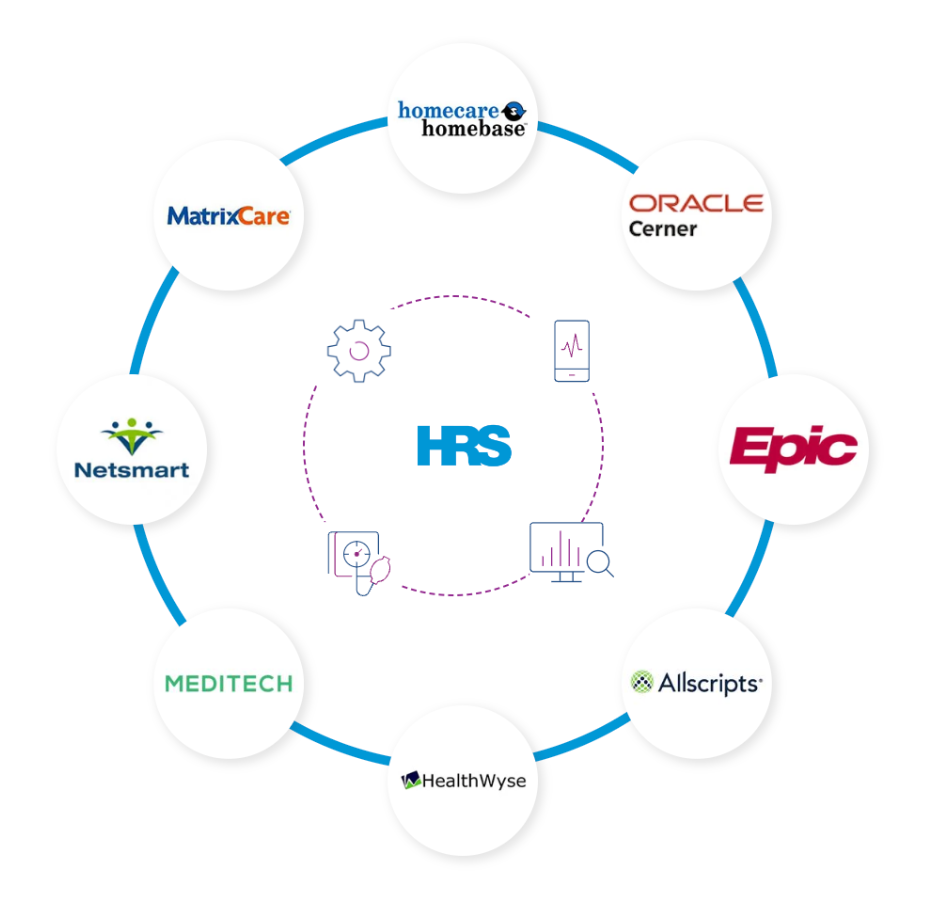 HRS EMR Integrations
HRS integrates with EMRs and EDWs to optimize clinician workflow by reducing redundancy and double documentation.
LEARN MORE
Improving Data Collection with Telemedicine Software
EMR integrations can be extremely beneficial from a reporting and analytics perspective, especially for reporting and billing reconciliations for all commercial payers, as well as Medicare and Medicaid. When a telehealth encounter (i.e. remote patient monitoring or virtual visit) integrates with the EMR, data collection and billing for the health system is facilitated. With the CMS changes for virtual check-ins, remote patient monitoring, and internet consultations, reporting is extremely important. Telehealth encounters can now be reimbursed, creating a huge opportunity for providers nationwide, while also creating a need for efficiency and accurate reporting. Bidirectional integrations between the EMR and telemedicine software helps organizations follow this requirement.
The Positive Impact of EMR Integration
An EMR integration with an organization's telehealth program allows for the delivery of complete and effective care, while also streamlining provider workflows and reducing redundancy. Successful integration will result in more convenient care for patients, better patient outcomes, and an improved technology experience for providers across the health system.
Novant Health's Epic EMR Intgeration
See how Novant Health's EMR integration was deployed in 4 easy steps. Dr. David Voellinger of Novant Health Bariatric Solutions said, "EMR integration is crucial to an effective RPM program on multiple levels. Patient care is more efficient by allowing RPM data to be viewed within the EMR for seamless record review documentation, and orders."
LEARN MORE