In healthcare, care coordination plays a pivotal role in delivering quality patient care. It involves collaboration and communication between healthcare providers to ensure that patients' needs are met and that they receive safe and effective treatment.
Without proper coordination, patients may face confusion, repeat tests, medication errors, and potential adverse health outcomes. Fortunately, remote patient monitoring (RPM) and telehealth technology have revolutionized care coordination by enabling healthcare providers to remotely monitor patients' health and seamlessly facilitate communication among caregivers.
This blog explores the importance of care coordination in healthcare and how RPM and telehealth enhance care coordination to improve patient outcomes.
Before we dive in, let's review the basics of care coordination.
What is Care Coordination?
Care coordination is the process of healthcare providers working together to share information and deliver quality care for patients. Patient care often involves more than a single physician, and care coordination helps patients by ensuring their needs are communicated to all parties involved in their care, facilitating high-quality, safe treatment.
Why is Care Coordination Important?
Effective care coordination is a vital component of healthcare for a number of reasons, including:
Primary, emergency, and specialty care facilities in the US are disjointed and have differing processes
Referral staff must go through many processes and lists of information, reducing the efficiency of care
Specialists may not receive clear reasons as to why the patient was referred or information on tests that have already been conducted, while primary care physicians are rarely updated on what happened during a referral or emergency visit
Patients are frequently confused about why they are being referred from primary care to a specialist, how to make appointments, as well as what to do after meeting a specialist
Care coordination in healthcare is also essential to prevent situations where treatments prescribed by different providers might conflict with each other, possibly leading to adverse health outcomes. When providers are not communicating effectively, the patient will likely undergo unnecessary repeat tests and experience medication or medical errors. Patients who are chronically ill or have multiple complex health conditions are at higher risk of experiencing complications.
Care Coordination Best Practices
Coordinating care has become much easier with the widespread adoption of electronic health records. By utilizing an online platform, providers can more easily see and update a patient's medical history. Joining an Accountable Care Organization (ACO) can also be an excellent way for doctors to enable coordination and communication when treating patients with specific conditions or within a specific geographical region. Programs or models that support care coordination, such as CMS Innovation Center, Medicare Shared Savings Program and the California Advancing and Innovating Medi-Cal (CalAIM) initiative, can also help healthcare providers with cooperative treatment efforts.
These care coordination best practices ensure that healthcare providers can work together and deliver the best standard of care possible for their patients.
How RPM and Telehealth Help with Care Coordination
Another technological advancement that has emerged to improve care coordination is remote patient monitoring (RPM). RPM has gained traction in a variety of care settings in recent years and continues to grow as a popular supplement to in-person medical care.
RPM is a form of telehealth that provides healthcare providers with crucial information about a patient's health through remote monitoring devices placed in the patient's home. With remote access to this data, healthcare providers can conveniently review patients' vital signs and symptom surveys, while easily communicating with both patients and each other. This collaboration helps create a care coordination plan that leads to improved patient outcomes.
Let's explore how some key features of RPM, including remote vitals monitoring, virtual communication tools, and education and medication management contribute to enhanced care coordination.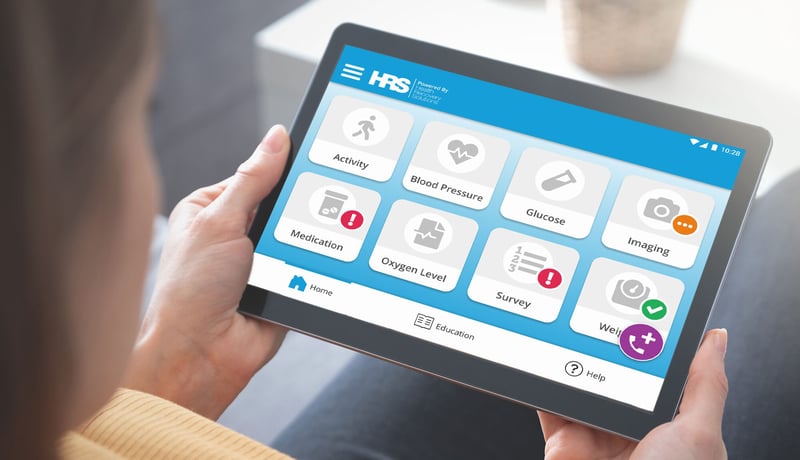 A patient on an RPM program powered by HRS uses a tablet to record vital signs, virtually communicate with their healthcare provider, and learn about their condition.
Remote Vitals Monitoring
RPM leverages technologies like heart rate monitors, glucose meters, blood pressure monitors, pulse oximeters, and other medical devices to remotely record and monitor patients' vital conditions. Patients can also self-monitor and answer questions about their daily condition. This data is subsequently shared among healthcare providers, potentially guiding further care and treatment decisions.
Caregivers caring for patients with ongoing care needs, such as those with heart conditions, hypertension, or diabetes, can take advantage of the continuous monitoring provided by RPM to tailor treatment plans to the patient's needs. It also alerts providers in the event of a high-risk reading, allowing them to intervene promptly. This way, clinicians can stay informed on a patient's condition remotely.
Virtual Communication Tools
Virtual communication tools allow healthcare providers to stay connected with the patient and each other to coordinate effective treatment. Virtual visits through video conferencing enable medical professionals to check in on their patients remotely. Besides calling or video chat, patients can also use text messaging to contact caregivers.
Additionally, healthcare providers can use a symptoms survey to ask patients about symptoms they are experiencing. By assessing their symptoms, doctors deepen their understanding of the patient's condition and can use this information to inform further care decisions.
Education and Medication Management
RPM also allows patients to be more engaged in the treatment process through educational videos, infographics, or other educational materials tailored to their condition provided via digital applications. Enhancing patients' health literacy empowers them to manage their symptoms and medications, make well-informed choices, communicate more efficiently with healthcare professionals, and much more.
Additionally, medication reminders sent through applications can help patients manage their medication, ensuring that they fulfill their treatment needs in a timely manner.
How Effective Care Coordination and RPM Helps Patients
Effective care coordination helps to improve outcomes for patients. In the case of George, a 73-year-old man with COPD and CHF, enrolling in a telehealth and remote patient monitoring program helped his caregivers stay connected to improve his quality of life.
George was admitted to Cornerstone VNA after a hospital discharge. He required continuous oxygen and struggled with weakness, anxiety, and shortness of breath. After briefly returning to the Emergency Department for COPD exacerbation, George resumed Cornerstone VNA services under a Palliative Care (PC) Nurse's supervision. With small goals set for him, George showed improvement and gained confidence in his recovery. Once he demonstrated increased strength and better management of his chronic condition, the nurse transitioned him to the telehealth program.
The PC Nurse trained George on using telehealth equipment, including educational materials, daily survey questions, and video chat capabilities. George actively participated in the program, allowing a telehealth nurse to monitor his vital signs and communicate any concerns to his doctor. The video chat feature enabled real-time support for George's oxygen levels and medication management. As a result, George learned how to manage his symptoms better, improved his respiratory status, and increased his activity levels. His oxygen requirements were reduced, and he could leave home with an oxygen-conserving device. During his four months on the telehealth program with Cornerstone VNA, George had only one emergency room visit and no re-hospitalizations.
How HRS Can Help You with Care Coordination
Care coordination is a crucial aspect of delivering high-quality patient care. Advancements in remote patient monitoring and telehealth technology have revolutionized care coordination.
By utilizing RPM, healthcare providers can leverage remote vitals monitoring, virtual communication tools, and education and medication management to create personalized treatment plans. These advancements significantly improve the efficiency and effectiveness of care coordination.
HRS has over a decade of experience helping healthcare providers launch and derive ROI from their RPM and telehealth programs. To facilitate care coordination, HRS' ClinicianConnect® was designed by and for clinicians as a centralized patient management portal, that integrates with your EMR, to ensure greater quality of care. With ClinicianConnect® and HRS' remote patient monitoring solutions, you can:
Boost clinician-patient interaction through virtual visits, text messaging, and calls
Customize patient care plans with a library of over 90+ disease presets
Monitor, triage, and care for patients in real-time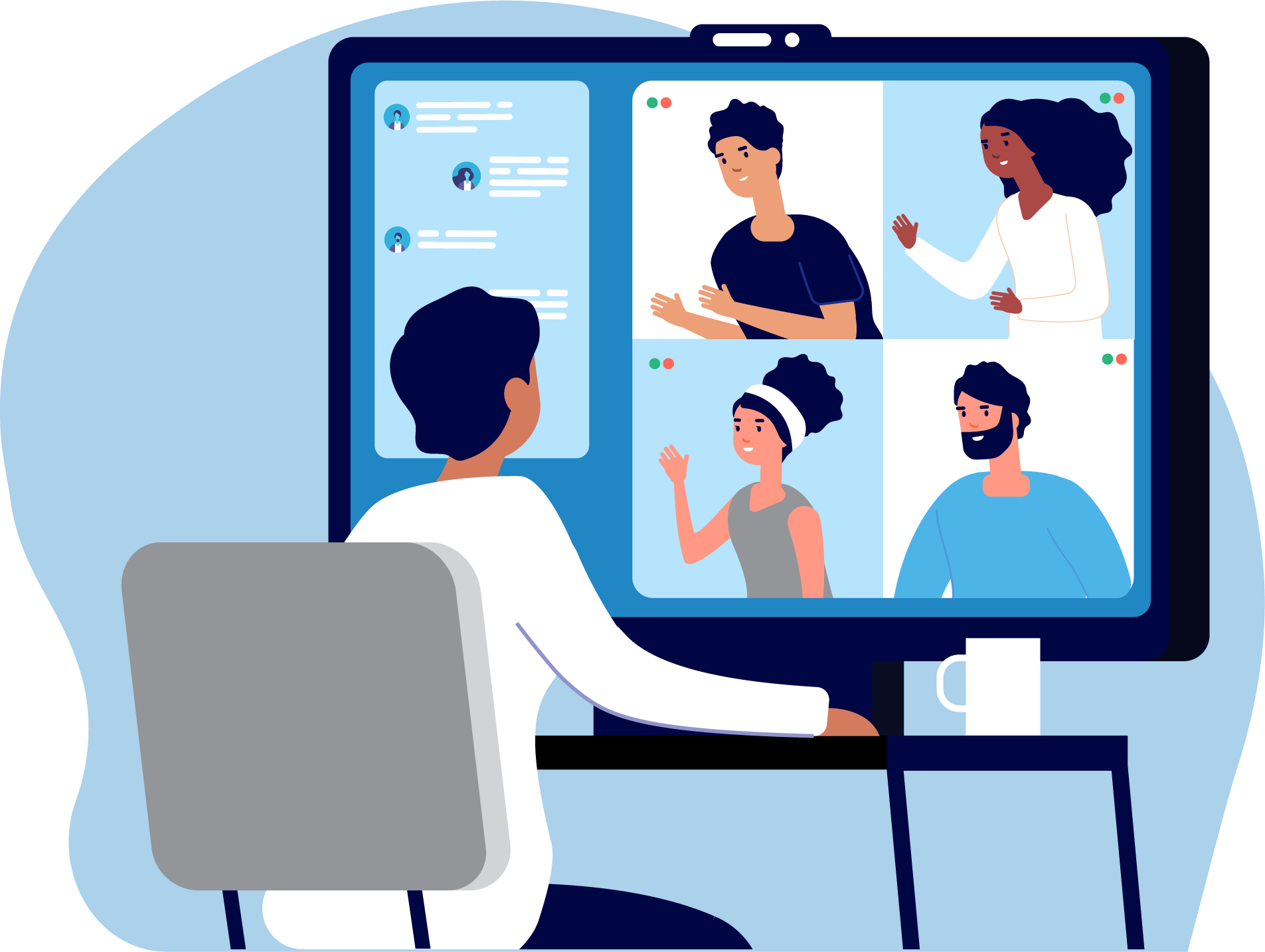 Get Started with RPM & Telehealth
Contact HRS today to speak with a digital health specialist about implementing RPM and telehealth to improve care coordination.
Request a Demo