Improved communication is one of the key benefits of a successful telehealth program. When most people think of telehealth communication tools, they think of virtual visits. Texting patients isn't (usually) the first tool that comes to mind. That being said, text messaging can be a very valuable component of your telehealth program, one that helps improve care plan compliance, patient engagement, and the patient-provider relationship.
Text messaging is something most people know how to do. Most of us with cell phones (yes, even the elderly) send at least one text a day to a friend, family member, colleague or peer. People are familiar with text messaging and how it works. Typically, there's less of a learning curve for telehealth text messaging, since people already understand how to use the tool.
Don't forget about HIPAA Compliance!
Many telehealth programs today incorporate a form of texting patients. The applications for text messaging in telehealth programs run the gamut. Text messaging is often used for confirmation of appointments (virtual and in person), medication reminders, simple check-ins, symptom questions, and more. If you're considering implementing texting patients as part of your telehealth program, it's important to consider whether the application is HIPAA compliant.
Consent is essential—to extend HIPAA compliant texting to patients, providers must receive consent to speak on medical issues via text from the patient directly. Patients using the HRS solution, for example, consent to the telehealth program immediately upon turning on their tablet or signing in to the mobile app on their personal device. Additionally, the HRS software itself is HIPAA compliant. When evaluating vendors, be sure to take HIPAA compliant texting into consideration.
HCR Home Care's Experience with Telehealth Text Messaging
Maranda Perez, RN, from HCR Home Care in Upstate New York, uses text messaging to engage her telehealth patients. She has a lot of success text messaging patients—some patients even send her smiley faces as soon as they take their vitals.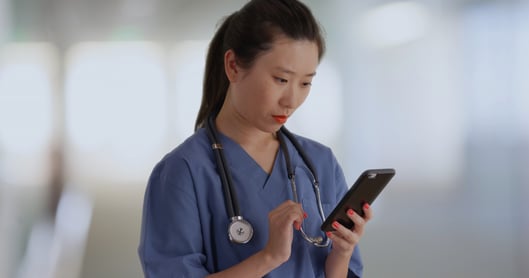 Perez's Tips for Promoting Patient Engagement
Perez does not personally install telehealth at the patient's home. Instead, the day after the initial telehealth install she contacts patients to introduce herself. She likes to establish a relationship on the phone as soon as the patient receives their telehealth unit.
On her first call with patients, Perez highlights the importance of taking vitals daily, answering symptom related survey questions, and using the tablet to communicate with her if needed. She reassures them that she is checking their readings daily and that she will call them should any readings put them at high-risk for readmission.
She adds, "while monitoring patients, if I notice that a patient is actively recording their vitals, I will send them a text thanking them for being diligent. Also, if a patient has a high-risk reading, I will text them informing them that I will call them immediately."
When it comes to texting patients, she emphasizes that repetition and prompting is important for keeping them engaged and ensuring satisfaction with telehealth. As a clinician, watch for the survey answers that ask patients if they feel supported by their telehealth team. This will offer insight into their satisfaction with telehealth and keep lines of communication open between patient and provider.
Perez' Recommended Steps for Texting Patients:
Introduce yourself as the main point of contact for the patient reassuring the patient that you are a real person who is checking their transmitted vitals
Walk the patient through communication features on the phone, if possible
Highlight the use of the text messaging and ask the patient to text you while on the phone so they can see how quickly they can reach out to you for support
Keep patients engaged by sending them thank you texts after they have recorded their vitals
Engagement is important to ensure that patients adhere to their treatment plan. To achieve success with telehealth, patients must take their vitals daily and openly communicate with their clinician—text messaging adds that extra layer of support that many patients need.