Through remote vitals monitoring, clinicians can track their patient's health in real time, take proactive steps to prevent deterioration, and identify potential health issues. This helps reduce hospital visits and readmissions while keeping clinicians connected with patients.
As the telemedicine industry continues to evolve, clinicians have access to an increasing number of clinical-grade monitoring devices to measure key vital signs remotely.
Monitoring Patient Vitals with RPM
Remote patient monitoring, also known as RPM, is a method of healthcare delivery that collects patient data outside of traditional healthcare settings using advances in information technology. As part of an RPM program, a patient's vital signs, such as blood pressure, heart rate, respiration rate, oxygen saturation level, and temperature, are remotely monitored using digital tools and devices.
Let's dive deeper into the five key benefits of remote vitals monitoring:
1. Increased Access to Value-Based Care
Replacing the traditional fee-for-service reimbursement model, value-based care ties payment for care delivery to the quality of patient care. Implementing value-based care effectively improves patient outcomes and reduces care costs; however, it presents some challenges to the healthcare system.
Lack of resources is one of the most pressing challenges facing organizations looking at implementing value-based care. Remote vitals monitoring can help alleviate some of these challenges by helping providers increase capacity. Through virtual visits and remote vitals monitoring, providers can increase staff efficiency and focus more energy on the highest risk patients. As an average across clients, remote monitoring allows a ratio of 80 to 100 patients for every telehealth nurse.
Value-based care centers around cost-efficiency, achieving better patient outcomes, and increasing patient satisfaction. These are also the pillars of a successful remote monitoring program.
2. Improved Patient Outcomes
Checking vitals such as heart rate, blood pressure, and blood glucose levels usually requires scheduling in-person doctor visits. This can be stressful, especially for those who must take time off from work or coordinate with family members for transportation. But with remote monitoring technology, patients can share their vitals using Bluetooth-enabled biometric devices from the comfort of their homes, making it easier for patients and family caregivers to be more involved in health management, thereby improving health outcomes.
As a real-life example, patients enrolled in the remote monitoring program with Southcoast VNA are monitored daily, with clinicians responding to risk alerts based on their reported vitals and symptoms. To quickly evaluate patients and address any concerns, providers can contact patients directly via a virtual visit or text messaging.
This care model replaces at least one in-person visit a week with a virtual visit, and the additional touchpoint has significantly improved physician-patient trust and communication, while decreasing care costs and staff workload by avoiding unnecessary in-home visits.
In the last 16 months, from October of 2021 until January of 2023, the Southcoast VNA's RPM program has achieved a low 30-day readmission rate at seven percent for 2,621 high-risk patients.
Southcoast Health Reduces In-Home Care Costs and Hospital Readmissions with Virtual Visits and Remote Patient Monitoring
Southcoast VNA saves an average of 4 in-home nursing visits leveraging virtual visits & remote patient monitoring with a 7% 30-day rehospitalization rate for 2,621 patients over the last 16 months.
LEARN MORE
3. Healthcare Cost Savings
Remote vitals monitoring can significantly reduce avoidable ER visits, unnecessary hospitalizations, and readmissions, thus reducing healthcare costs. Vital monitoring devices may help patients have a greater understanding of their disease and risk alerts can notify providers of rising patient risk. This allows physicians to have visibility into their patient's conditions and quickly intervene—without the associated costs of a hospital admission.
Southcoast VNA was able to save an average of four in-home nursing visits annually, and generated over $500,000 in cost savings, using virtual visits and remote monitoring.
4. Enhanced Patient Engagement
In a traditional healthcare setting, once a patient leaves the doctor's office, care delivery ends until the next visit. Practitioners lose visibility into what is happening with their patients when they are not within their sight. They can only hope that the patients are following their advice.
But with remote monitoring, this barrier is removed, and practitioners have ongoing visibility into their patient's health condition. This can improve the patient-practitioner relationship and drive better health outcomes. It's important to implement a program that includes multiple communication channels (text messaging, videoconferencing, phone calls) and resources to support patient engagement. Both patients and clinicians need to be fully engaged with the program to see a positive impact.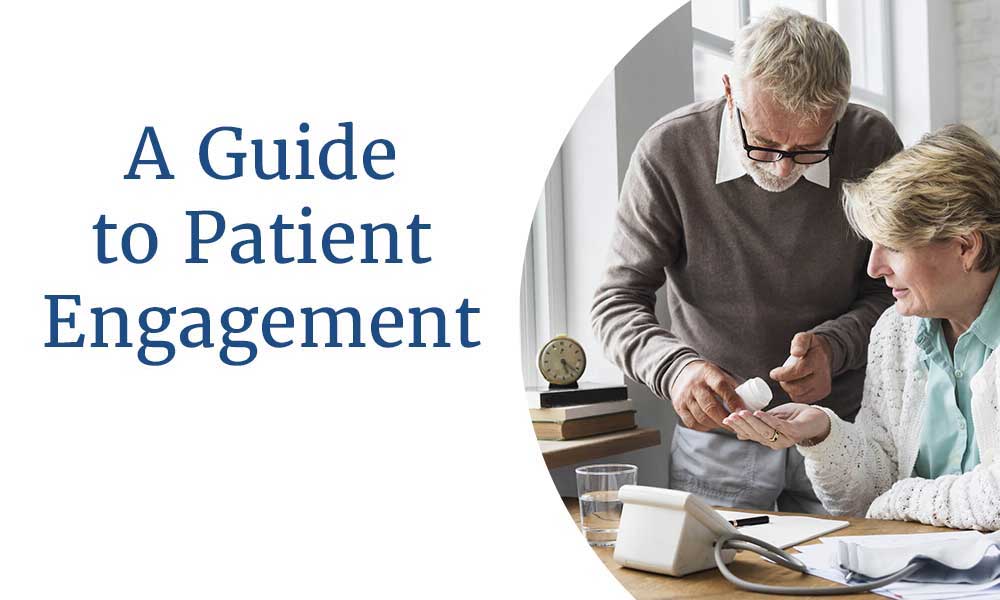 The Complete Guide to Patient Engagement
A robust patient engagement strategy comes with many benefits. Two that are most notable are improved health outcomes and reduced cost of care.
View the guide
5. Increased Healthcare Provider Efficiency
Remote vitals monitoring can help reduce ER visits and avoidable hospital readmissions, allowing practitioners to focus more of their time and energy on patients that need them the most. In the face of an ever-worsening nursing shortage, remote monitoring is key to making healthcare delivery more efficient and streamlined. Care providers can better position their staff to support the most at-risk patients, while also monitoring and educating patients with chronic conditions from afar.


Remote Vitals Monitoring: A Holistic Care Delivery Program
Remote monitoring is a critical part of the modern, value-based care model of healthcare delivery. For patients, remote vitals monitoring provides better access to care, improved health outcomes, and better quality of life. And for healthcare providers, remote monitoring technology allows improved chronic disease management, decreased disease exacerbations, increased productivity for clinicians through improved workflows, and reduced healthcare costs.
Health Recovery Solutions has helped thousands of patients and healthcare providers achieve their desired health outcomes. Contact us today to learn how HRS can help you too.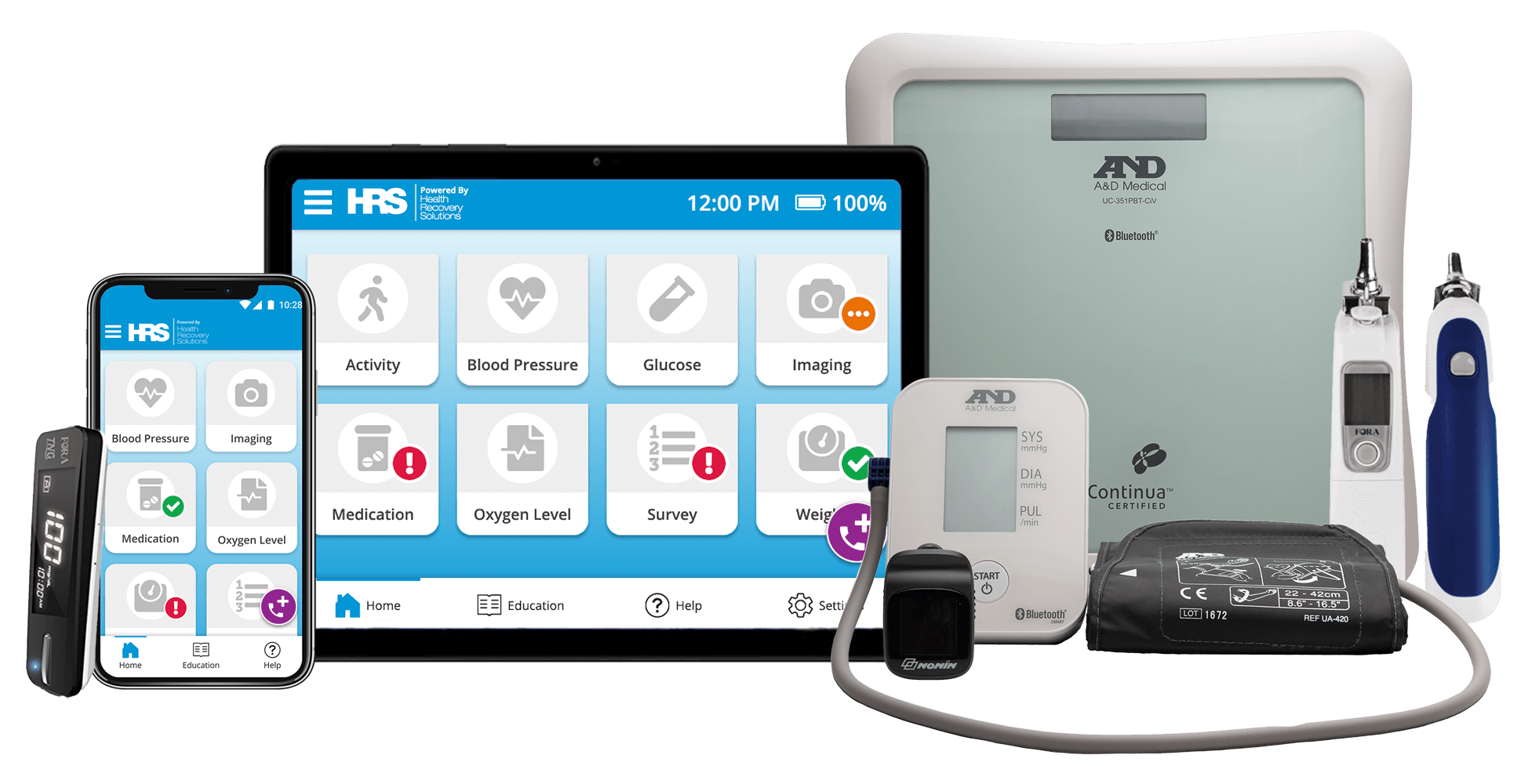 Looking for a remote monitoring solution for your patients?
HRS helps healthcare providers better serve patients across the care continuum through virtual visits and 'Best in KLAS' remote patient monitoring technology. Contact us today for a personalized demonstration.
Get My Free Demo