Incorporating Patient Education into Your Telehealth Program
Why is it important to incorporate patient education into your telehealth program?
Education empowers patients—it helps patients understand information related to their condition(s), ultimately helping them prevent or improve health problems and protect their health.
During critical and scary times like the COVID-19 pandemic, patients, clinicians, families, and caregivers want to be provided with the most up-to-date and accurate resources related to the outbreak, especially the resources that directly impact themselves, their patients, or their loved ones.
When patients are more involved and engaged with their care management and understand how to take cautious and preventative measures, they are more likely to participate in actionable solutions and interventions. Throughout the pandemic and after, organizations should include patient education programs as a key component of their telehealth services, as there is evidence that "the more clearly a disease is understood, the more likely it is that an individual will be comfortable with their care and adhere to necessary regimens." (MediaPost, Koren 2016) As medication adherence and patient compliance are critical to preventing readmissions, the importance of patient education cannot be overstated.

During COVID-19 specifically, many providers incorporated education into their telehealth platform. Examples of education include:
Disease prevention across patient populations and disease-management groups
Educational materials on all types of sanitization in different settings
CDC and other official public resources
Ability to foster patient independence and allow patients to make informed decisions
Building knowledge of conditions and decreasing complications by virtual teaching techniques, clinical guidance, continuous monitoring, and connectivity
The capability to electronically upload agency-specific or proprietary resource materials important to your organization or patient's condition (ex: zone tools, exercise guidelines, dietary instructions, educational plan of care, pamphlets, etc.)
Recorded trainings to upload to your organization's online educational platform
Enhanced compliance and improvement of health literacy


The Nurse or Telehealth Champion's Role in Patient Education
Primary Goal of the Telehealth Champion: Enable efficient and accelerated deployment of telehealth and remote patient monitoring solutions to assess and support patients.

The primary focus of your patient education plan within your telehealth program should be disease or diagnosis driven. It should align with the goals of your program clearly defined by the executive and/or clinical leads of your telehealth program as well.
During 2020, all patients on the HRS telehealth paltform received the most updated COVID-19 specific resources.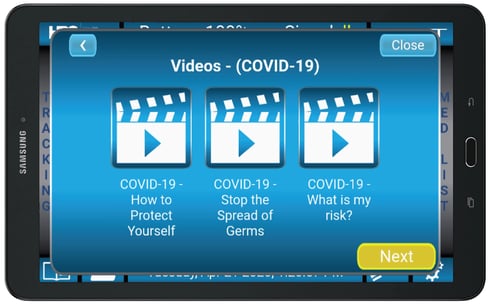 Sample of COVID-19 Educational Videos on HRS Tablet
Some organizations do not take a diagnosis-driven approach to patient identification, perhaps offering telehealth to all patients, service lines, or geographical areas.
If that is the case, you may choose to provide general educational materials about the services provided, as well as proprietary pamphlets, dietary instructions, or additional resources pertaining to patient care management and building independence in the home.
Customizing the Educational Library and Patient Teaching Plan
When customizing the educational library for your patient teaching plans, make sure to consider patient differences as well as the time of comprehension for each individual patient. We suggest providing patients with short and digestible video clips that range anywhere from 3-6 minutes. With this length of time, you can ensure patients remain engaged for the whole video.
In one of their blogs, the Wellness Network, HRS' partner for video education highlights the importance of patients being sufficiently informed. Author Daniella Koren states "learning about their condition means these individuals have the knowledge to undertake their treatments with confidence and, in some cases, are likelier able to do so safely outside a medical facility."
In "Approaches to Patient Education: Emphasizing the Long-Term Value of Compliance and Persistence," published in The American Journal of Medicine, the authors discuss how "patient education significantly improves compliance with medication across a broad range of conditions and disease severity."
A lack of educational resources can result in poor clinical outcomes and increased hospitalizations. This study supports that patient education programs can increase quality of life for the patient, as well as overall cost-savings. For providers that want to improve the value of care for their patients and keep their costs down, the importance of patient education must always be kept in mind.
Clinician Education & Implementation
At HRS, our Client Success Team does intensive clinical training on our telehealth platform for every client. During training sessions, Client Success always emphasize the importance of patient education within the platform, discussing how it aids the patient by helping them learn more about their condition, resulting in independence and increased patient engagement that will keep the patient from returning to the hospital.

When implementing a telehealth program, patient education programs are necessary for all clinicians who will be utilizing the platform. At HRS, our clients quickly learn that we define our patient-facing solutions as educational and assessment tools, that can empower both the provider and the patient.
It is important to place an emphasis on building excitement around the value of the telehealth solution, and the true benefits it can provide. Any individual who may have been involved with past programs or technologies can give insights and feedback that can be helpful in guiding what might work well for your organization.
Below is a typical HRS training schedule for the clinical team:
Pre-training demo - Kick-off presentation and high-level overview of patient-facing solution and ClinicianConnect web portal

Plan out clinician education for all teams, departments, branches, etc.
Build excitement around telehealth program and program strategy/vision – this is done by the Telehealth Client Success Manager and "Telehealth Champion"



Clinical Discussion - Break down workflows, telemonitoring hours, patient identification, eligibility criteria, discharge criteria, monitoring structure, etc.


ROI Discussion – Meet to discuss ROI goals with telemonitoring solution and create a data collection plan to track program success metrics


Clinician Education (virtual or onsite) - Performed with all teams (case managers, field nurses, office-based nurses, NPs and MDs performing oversight)

Kick-off presentation before official go-live/program launch



Monthly remedial training with members of the HRS Client Success Team


Weekly check-ins from the HRS Client Success Team through deployment on building utilization, and creating ROI with the program
For your telehealth program to be successful, the importance of patient and clinician education must be kept top of mind. If you want to revamp the educational resources you are providing your different patient populations within your telehealth program, please reach out to us to learn more.
Resources
Heath, Sara. "Why Patient Education Is Vital for Engagement, Better Outcomes." PatientEngagementHIT, PatientEngagementHIT, 12 Aug. 2016, www.patientengagementhit.com/news/why-patient-education-is-vital-for-engagement-better-outcomes
Koren, Daniella. "The Impact of Knowledge: Patient Education Improves Compliance and Outcomes." The Wellness Network, MediaPost, 4 Oct. 2016, www.thewellnessnetwork.net/health-news-and-insights/blog/the-impact-of-knowledge-patient-education-improves-compliance-and-outcomes/.
Approaches to patient education: emphasizing the long-term value of compliance and persistence.
Deborah T. Gold, Betsy McClung. American Journal of Medicine. 2006 Apr; 119(4 Suppl 1): S32–S37. doi: 10.1016/j.amjmed.2005.12.021