Introduction to Health Literacy
According to the Center for Health Care Strategies, nearly one-third of American adults are ill-equipped to manage and make informed decisions about their health due to poor health literacy. 
This can have detrimental effects on all areas of health, ranging from medical errors and increased illness and disability to loss of wages and compromised public health. The effects are felt beyond a personal level: studies show that poor health literacy is costing the American economy up to $236 billion annually,while increased admissions further burden the healthcare system in a time where hospitals are battling nursing shortages amidst COVID. 
But what constitutes good health literacy? What are solutions that can be put into place to overcome barriers that prevent individuals from gaining adequate health literacy? We look at these questions, and more, in the following sections. 


What is Health Literacy?
The Center for Disease Control (CDC) defines personal health literacy as the "degree to which individuals have the ability to find, understand, and use information and services to inform health-related decisions and actions for themselves and others."2  
Put simply, individuals with better understanding of their conditions, how to care for themselves, and where to seek help and resources, are empowered to self-manage their health, which leads to improved health outcomes. 


How Does Health Literacy Impact Patient Outcomes?
Research has shown that poor health literacy leads to negative patient outcomes, including: 
Medication errors due to poor communication between providers and patients
Low rates of treatment compliance 
Reduced use of preventive services, leading to delays in diagnosis and treatment
Unnecessary emergency room visits 
Compared to individuals with proficient health literacy, those with low health literacy are also more likely to experience: 
Greater health care use, including more hospital visits and longer hospital stays
Higher health care costs
Increased chances of serious illness or disability
Higher rates of mortality
It is beneficial for healthcare providers to ensure that patients have the necessary resources and tools to improve their knowledge on their health. This is where patient education plays a key role. 
Poor health literacy can be due to a variety of factors, which may not always be within an individual's control. Language barriers and socioeconomic background are just some factors that can impact how well an individual can absorb, process, and utilize health information to their benefit. 
Furthermore, general literacy does not always correlate to adequate health literacy. Interpersonal skills, such as the ability to follow instructions before a surgery, take the right dosage of medicine, or follow a healthy diet and lifestyle, are equally important in maintaining one's state of health. 

What is Patient Education?
Patient education is defined by the American Academy of Family Physicians as the "process of influencing patient behavior and producing changes in knowledge, attitudes, and skills necessary to maintain or improve health." 
As it is, individuals face complex decision-making processes every day that involve their health. With the speed that new healthcare technology is being introduced and implemented—which can further complicate the process—those who already have poor health literacy risk being left behind.
Patient education programs are necessary as they increase the patient's understanding of health information and provide them with feelings of support, which subsequently improves patient outcomes. Providers looking to improve the quality of care and keep costs down for their patients need to keep patient education in mind when developing their education materials. 


The Benefits of Good Patient Education
Helps patients to understand their care plan, including symptom management and prescriptions
Enables patients to communicate effectively with healthcare providers, ensuring they receive the right treatment 
Empowers patients to make informed decisions about their health
Helps patients to navigate the complexities of the healthcare system, such as insurance coverage, and locating providers and specialists needed for quality and affordable care 



3 Key Areas of Patient Education
1

Preventative care 
Preventative care ensures that illness is detected early before it develops into a chronic disease. Health screenings and vaccinations are examples of preventative care. Early detection of pre-diabetes, for example, allows providers to encourage patients to make lifestyle changes to slow the onset of the disease. 
Patient education in this area typically involves educating patients on the importance of getting regular health screenings, as well as where to access them. This can be done through marketing collateral such as newsletters and emails, or through public campaigns organized by local healthcare centers. 
2

Pre- and post-care procedures

  
Patients undergoing medical procedures may be required to make preparations before their surgery and will need to be instructed on how to properly care for themselves while recovering at home. In some cases, caregivers will also need to be included in recovery instructions and care. 
Text messages reminding a patient to fast before a colonoscopy, as well as medication reminders, are examples of patient education in pre- and post-care procedures. This can help reduce the risk of hospital readmissions due to poor adherence. 
3

Management of chronic illnesses

 
Living with chronic illness can be mentally and physically draining for the patient and their caregivers. While medical professionals seek to provide optimal care, a patient's ability to self-manage their conditions at home also plays an important role in improving their quality of life.
Patients with congestive heart failure, for example, will need to know how to measure their vitals and manage lifestyle choices such as diet and exercise. FAQs, a video library on specific conditions, and tips on exercise and diet are examples of how patient education can help with chronic disease management.


Patient Education vs. Patient Engagement
Good patient education contributes to better patient engagement. Patient engagement refers to the willingness of a patient to take proactive steps in their health management and change their behavior to positively improve their quality of life. This means greater patient safety, reduced hospitalizations, and better cost savings in the long run. 
However, to achieve a high level of patient engagement, the patient education process needs to be constant, and it needs to be tailored to individuals rather than a one-size-fits-all solution. Simply providing a handout to a patient at the end of an appointment does not translate to better patient engagement. 
With healthcare pivoting to become more patient-centric, healthcare providers and professionals will need to customize education programs that can truly meet patients where they are, to effectively cater to their needs and goals. 
Remote Patient Monitoring and Telehealth: 6 Key Features For Patient Engagement
When patients engage in their own care, outcomes improve and satisfaction increases. Costs are reduced and quality is improved. Wondering how to incorporate telehealth into your digital patient engagement strategy?
Download our infographic on 6 key telehealth and RPM features to improve patient engagement.
Download the Infographic
Getting Started with Patient Education
Patient education encompasses a variety of techniques and media, the latter of which can be physical or digital. Some examples include one-on-one teaching, demonstrations, and pictures to explain concepts. There are also other tools, such as: 
Group classes
Brochures or printed materials 
DVDs
Posters or charts 
Trained peer educators 
Teach-back videos 
Each patient is unique and will have varying needs, concerns, support preferences, and barriers to learning. After a thorough assessment, you'll need to plan with the patient and select the best resources to fit them. Here are seven tips on choosing the right patient education materials: 
Consider your patient's learning style 
Set realistic goals 
Be attentive to the patient's concerns 
Respect the patient's limits 
Present information in an organized manner that is easy to understand 
Be flexible and willing to adjust your plan accordingly based on the patient's health status, concerns, and environmental factors 
Consider the best medium of education—be it physical or digital—and leverage virtual visits when appropriate
Implementing a successful patient education program starts with equipping your clinicians with the proper patient teaching tools and techniques. Learn about how you can train your clinicians to get started with telehealth.



How Telehealth and Remote Patient Monitoring Helps in Patient Education
COVID has accelerated the digitization of many areas, and healthcare is no exception. Movement restrictions, social distancing concerns, and medical staff shortages have necessitated the use of technology such as telehealth, where patients receive care and health services at a distance through digital platforms. 
Telehealth covers a broad range of technologies and services. Virtual visits, patient education through digital platforms, and Bluetooth biometric devices that record daily vitals, are all part of telehealth. 
Underneath this umbrella is remote patient monitoring (RPM), which monitors trends in a patient's health to help providers determine the most appropriate care plan. It is also essential in helping patients learn self-management skills, especially for chronic, long-term illnesses. 
Studies have found that telehealth can be equivalent or more clinically effective when compared to usual care. Through tools such as teach-back videos and video consultations, telehealth and RPM can be efficiently utilized for patient education, as they not only inform but also engage patients to promote behavioral change. 
Telehealth also empowers clinicians to incorporate disease-specific educational materials into patient care plans. This encourages patients to be more independent and proactive in their health management and self-care.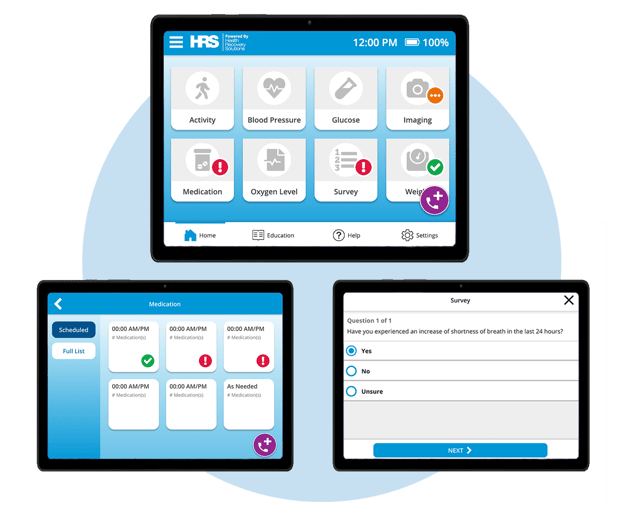 Leveraging HRS Tools for Patient Education
At HRS, we combine technology and experience to implement successful telehealth and RPM programs, in line with your organization's goals to help patients understand and take steps to prevent and manage chronic illnesses. This is crucial beyond a formal healthcare setting, as it will limit readmissions, which significantly lowers the long-term cost of care. 
Trusted by leading health systems, hospitals, HHAs, hospice, and physician groups, HRS' offers a complete suite of solutions that work to deliver effective patient education. Clinicians will be able to: 
Communicate with patients in real-time through video, phone, and text messaging
Schedule symptom surveys and medication reminders 
Use teach-back quizzes to gauge patients' knowledge and understanding 
Improve patient understanding of their conditions through HRS' extensive video library 
Here are some examples of how HRS can help with condition-specific patient education:


Congestive Heart Failure (CHF)
CHF occurs when the heart is unable to pump enough blood to cater to the body's needs. CHF encompasses conditions such as coronary heart disease, cardiomyopathy, as well as heart valve disease. CHF is the leading cause of hospital admissions and readmissions for people above 65 years of age in the U.S., with reports also suggesting that one in four heart failure patients are readmitted within 30 days of hospital discharge.4 
How HRS helps: 
HRS' telehealth platform enables physicians to monitor the patient's vital signs, and plan necessary interventions in case of abnormal readings. Our telehealth solutions also facilitate effective education delivery via an extensive video library, which covers topics such as heart failure management, plans, lifestyle changes, exercising safely, and more. 
Learn how HRS facilitates patient education for congestive heart failure.
---


Chronic Obstructive Pulmonary Disease (COPD) 
COPD refers to a group of diseases that cause airflow blockage and breathing-related problems and includes conditions such as bronchitis and emphysema. COPD is the third leading cause of death in the world. In the U.S., the readmission rate for COPD is 22.6%, with a mortality rate of 55% within five years of hospital discharge.5
How HRS helps:
HRS' telehealth platform enables physicians to monitor respiratory rate, blood pressure, and oxygen saturation levels. Our video library also facilitates patient education by providing a platform where they can learn proper inhaler techniques, gather nutritional information, find out more about COPD flare ups, as well as recognize and manage symptoms. 
Learn how HRS facilitates patient education for COPD.


---


Hypertension
Nearly half of adults in the U.S. suffer from hypertension (also called high blood pressure). Of this figure, only one in four adults have the condition under control—which is alarming, seeing that hypertension patients have a higher risk of heart disease and stroke. Hospitalization rates related to hypertension are also on the rise: in a study reported in the American Heart Association Journal, the annual hospitalizations for acute hypertension rose from 51.5 to 125.9 per 100,000 beneficiary-years between 1999 to 2019.6 
How HRS helps:
Patients can utilize HRS solutions for medication reminders, symptom surveys, and condition-specific education, with tools such as personal goal setting that helps patients keep track of their lifestyle changes. 
Learn how HRS facilitates patient education for hypertension.
---


Diabetes 
Diabetes is a chronic condition in which the body does not produce enough insulin (type 1 diabetes) or is unable to respond normally to insulin (type 2 diabetes), resulting in abnormally high average blood sugar levels. This can lead to serious health issues such as heart attacks, strokes, vision loss, chronic kidney disease, as well as poor wound healing. The CDC estimates that diabetes affects 11.3% of the U.S. population, or 37.3 million people, and is the seventh leading cause of death in the country. Furthermore, the 30-day readmission rate for diabetes is between 14.4% and 22.7%, which is higher than the rate of all hospitalized patients.7
How HRS helps:
Simple lifestyle measures have been shown to be effective in preventing or delaying the onset of type 2 diabetes, while managing blood glucose control is effective for managing type 1 diabetes. With the right peripherals, a diabetes patient can measure blood sugar levels, blood pressure, as well as cholesterol levels, and relay info to their primary healthcare providers.
Our telehealth and RPM solution can be used to provide timely reminders on medication cycles. It also has features such as wound imaging, which enables patients and caretakers to coordinate with clinicians on wound care and promote quicker response in case of complications. 
Learn how HRS facilitates patient education for diabetes.
---


Atrial Fibrillation 
Atrial fibrillation is a condition that causes an irregular and often abnormally fast heart rate, which manifests symptoms such as dizziness, shortness of breath, and lethargy. It is caused by the upper chambers of the heart not working correctly due to abnormal electrical activity. Atrial fibrillation is more likely to occur in people with other conditions, such as high blood pressure (hypertension), atherosclerosis, or a heart valve problem. While the condition itself is not usually life-threatening, it still requires proper treatment to lower the risk of stroke or heart failure. 
How HRS helps: 
RPM can help reduce hospitalization and prevent worsening of the disease. HRS' solution facilitates real-time connection between the care team, caregiver, and patient—enabling symptom management, close clinical monitoring, and quick escalation should a crisis arise.
Learn how HRS facilitates patient education for atrial fibrillation. 
---


Pneumonia
Pneumonia is characterized as an infection of the lungs, which can be due to viruses, bacteria, or fungi. More than 40,000 people die each year in the U.S. because of complications from pneumonia.8 Pneumonia can also be one of the complications brought about by COVID. Educating patients on preventative care, such as getting vaccinated annually and adopting good hygiene practices, are essential to reduce the risk of hospitalizations due to pneumonia. 
How HRS helps: 
HRS' video library collates information from the CDC, professional public healthcare practitioners, as well as official public resources to prevent misinformation—helping patients build knowledge of conditions. A patient with pneumonia who is recovering at home can also lessen the likelihood of complications, through virtual consultations with their healthcare practitioner and continuous monitoring.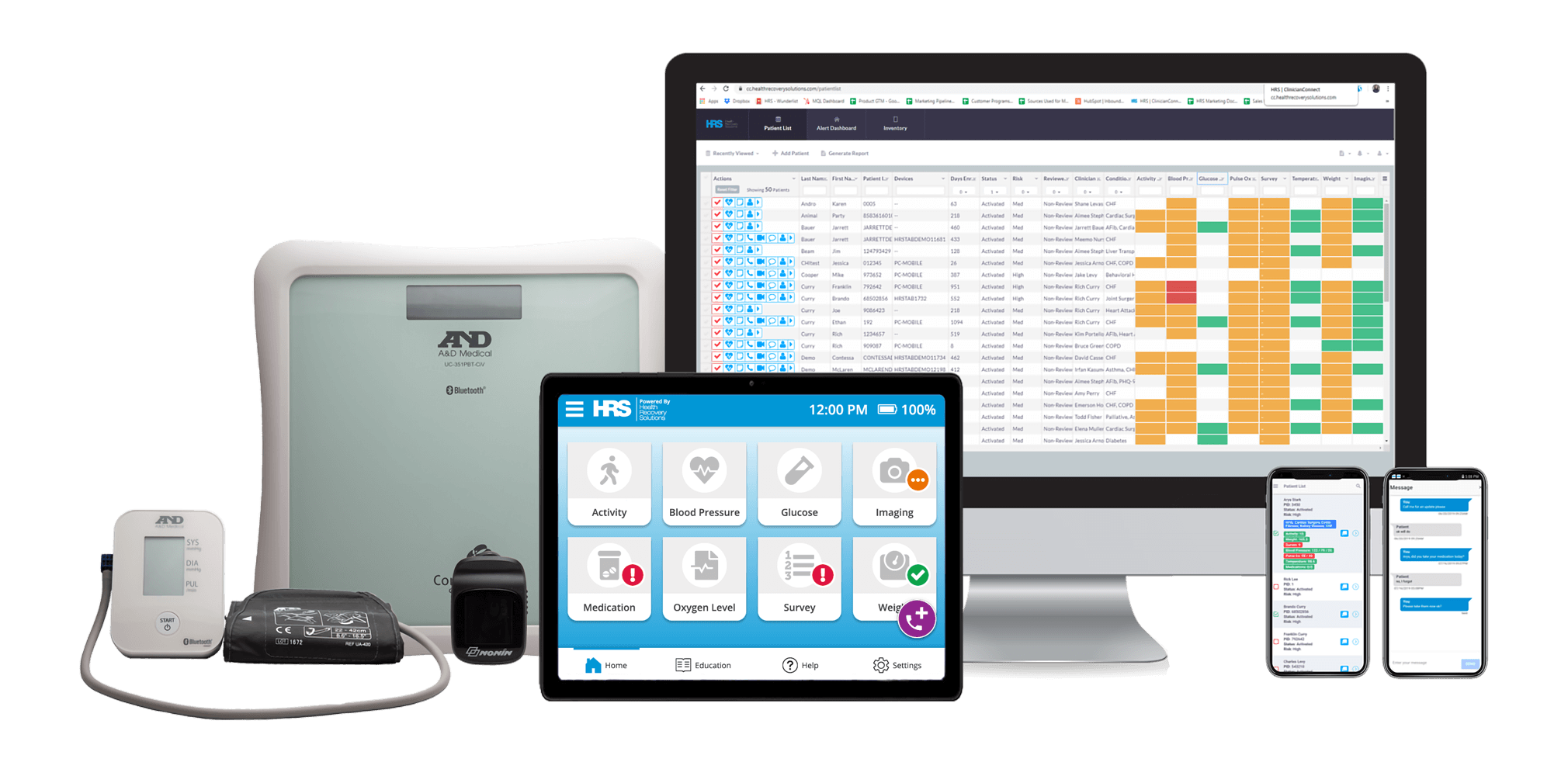 Download the 6 Essential Steps to Building a Scalable and Profitable Telehealth Program White Paper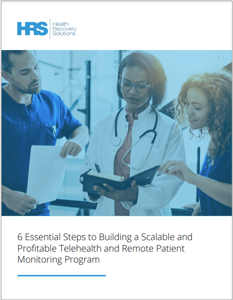 In this white paper, learn about:
Establishing goals

Determining your financial plan

Choosing a technology partner

Building clinician and patient buy-in

Other essential factors to consider to ensure your program is successful