For public health professionals health literacy is one of the first things we learn about. Why? Because it cascades into and influences all areas of health. Per the CDC's definition, personal health literacy is the "degree to which individuals have the ability to find, understand, and use information and services to inform health-related decisions and actions for themselves and others."
Current data suggests that about one third of American adults, or 89 million people, have insufficient health literacy skills. They do not have the tools (often out of their control and due to a range of circumstances) to effectively seek and obtain the medical and preventive care they need, and are twice as likely to report poor health outcomes.
Good information and good health go hand in hand
When we understand our condition, how to care for ourselves, where to access care, how to prevent negative outcomes, whom to contact in an emergency, and how to identify misinformation, we are far more likely to have positive health outcomes. A person who is health literate is empowered to self manage their health.
Health literacy is crucial for good health. Healthcare providers must prioritize its importance in every interaction with patients and families. Providers have a major role to play in increasing the health literacy of their patients and are uniquely positioned to have a major impact—they play an essential role in addressing gaps in understanding and being a trusted resource.
Health care providers and organizations must help their patients and communities identify what is credible information and what is not and how to access needed resources to make good decisions and take action. Similarly, now, more than ever, against the backdrop of the COVID-19 pandemic, having the tools to identify misinformation is essential.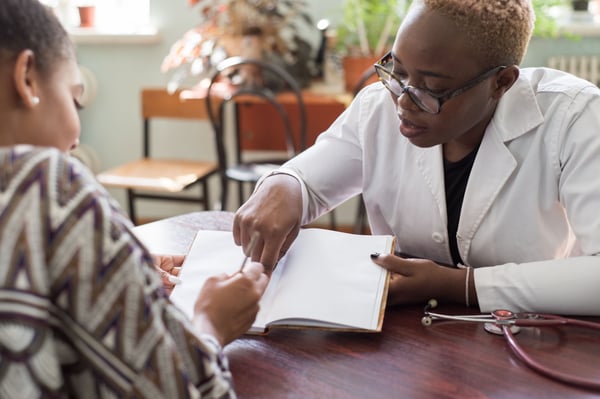 Lessons from COVID-19
Healthcare organizations have a responsibility to promote and to act on the health-related information that effectively encourages the achievement of good health. To do this, they must help patients understand what constitutes good and actionable information. During public health crises especially, this is a cumbersome and complex challenge. With information changing daily, it can be nearly impossible to know what is true. One Pew survey found that 48% of American adults reported seeing at least some made-up news about COVID-19.
A health literate individual is discerning—they are able to recognize the severity of a given situation, acquire a grasp of how to protect themselves and others, understand the scope of their choices and then make decisions that promote their own health as well as that of others in their community. In the context of COVID-19, this clarity and commitment to comply with public health guidelines is what makes an individual differentiate between wearing a mask and social distancing vs. attending large social gatherings.
Using the vaccine as an example, providers can assist in helping patients avoid confusion by steering them to the correct authority who has the answers. It is incumbent on providers to know what to say in referring people to helpful resources.
A Call to Action
Healthcare organizations should prioritize the promotion of health literacy in all patient facing interactions. They should integrate health literacy content into all areas of operation. Appropriate teaching moments for improving health literacy include care transitions, issuing medication prescriptions, vaccination appointments, and very importantly, the annual primary care visit.
The patient must be the center of all interaction and communication. Understanding a patient's beliefs is equally as essential. To engage in a helpful discussion, healthcare providers must understand what the patient cares about, how they encounter the world, where their baseline of understanding is, and what matters most to them.
Telehealth is an important tool providers can use to help improve health literacy among their patient populations. We'll explore this more shortly, but first, let's really understand how health literacy impacts patient outcomes.
How does health literacy impact patient outcomes?
A number of factors may influence an individual's health literacy, including living in poverty, lack of education, race/ethnicity, age, substance abuse and other addictions, and disability. Important to note is that just because an individual has high overall literacy, doesn't mean they have high health literacy—while often overall literacy facilitates higher health literacy, this is not always the case.
An individual's health literacy impacts their ability to:
Understand their care plan including symptom management, prescriptions, appointment cadence, etc.
Communicate effectively with their providers
Make informed decisions about and then receive treatment
Know when a situation is emergent or not
Navigate the healthcare system - insurance coverage, forms, locating the providers and specialists they need access to for quality and affordable care
Understand preventative measures they can take to prevent illness
How can telehealth help?
To fully understand how telehealth can help promote health literacy, let's explore telehealth's role in each area noted above:
Care plan understanding including symptom management and prescription adherence
Telehealth and RPM help patients adhere to their care plan. Through tools like medication reminders, symptom reporting, and the taking of vital readings, as well as condition-specific education (determined by what the patient will understand), telehealth can help patients self-manage and understand their condition more effectively.
Communicating effectively with providers
There are many barriers to effective patient-provider communication. The stress of an office visit, language barriers, and auditory issues, are all common challenges. Telehealth helps the provider meet the patient where they are.

By communicating with patients in settings where they are comfortable, the comfort around, and therefore effectiveness of, communication increases. With video visits, providers can check in with their patients' more frequently. Through text messaging, providers can communicate with patients who have auditory challenges. And for those with language barriers, translators can be added to their care plan.
Making informed decisions about treatment options
For patients who struggle with health literacy, making informed decisions can be extremely difficult. Telehealth helps patients understand their condition over time, empowering them to be in the front seat of their condition-management. Beyond this, through the telehealth platform, healthcare organizations can provide information and respond to questions regarding different treatment options.

Knowing when a situation is an emergency or not
By tracking their condition over time, patients will more readily understand trends in their symptoms. They'll be able to identify when something isn't normal and should be addressed. In cases when they're unclear about a symptom, the patient can contact their provider directly through the telehealth platform. The clinician, through the clinical portal, can monitor patient symptoms and survey responses in real time, and reach out proactively if something is amiss.
Navigating the healthcare system
Navigating the healthcare system is complex. Understanding insurance coverage, filling out forms, and finding the correct specialist are all common challenges patients experience. These barriers can often result in problematic delays in receiving treatment. With telehealth, the caregiver can help the patient navigate the healthcare system. Additionally, custom education can be provided through the platform. With communication tools, patients can contact their providers when they have questions about coverage or complex forms.
Understanding preventative measures

Telehealth helps patients be proactive in their condition management. It is a fantastic tool for secondary prevention especially, helping patients identify risk and prevent disease exacerbation.
---
In the face of COVID-19, providers have a responsibility to help their patients navigate information regarding the epidemiology of the virus, as well as social distancing, mask wearing, and the complexity of the vaccine rollout. Beyond the crisis, it's paramount that healthcare organizations are their patients' biggest ally. To improve patient outcomes and empower patients in their condition management, health literacy must be a key focus–a prerequisite for patient care.

Let's Talk About Digital Health Literacy
In an upcoming blog, we'll discuss the role of digital health literacy in patient care. Digital health literacy is the ability to seek, find, understand and appraise health information from electronic sources and apply the knowledge gained to addressing or solving a health problem.