In January, HRS published a blog post advocating for the use of remote prescribing to combat the opioid crisis and provide needed medications to patients struggling with opioid use disorders (OUDs). Today, HRS reviews the background of remote prescriptions and the role of telehealth to treat multiple conditions.
History of Remote Prescribing
Remote prescribing refers to prescribing medication to a patient via a telemedicine platform, following a virtual interaction between the clinician and the patient. In 2008, Remote prescribing was largely restricted by The Ryan Haight Online Pharmacy Consumer Protection Act.
The Haight Act prevents providers from remotely prescribing controlled substances through telemedicine unless they first conduct an in-person examination of the patient, or if the patient is being treated at a DEA-registered facility. As well, the Haight Act provided the Drug Enforcement Administration authority over the Act.
The Haight act was aimed at shutting off the supply of painkillers and other controlled substances from online pharmacies. However, the Haight Act also restricted remote prescriptions broadly and restricted access to non-pain related medications.
The Move Toward Remote Prescribing
In recent years, telehealth has, and continues to, gain momentum and acceptance from clinicians and patients. With this expansion, more attention is being drawn to the restrictions imposed by the Haight Act causing states and lobbying organizations to take action.
As previously presented by HRS, states heavily impacted by the opioid epidemic are exploring telehealth and remote prescription solutions to expand access to prescription medications that assist OUD patients. As of 2018, six states received federal waivers allowing physicians within those states to remotely prescribe buprenorphine - a medication-assisted treatment used for OUD patients.
More recently, beginning in 2019, the American Telemedicine Association (ATA) began lobbying the DEA to update the Haight Act. The ATA proposed changes would would allow for specially certified providers to prescribe medications for patients with mental health conditions without an in-person examination. The expansion of telemedicine prescription privileges would combat several barriers to accessing care for mental health conditions including geographical, economic, and cultural barriers, argues the ATA.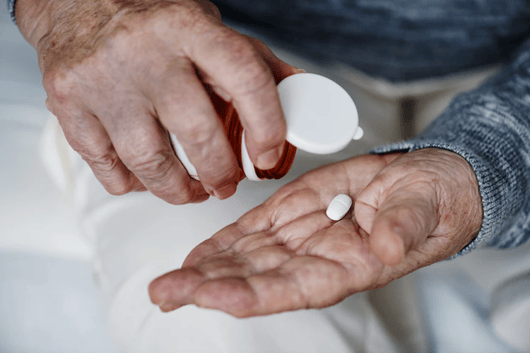 The Role of Telehealth
Both the recent state actions and the ATA proposal aim at the root issue restricting remote prescription - the lack of telehealth utilizing. In order to significantly expand the use of remote prescribing to treat patients with mental health conditions and patients suffering with OUD, telehealth must be utilized.
As stated above, the Haight Act restricted remote prescriptions for pain medications and as well as restricted access to non-pain related medications, which are frequently used to treat chronic conditions that can be assessed remotely through virtual visits. Utilizing telehealth, specifically virtual visits and biometric monitoring, clinicians can safely prescribe medications and follow-up on prescriptions to ensure initial assumptions were correct, thus expanding access to rural communities and patient populations across the healthcare spectrum.