Are you familiar with remote patient monitoring (RPM) products and how they can benefit healthcare delivery? As the healthcare industry continues to evolve, remote patient monitoring is becoming an increasingly popular approach for healthcare providers to monitor patients' health conditions outside of traditional care settings. Whether you're a healthcare provider or a patient, understanding the basics of RPM can help you make informed decisions about your care.
RPM Products: Peripherals
You may already be aware of some devices that are commonly used within RPM programs across America today. These include:
Blood pressure monitors
Glucometers
Pulse oximeters
Weight scales
Thermometers
ECG monitors
RPM devices can benefit healthcare delivery in a number of ways. For one, they can help reduce the need for hospital readmissions, which can be costly and disruptive for patients. RPM can also improve patient outcomes, as healthcare providers can use the data gathered by RPM devices to make more informed decisions about a patient's care. Additionally, RPM can help improve patient engagement, as patients are more likely to be invested in their own health if they are able to monitor their progress in real-time.
Along with the hardware mentioned, the software that powers RPM also plays a major role in its success.
RPM Products: Software Features
Remote patient monitoring software has become increasingly sophisticated in recent years, offering the ability to provide patients with more personalized care and improved health outcomes. However, not all RPM software is created equally. It's important to consider the key features that a remote patient monitoring platform should have before selecting one.
Some of the key features for RPM software are listed below.
Streamlined communication is essential for unifying the patient and provider. Clinicians should have the ability to send messages to patients via email and text, as well as support virtual visits through phone or video. Communication between members of the care team is also crucial, as well as communication from the patient to the provider. Communication to clinicians can be enhanced by providing information from the patient in a clear and concise manner, for example, through easy-to-read risk alerts. This clear communication helps clinicians prioritize their patients' needs and provide timely care.
Customizable dashboards provide a comprehensive, flexible, and organized structure for clinicians to review their patients' health data. The dashboard should allow clinicians to sort and prioritize patients' needs. the vendor should be open to clinician suggestions on how to improve the dashboard. Reports should be used to identify gaps in patient care and give insights on how to close them. The vendor should be a full-service partner as well as a supporter, helping to identify successful programs, work with programs to see positive results, and provide actionable data that supports program results.
Cybersecurity is crucial for remote patient monitoring software. The platform should be PHI and HIPAA-compliant, as well as SOC-2-compliant and certified. This ensures that patient data is kept secure and confidential.
CLIENT NEWS
Southcoast Health Reduces In-Home Care Costs and Hospital Readmissions
The Southcoast Health Visiting Nurse Association (VNA) saved an average of four in-home nursing visits annually, and generated over $500,000 in cost savings, while achieving a 7% 30-day readmission rate for 2,621 high-risk patients over the last 16 months leveraging HRS' remote patient monitoring (RPM) and virtual visit program.
Read about our partnership
RPM Products: EMR Integration
Electronic Medical Records (EMR) integration is essential when implementing remote patient monitoring (RPM) software, as it allows for bidirectional communication between a telehealth platform and an EMR system. This integration improves provider efficiency, enhances the quality of care provided to patients, and creates a single, updated source of truth for patient data.
While EMR integration can be complicated, healthcare organizations should have a technical team in place or work with a vendor that provides support to improve integration and increase the value and data obtained from reporting. A good vendor will act as a technology supplier and full-service advisor, providing new ideas to optimize the integration process.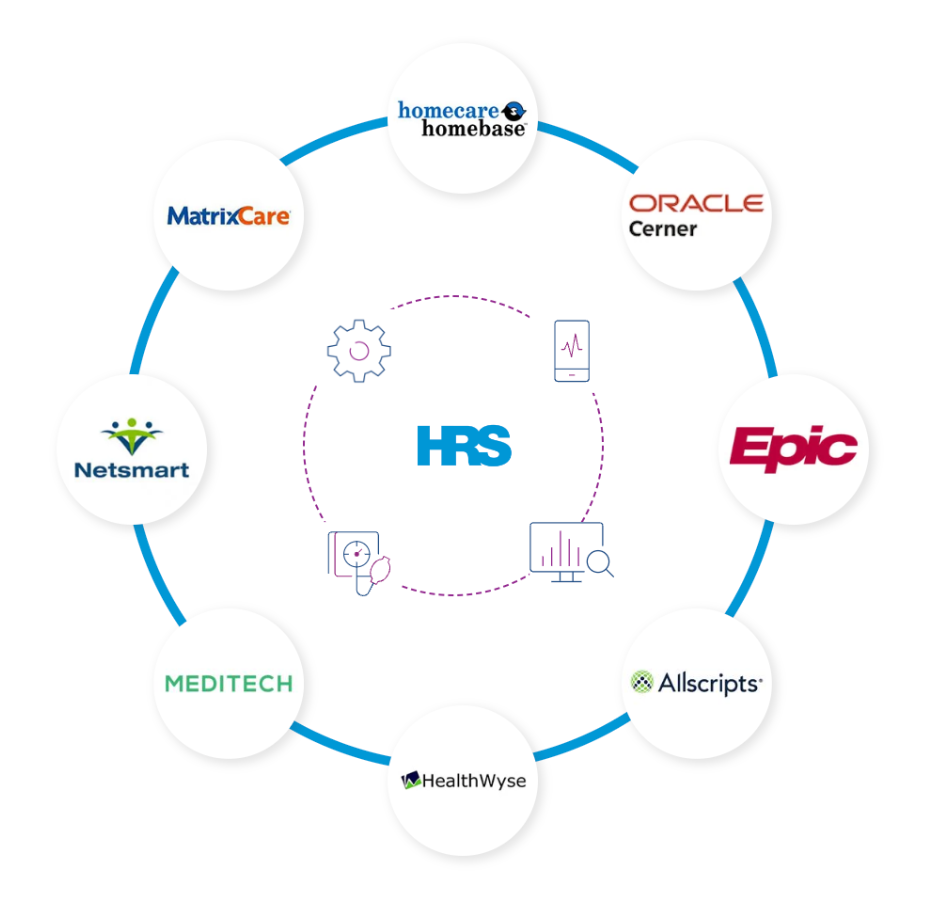 HRS EMR Integrations
HRS integrates with all EMRs and EDWs to optimize clinician workflow by reducing redundancy and double documentation.
LEARN MORE
More than Just a Product: Building an RPM Program
Remote patient monitoring programs are not just about equipment, but also the wrap-around services that come with it. Wrap-around services refer to services that are not included as part of the technology.
Some vendors only provide the technology, leaving it up to organizations to figure out the rest. However, HRS aims to be a full-service partner for their clients, providing expert insight and building wrap-around services fully in-house to ensure the success of telehealth and remote patient monitoring programs. HRS offers a completely supported end-to-end solution that includes implementation, clinical, reimbursement, client success, tech support, marketing, shipping, and inventory management services.
HRS provides four tiers of patient-facing solutions and seven Bluetooth, FDA approved biometric peripherals that enable a variety of healthcare settings to grow RPM programs that meet the unique needs of their patient population.
If you're interested in seeing how Health Recovery Solutions' remote patient monitoring solution can improve patient outcomes and streamline clinician workflow for your healthcare organization, request a personalized demonstration. Our team will work with you to understand your specific needs and show you how our end-to-end solution can be tailored to meet them.