Nearly half of US adults suffer from hypertension, and only 1 out of 4 have it under control. As one of the leading risk factors for heart disease, stroke, and many other often dire conditions, it's essential that patients have the resources to control their hypertension. Remote patient monitoring (RPM) is a fantastic tool for patients with high blood pressure.
---
Hypertension in the United States
In the United States, high blood pressure is a leading public health concern, a major risk factor for heart attack, stroke, kidney disease, cardiovascular disease, and many other conditions. According to the Centers for Disease Control and Prevention (CDC), over 670,000 deaths in the United States in 2020 involved hypertension and 47% of US adults have hypertension today. While hypertension can be controlled effectively, there are barriers that hinder adequate management.
The most common barrier to adequate blood pressure management, as noted by the American Medical Association are:
Poor or inconsistent blood-pressure measurement techniques
Masked hypertension, which causes patients to appear to have a normal BP in the office, but high BP at home
Clinical inertia, which occurs when the patients' care team does not initiate or intensify treatment when the patients' BP isn't at goal
Lack of use of evidence-based treatment protocols by the care team
Poor patient participation in self-management
Remote Monitoring Can Help
RPM can help with each barrier mentioned above. It can help patients develop a consistent measurement technique, change their behavior when it comes to management, and record their readings consistently (as opposed to just when they visit their provider in the office).
For providers, it offers data-driven insights into the patient's blood pressure trends over time, helping the provider make informed decisions driven by trends. Through RPM, providers can be alerted in real-time when a blood pressure reading moves out of the patient's ideal range. When alerted, the provider can contact that patient to understand why the change occurred, and what next steps are to get the patient's BP under control. Simply, RPM enables providers to proactively treat their patients.
By tracking data over time, RPM can help to spot abnormalities in reading including low or high blood pressure. It can help providers understand how new and existing prescriptions are working.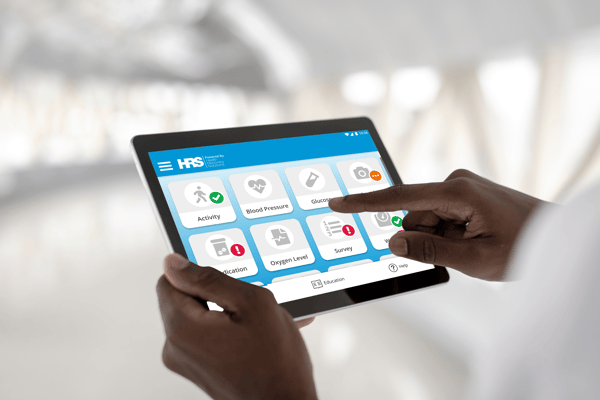 5 Examples of How RPM Can Work for Blood Pressure Management:
Bluetooth biometric monitoring - patient records their blood pressure throughout the day as directed by their provider
Medication reminders - patient receives medication reminders to ensure patient remain adherent to their medication plan, ensuring compliance to new and existing medications
Symptom surveys - patient provides insight into their symptoms, helping the provider understand trends behind blood pressure and other changes

Education modules

- through hypertension specific education, the patient can understand how they can control their BP at home, and what actions they can take to promote better outcomes
Virtual visits - the patient and provider can communicate in real time if a blood pressure reading is out of range, if symptoms are exacerbated, or if the patient simply has questions about their care plan
Blood Pressure Home Monitoring Supported in the Research
Researchers have long been exploring the efficacy of remote monitoring for blood pressure management. A study out of Brigham and Women's Hospital found that blood pressure home monitoring is an effective way to manage hypertension. 130 patients with uncontrolled blood pressure were enrolled in the pilot study. Enrolled patients were provided with a Bluetooth-enabled blood pressure device which they used to measure their BP twice daily. Patient navigators received the readings in real-time via a dashboard. They used the data to provide day-to-day management of the patients' condition.
The patient navigators educated the patients on lifestyle changes, and provided motivation to assist with necessary behavior changes. The patient navigators were also provided with a treatment algorithm adapted by the hospital's hypertension specialists, based on established protocols.
According to researchers, the study's overall BP control rate was achieved in 81% of patients who participated in the pilot.
A Call to Action to Improve Public Health
High blood pressure is a key risk factor for many chronic diseases and a huge driver of costs in the US healthcare system. According to the CDC, high blood pressure costs the United States about $131 billion a year, a number that can certainly be reduced if creative and innovative tools to manage blood pressure are harnessed by patients and providers across the country.
Telehealth and RPM are proven, effective solutions and the technology will continue to be a common fixture in clinical practice going forward. Demand on our healthcare systems will only continue to rise, so it's essential that we harness tools that can help improve patient outcomes, prolong life, and prevent avoidable costs.
Want to learn more about treating blood pressure patients with RPM? Talk to a Specialist today!