Oncology telehealth enables patients to receive high quality care from the comfort of their own homes through remote patient monitoring. It provides security for these patients and their families, while also improving patient outcomes and reducing the overall cost of care.
Many home health agencies are already set up to support an RPM program for oncology patients. This blog will discuss the benefits of a home health oncology program that includes RPM, and will outline what features should be included in this type of specialized program.
RPM & Telehealth Benefits for Oncology Patients
At its core, home health care aims to provide patients with high quality care within their own home. Many patients transitioning to home health have likely been in the hospital for an extended period of time and are often excited when they are able to go home.
However, just because they have been cleared to leave the hospital, does not mean that they do not require further care. Home health can bring skilled nursing, condition education, medication management, personal support and much more into the home.
Oncology Care at Home
Providing RPM for individuals with cancer can provide a unique opportunity to allow the patient a sense of normalcy that is so often lost while receiving cancer treatment.
Oncology patients are often all too familiar with hospital stays and frequent doctor's visits. These experiences can be time consuming, stressful, and put the patient at risk for infectious diseases.
Any effort to decrease the amount of stress a patient with cancer experiences can improve patient outcomes, as well as their quality of life.
With advancements in technology and care coordination, cancer patients on home health are able to receive everything from certain types of chemotherapy treatments, to expert nursing care, physical therapy, occupational therapy, and symptom management all within their home.
Reducing Readmissions with Remote Patient Monitoring
Another benefit of using RPM and telehealth in an oncology home health program is that the patient's chances of unplanned hospital visits is reduced.
Hospital readmissions are common among patients with cancer, and are often avoidable and due to a lack of symptom management. RPM for patients on home health has shown to reduce hospital admission rates.
By providing cancer patients with RPM services, the patient can share the symptoms they're experiencing through symptom surveys, allowing the clinician to see if there's been any changes and to evaluate whether intervention is needed.
Often, the only chance a patient has to share symptoms with their physician or specialist are during in person visits. Depending on the frequency of these visits, critical symptoms can go undetected for extended periods of time, putting the patient at risk. Patients may forget important symptoms that they experienced or feel like a burden sharing these with their provider.
Engaging the patient in daily or frequent symptom surveys allow the patient more opportunities to express concern around their condition. An automated symptom survey normalizes the way patients are able to share the symptoms that they are experiencing and increases the chances that an effective intervention will take place.
Improving Clinician Accessibility Through Oncology Telemedicine Tools
RPM improves clinician accessibility through oncology telemedicine tools such as chat, phone calls, and video visits. These interactions allow the patient to be assessed from the comfort of their own home, and potentially avoid a hospital visit.
Frequent communication with the patient allows the clinician to recognize any concerning symptoms and determine the best intervention. When a member of the clinical team is only observing the patient during in-person visits, they are less likely to observe smaller, but still crucial changes that the patient may be experiencing.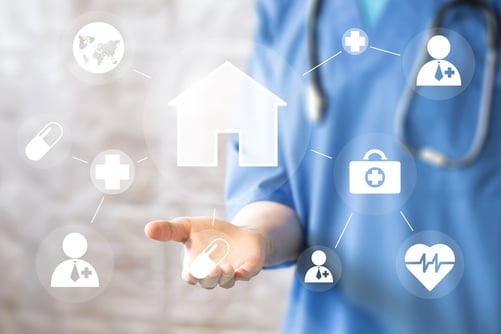 Incorporating Patient Education
Another benefit of using oncology telehealth is the patient education component.
Studies have found that there are many benefits associated with patient education for patients receiving cancer treatment. These include improved satisfaction with their treatment, decreased feelings of anxiety, increased participation in decision making in regards to their treatment, and an overall increase in one's ability to positively cope with their cancer episode (Habimana et al., 2019).
Typically, a patient or caregiver will receive education on their treatment or management of the condition during clinical visits. This information is often difficult for the patient to retain as they may be experiencing stress or uncertainty during that visit or distracted by pain.
One of the great benefits of home health is patient education. This can be facilitated by a nurse when completing a home visit, or virtually through a telehealth platform.
Patients have many opportunities on home health to access patient educational materials, as well as have a member of the clinical team ensure that they are able to comprehend these materials.
Patients who are informed on their condition are likely to be more engaged in their care and achieve better outcomes than those who are not.
How to Establish an Oncology Telehealth & RPM Program
Like any specialized program, establishing a home health RPM program for oncology patients requires thoughtful planning with SMART goals. Outlined below are some especially crucial items to consider when forming an rpm and telehealth oncology program for home health:
Establishing eligibility criteria – Creating a set of guidelines to determine which patients will be a good fit for the program is crucial. Not all patients with a cancer diagnoses will be the right fit for this type of care, and it is important to understand the level of care required for the patient. Working with your vendor, an oncology clinical team, as well as home health staff can be a great place to start when understanding what eligibility criteria will look like for the program.


Determining care plans – Each patient's care will look different on home health. Establishing different care plans that can be assigned to a patient based on their stage of treatment and diagnosis will create efficiency in the program. When using RPM services, there are a variety of vital signs that can be collected from the patient. These include but are not limited to, recording weight, blood pressure, oxygen levels, and heart rate. Determining the vitals crucial to monitoring a patient's care are an important piece to forming the program.


Creating patient education – As stated above, one of the benefits of an oncology home health program includes allowing the patient to receive more education around their condition, as well as opportunities to learn about their care and treatment. Curating the appropriate educational materials to inform the patient about their diagnosis and care make for a well-rounded program. These materials should be short, easy to understand, and interactive for the patient. Creating additional resources and protocols for the nurse to provide education in the home are a great way to get the patient involved in their own care as well.


An oncology focused home health model that includes RPM and telehealth has many similar elements to other home health programs. This means that there are not many adjustments needed to create an oncology at home program if there is already an RPM program in place.
Understanding the impact this type of program can have on patients, as well as the key pieces to creating the program are the two key components to be aware of.
Increasing the amount of care a patient with cancer can receive within the home can not only increase their quality of life but allow them to manage their condition better, resulting in improved health outcomes and better managed symptoms.