The benefits of telehealth physical therapy are apparent to both patients and physicians. As one Yale School of Medicine study participant put it, "I don't have to make sure my house is clean, or my hair is done and I have makeup on as when the physical therapist comes to the house. I can do my exercises in my housecoat."
Telehealth and Physical Therapy
Physical therapists today are using a wide range of telehealth services to communicate with and care for their patients. Live video visits, remote monitoring, activity tracking, and more, enable patients to communicate with their health care providers from the comfort and convenience of their home.
For patients recovering from surgery or an injury, the ability to connect virtually with providers is a huge benefit that can result in cost savings, improved patient satisfaction, and faster recovery.
According to the American Physical Therapy Association, "telehealth provided by PTs and PTAs has been proven to produce good outcomes with little to no patient risk."
The Benefits of Telehealth Physical Therapy
Accessibility: telehealth helps patients stay connected with their physical therapists beyond in-person visits. By having access to video visits and on-demand communication, patients are able to ask questions about their recovery as the questions arise. Additionally, they're able to engage with physical therapy videos from the comfort at home. Telehealth in rural areas and underserved communities can benefit patients by improving access to healthcare by removing the barrier of geography.
Personalized Care: every patient is different, every patient's care plan is different. Telehealth facilitates patient care that is unique to the patient's rehabilitation and recovery needs. With telehealth, the patient is empowered to involve their caregivers and loved ones into their physical therapy regimen.
Health Literacy: through education and on-demand physical therapy videos, the patient is able to better understand their condition and what is needed for recovery. For patients who are at a fall risk, telehealth can provide the necessary education to ensure the patient understands how to avoid falls, and what to do if a fall occurs.
Convenience: patients today value convenience. With telehealth, there's no waiting room, there's no drive or train ride to the clinic or hospital. This reduces the burden of commuting to and from appointments. When the physical therapy care plan fits seamlessly into the patients' life, success is more likely.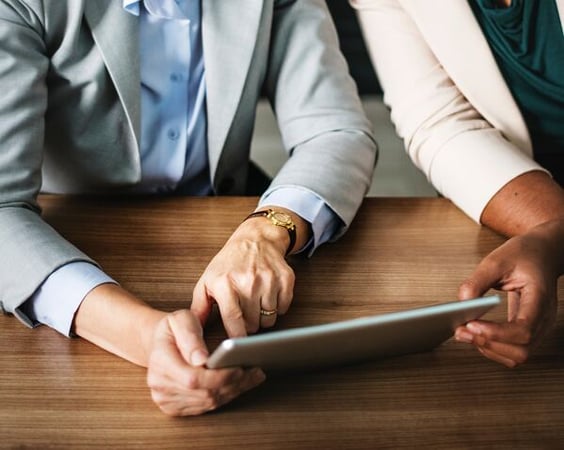 Examples of Telehealth Physical Therapy
Video physical therapy to monitor exercises and observe movement
Spine clinic patient evaluation
Condition-specific education
Pre-recorded home exercise plan videos
Texting, voice, and video communication tools for the patient, provider, and caregiver
Guiding movement for orthopedic injuries
Activity tracking through wearables
Remote monitoring and symptom surveys
Medication reminders and adherence tools
Exercise programs
Medicare and Telehealth Physical Therapy
At the beginning of the Public Health Emergency (PHE), Centers for Medicare & Medicaid Services gave physical therapists the OK to bill for virtual therapy. This enabled physical therapists to bill virtual physical therapy at the same rate as in-person visits.
Previously, only limited e-visits and other "communication technology-based services" were allowed, but now (for the duration of the PHE), PTs are included among the health care providers permitted to bill for real-time face-to-face services using telehealth.
Beyond the pandemic, reimbursement for physical therapy remains unclear. The jury is out as to whether CMS will make its flexibilities permanent.
The Future of Telehealth Physical Therapy
Studies show that telehealth physical therapy can result in improved health outcomes and cost savings. As our nation ages and people become sicker, physical therapy demands will only increase.
As more and more individuals need physical therapy, it's crucial that they're able to receive the care they need comfortably, in a safe and effective manner.Telehealth is a tool that can do just that.