As telehealth rises in both its popularity and reach, it is sure to expand to more patient populations and areas of healthcare. When thinking beyond the traditional applications of telehealth, we open doors to a wide array of possibilities within the field of remote patient monitoring. As we explore these new avenues, we will start to see that telehealth has the potential to benefit many different types of patients. In orthopedics, for example, telehealth can be used to service patients post hip and knee replacement as they recover from surgery.
The Orthopedic Climate
According to the Center for Disease Control, over 700,000 knee replacements and 300,000 hip replacements are performed in the United States every year. With the population size growing, individuals aging, and joint replacement technology advancing with modern medicine, the frequency of these procedures is sure to increase. Along with this increase comes an increased demand for effective and convenient care options.
With telehealth, patients can recover in the comfort of their own homes rather than traveling to their doctor or physical therapist. Through remote patient monitoring programs, patients can not only remain in contact with their providers virtually, they can also receive the necessary rehabilitation and/or medical care they require, including medication management, video education, and wound imaging.
It is important to maintain an emphasis on patient and provider satisfaction, while also providing the highest quality of care and optimal access, especially as surgical care advances and evolves. Through telehealth, patient and provider satisfaction increases, access to care improves, cost of care decreases, and quality of care advances.
Telehealth Successes for Joint Surgery
There have been many research studies demonstrating the efficacy of telehealth in the management of patients after Total Joint Replacement (TJR).
A prospective observational study out of Canada looked at the feasibility of wireless home monitoring postoperatively for hip and knee replacement. To determine if the home monitoring system was effective, researchers looked at the mean percentage of successful wireless biometric transmission for blood pressure levels, heart rate, oxygen saturation levels, pain scores, as well as patient satisfaction through questionnaires. Of the 54 patients in the study, there was a mean transmission rate of 96.4%, with a mean patient satisfaction rate of 4.5 (on a 1-5 scale).
Researchers found that because of the wireless home monitoring system, there was a clear line of communication between the patient and the provider. One of the participants stated that he/she "had a pain crisis on day 2" and the "program allowed [him/her] to speak directly with [the nurse] and receive instructions."
Telehealth video conferencing has been used for follow-up post operatively and has been found to reduce the patient's appointment "cycle time," i.e. the total time spent from beginning to end of a clinical encounter. In one study, when compared to in-patient office visits, video visits were 72% shorter and the quality of care was not compromised.
Other programs have utilized telehealth for the management of unexpected or worrisome complaints, routine monitoring of patient progress and pain management, interpretation of imaging, virtual wound care, and physical therapy and rehabilitation.
The In-Home vs. In-Person Dilemma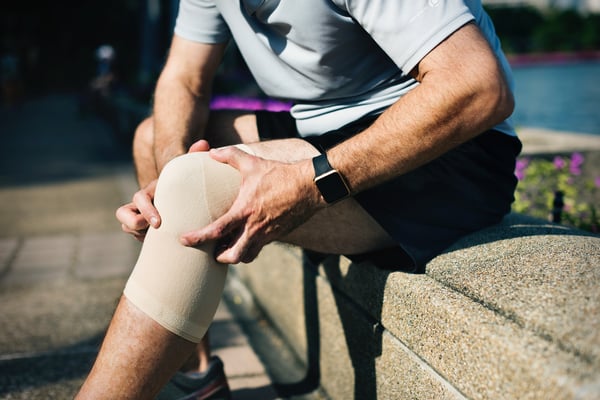 The question of whether an in-home rehabilitation program is comparable to in person care poses a barrier for implementation of telehealth practices. Research has found that in-home rehabilitation delivery is viable, and often even preferable to in person care.
In a recent study, researchers retrospectively reviewed four RCTs involving a net 442 patients and found that when compared to face-to-face rehabilitation, telerehabilitation can achieve comparable pain relief, as well as enhanced improvement of functional recovering. These findings were based on factors such as extension range and quadricep strength.
Full recovery and high overall patient satisfaction remain top priorities for achieving postoperative success. Research continues to support telehealth as a convenient, cost effective option that does not compromise quality of care.
Joint Surgery and Telehealth in the Future
Opportunities for telehealth within the field of joint surgery are vast and include supporting and motivating rehabilitation, reducing risk and anxiety with postoperative wound care, tailoring information to individual needs, and improving patient engagement by providing patients with tools to participate in their own health management.
As telemedicine continues to demonstrate excellent clinical outcomes, enhanced patient satisfaction, and increased accessibility to quality care, the paradigm of care will expand, and both the patient and the health care system will benefit.
References:
Ellimoottil, C., & Boxer, R. J. (2018). Bringing Surgical Care to the Home Through Video Visits. JAMA Surgery,153(2), 177. doi:10.1001/jamasurg.2017.4926
Gorodeski, E. Z., Chlad, S., & Vilensky, S. (2018, October 01). In-home care following total knee replacement.
Jiang, S., Xiang, J., Gao, X., Guo, K., & Liu, B. (2016). The comparison of telerehabilitation and face-to-face rehabilitation after total knee arthroplasty: A systematic review and meta-analysis. Journal of Telemedicine and Telecare,24(4), 257-262. doi:10.1177/1357633x16686748
Yang, H., Dervin, G., Madden, S., Beaulé, P. E., Gagné, S., Crossan, M. L., . . . Taljaard, M. (2018). Postoperative Home Monitoring After Joint Replacement: Feasibility Study. JMIR Perioper Med. doi:10.2196/preprints.10168