Telehealth for pain management has become an essential solution for chronic pain patients.
Chronic pain, persistent pain that lasts weeks, months, or even years, affects 1 in 5 Americans, costing the nation $650 billion annually. That's 50 million people who experience pain either daily or almost daily.
Of the 50 million, 19.6 million struggle with pain that interferes with their daily lives - interferences that create challenges at work and at home, in their relationships, and with their mental health and quality of life.
Patients with chronic pain face many struggles, one being the need to travel regularly to their clinician's office for check-ins or procedures. For this population, who often experience debilitating symptoms, telehealth can play a pivotal role in mitigating the challenge of transportation requirements.
By facilitating care at home, telehealth enables the patient to remain in place. Transportation is a challenge for most patients, but for chronic pain patients especially, it adds an extra burden. A burden that telehealth and remote patient monitoring (RPM) can help to mitigate.
How Telehealth Works for Chronic Pain Patients
Telehealth provides more accessible, streamlined treatment by connecting patients and their clinicians virtually. For chronic pain patients, telehealth can be used to augment, or in lieu of in-person office visits - it is a viable supplement to traditional care.
Telehealth offers many tools that can support chronic pain patients at home such as:
Virtual Visits

Telemedicine can be an effective tool in chronic pain management. With virtual visits, the clinician and the patient can connect from afar. The clinician is able to evaluate their patient's symptoms, and intervene as needed. Additionally, the clinician can review medications, exercises, nutrition, and other components of the patients' care plan that are essential to chronic pain management.
Symptom Surveys
Daily symptom surveys provide real-time insight into the patients symptoms, including symptoms relating to their pain as well as mental health or other comorbidities. Compared to those without chronic pain, chronic pain patients are 3x more likely to develop depression and anxiety.
Symptom surveys can help the clinician understand their patients' mental health, and whether they're experiencing changes or challenges in their mental health. Symptom surveys aid the clinician in determining the correct course of action for their patients.
Medication Reminders
Many individuals with chronic pain take medication (over the counter and prescribed) to alleviate their symptoms. Medication reminders help with medication adherence, ensuring the patient takes the correct dose of their medication, at the correct time.
Medication reminders help the patient build habits around their medication regiment, ultimately resulting in lasting behavior change and improved outcomes due to medication adherence.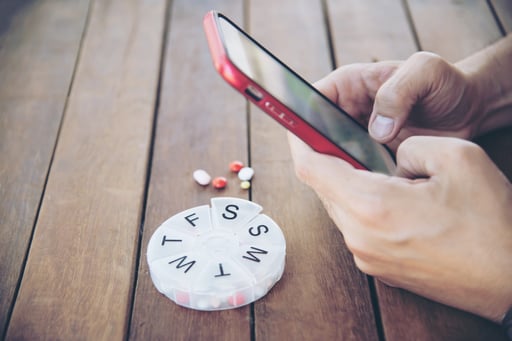 Condition-Specific Education
Condition-specific education helps the patient understand their conditions and the actions they can take independently to alleviate their symptoms. It helps them understand the importance of engaging with the telehealth program and provides them with actionable insights into their condition, ultimately helping to improve health literacy and overall engagement in their health.
Virtual visits, symptom surveys, medication reminders, and condition-specific education are four telehealth pain management tools that can be extremely beneficial to chronic pain patients.
The goal of telehealth is to support patients where they are, and to provide real-time patient data to clinicians. For a population with ever-changing symptoms and often challenging comorbidities (mental health and otherwise), this real-time connection and transfer of data is essential for continuous, patient-centric care.
UCLA Studies the Efficacy of Telehealth & RPM for Chronic Pain Management
A recent study from UCLA, which began in August 2019 and ended in June of this year, explored the efficacy of telehealth, specifically telemedicine (virtual visits) for chronic pain patients. The study specifically explored whether using telemedicine in pain management could help chronic pain patients avoid the challenges of transportation (traffic, parking, gas, distance) that they so often experience to access healthcare.
UCLA researchers found that patients who saw a pain medicine specialist via telemedicine saved both time and money. For the study, physician anesthesiologist pain medical specialists at the UCLA Comprehensive Pain Center offered patients the option to in-office or telemedicine visits via secure video meetings or calls. Of the patients, 1,398 chose telemedicine, completing 2,948 virtual appointments of the 7 month period.

The researchers found that the patients in the telemedicine group:
Avoided a median roundtrip driving distance of 26 miles
Saved a median 69 minutes in traffic per trip
Saved a median of $22 on gas and parking per visit
Saved a median of $156 over the course of 3 visits by avoiding driving time and parking costs


At the end of the study, patients were asked to complete a survey. Of the 327 patients who completed the survey, 92% said they were satisfied with their experience with telemedicine.
CMS, Reimbursement, Regulation Flexibility
The UCLA researchers note that telehealth use has skyrocketed because federal and state governments have relaxed regulations, making telehealth and RPM accessible and covered across many patient populations and locations.
What will happen when the public health emergency ends remains a cumbersome question. If the ending of the PHE, means the end of the emergency actions that have made telehealth access possible, this patient population, among others will face serious challenges in accessing telehealth, a service that has proven itself effective time and time again.
It's on CMS, insurers, and our state and local governments to enact change that will last beyond the PHE. These stakeholders, by encouraging telehealth use, improving reimbursement, relaxing constraints (geographic, provider, and otherwise) and developing payment models that make telehealth possible, will positively impact patients and clinicians for generations to come.