COVID-19 has forced healthcare providers to innovate and adapt to maintain the standard levels of care expected by patients across the country. This is especially true in primary care - reinventing traditional routine face-to-face visits through telehealth and focusing on reducing unnecessary ER visits have both been key initiatives during the pandemic. By leveraging telehealth, hospitals can better utilize bed capacity and focus on treating COVID patients within the hospital walls while also maintaining connection with their primary care patients without traditional office visits.

Simply innovating to provide a telehealth platform for patients has shown to not fully bridge the gap caused by the pandemic. It has become increasingly clear that providers must think strategically in how they build telehealth programs, empowering their patients to have a hand in their care delivery.
---
When Telehealth Alone is Not Enough
Studies during the pandemic have shown that providing primary care patients with simply a telehealth tool has not been enough to maintain proper standards of care. In a study led by researchers at John Hopkins this year, over 125 million primary care visits were analyzed between 2018 and midpoint of this year. Unsurprisingly, the number of visits dropped by over 20% this year. Office based visits had been reduced to half of what was the norm before, but telehealth visits exponentially increased from just over 1 million at the start of the timeline, to 35 million in the second quarter of this year alone.
While on the surface this may be encouraging, the increase in telehealth visits has not come without a downside.
The study concluded, "…relatively few rigorous comparisons of clinical outcomes in office-based vs telemedicine encounters have been performed. Our finding that such visits were less likely to include blood pressure or cholesterol assessments underscores the limitation of telemedicine, at least in its current form, for an important component of primary care prevention and chronic disease management."
There are a number of factors that this can be attributed to – the inability to administer physical exams, patients feeling that they are lacking privacy in the visit, communication and technological challenges or learning curves, as well as others. As an all-encompassing factor, a number of these challenges stem from an overall lack of patient engagement, whereas prior with in-person visits, such was not the case as often. Patients had to physically have a presence in the brick and mortar setting and drive to visit their primary care providers, and with the turn to virtual care that is simply a telehealth platform, apathy and a disconnect can creep into the picture.
Patient Engagement is the Secret Sauce
A major difference-maker can be the implementation of a multi-faceted remote patient monitoring (RPM) program with integrated telehealth capabilities. With this type of program, patients can stay connected with their primary care providers at a deeper level through advanced features that promote patient engagement – features such virtual visits, Bluetooth biometric tools, patient engagement surveys, and education videos and quizzes, to name a few.
For chronic patients that are accustomed to thinking of their care in an episodic manner situated around set visits with their provider, RPM can completely transform their understanding of care. Upon enrollment, patients can set a daily cadence to upload their vitals into their device, while also taking check-in quizzes, and read important documents that relate to their condition – all on their own time.
While patients are engaging with these tools, the clinician monitors the patients activity. In real time, clinicians can detect when patients are in risk through custom alerts. Furthermore, the clinician can assess which patients are engaging with surveys and questionnaires and initiate a quick telehealth call to intercept these issues promptly.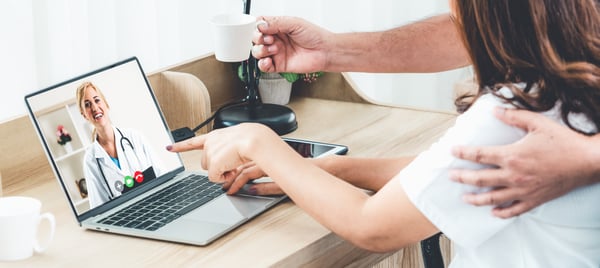 What's Next? RPM & Primary Care Post COVID-19
Going forward, there is still work to be done in making RPM become a mainstay within primary care. There is the technology learning curve that will continue to be a factor, and primary care providers will need to be tactful about how they implement new initiatives for their patients. As COVID subsides and the reality of in-person visits will rise to similar figures to pre-pandemic healthcare, it can't be ignored that the demand for flexibility and more options for virtual care will only increase for primary care as time goes on.

Overall, RPM gives patients both comfort and confidence when they are offered personalized care with the use of virtual management health plans. Cost savings, patient satisfaction and peace of mind are just a few ways RPM programs are beneficial to patients both now and in the future.
---
Explore HRS' library of COVID-19 resources to learn how others are using remote patient monitoring and telehealth solutions to address hospital bed capacity challenges, deploy hospital-at-home strategies, improve access to healthcare, and provide clinical guidance and support to patients at home.