The demand for telemedicine rose exponentially at the height of the pandemic and has now stabilized at levels 38 times higher in comparison to pre-pandemic levels. Many providers and patients rather have virtual appointments instead of face-to-face interactions. Now more than ever, telehealth is a necessity rather than an option.
But in the rush to acquire a telehealth solution to keep up with demand, you might not obtain a solution that is the right fit for your organization. Have a look at these six key questions before deciding on a telehealth vendor.

Is It Easy for Providers and Patients to Use the Technology?
Both providers and patients will be using this system frequently, so the interface must be as straightforward as possible to avoid issues. The accessibility of the system can make or break your entire workflow.
Try to ensure the telemedicine company can set up a live demo and answer any questions you might have as you test-run the system.
The HRS Advantage:
HRS technology is innovative, reliable, and easy to use for both patients and providers. Our solutions are customizable depending on your needs and patient acuity. On top of that, our devices run on 5G connectivity to ensure disruption-free patient monitoring and communication.


Other Considerations:
How customizable is the platform?
Does the technology integrate with your EHR/EMR?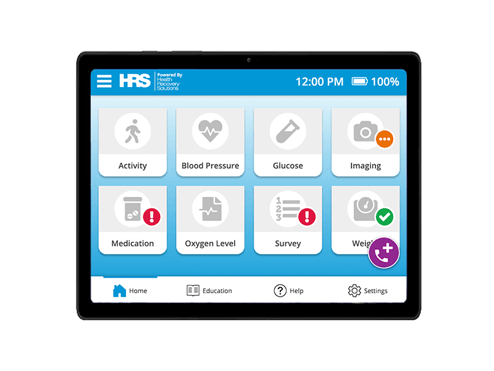 Is the Platform Secure and HIPAA compliant?
HIPAA compliant solutions are important for safe and secure patient care as it protects patient information from being disclosed without their consent. Lack of compliance can lead to data breaches. In fact, the average number of healthcare data breaches per day for 2020 was 1.76.
Since telemedicine is here to stay, choosing the right telehealth provider to ensure safety and security is essential.
The HRS Advantage:
We provide HIPAA compliant telehealth and remote patient monitoring solutions. For example, HRS PatientConnect®'s text messaging feature is a secure messaging solution. It only exists for communication between the patient and provider and can not be accessed by anyone else.


Other Considerations:
Does the telemedicine provider have a secure system?
Do they comply with local regulations?

How Good is the Customer Support?
There is no doubt that there will be issues and concerns when operating a new system. And it can get stressful. Check if your telehealth vendor has the proper support in place to help you through your transition.
Real-time support helping you when you need them will significantly reduce any negative impact on you or your patients.
The HRS Advantage: 
We have a strong customer service team with 24/7 tech support for all our clients. HRS also has seamless virtual installation services with our PatientDirect+ solution, ensuring easy program adoption and that patients are familiar with the platform and equipment.


Other Considerations:
What is their initial training and onboarding process like?

What is their technical support like?
---
The People Behind HRS Products
Behind HRS' award-winning products are support teams across HRS that give clients the strategic, clinical, operational, and technical support they are looking for to drive long-term, positive outcomes for the organization.
---

How Much Does the Platform Cost?
Sorting out the cost can get tricky. It would help to ask the telehealth company what kind of ongoing costs are expected on top of set-up costs and monthly fees. Consider how they can help you reduce costs as well.
The HRS Advantage:
We have a proven track record of helping organizations reduce costs with our telehealth programs. For instance, Frederick Health partnered with HRS to provide patients with a comprehensive telehealth solution and saved $5.1 million in six months. Our reimbursement specialist and financial grant specialist can walk you through the process if you want to know more.


Other Considerations:
How can the vendor help with ROI, reimbursement, and more?
What is their business model?

Are They the Right Fit?
There are various telemedicine companies around, but not all of them have the potential to cater to your needs. Determine your areas of need before evaluating vendors, as well as your strengths and weaknesses, so that it will be easy to find one that aligns with your goals.
The HRS Advantage:
We have different playbooks for different healthcare departments and have over 90 condition-specific care plans. HRS has a telehealth solution for every kind of patient.


Other Considerations:
How well do they know you?
Do they offer the right programs for the goals and patient populations you're looking to treat?

How Credible is the Company?
Ensure that your intended telemedicine vendor has established, documented, and proven clinical outcomes. A reputable company would publish client success stories and case studies, and you can also verify if the company is credible by contacting past clients.
The HRS Advantage:
HRS has been named the Best in KLAS for Remote Patient Monitoring for the past 3 years now. And we have a library of case studies that you can look into to see how we have helped healthcare providers over the years.


Other Considerations:
Does the telehealth company offer case studies?
Have they won any awards?

Explore Our Telehealth Solutions with a Customized Demo
A comprehensive telehealth and RPM solution can help healthcare providers reduce readmissions, improve patient satisfaction, and deliver high-quality care. Contact us to see how our telehealth solutions can help your organization improve clinical outcomes and reduce costs.