For telehealth and remote patient monitoring to be effective, the patient must be compliant and engaged in the technology—they must be "bought in" to the value of telehealth. Without engagement from the patient, the telehealth program is likely to flop. Why? Because telehealth requires autonomy, self-management and condition-specific understanding.
---
To build the skill of telehealth, healthcare organizations are investing in digital patient engagement strategies, putting resources and tools in place to help their patients reap the benefits of connected care. Largely due to COVID-19, and the skyrocketing demand for telehealth, healthcare organizations are investing more than ever before in their digital channels—the areas of care beyond the 4 walls of the hospital or clinic.
What is Digital Patient Engagement?
Digital patient engagement tools provide virtual access to patients 24/7, giving them the ability to complete routine tasks related to their medical care when it works for them. A patient who is digitally engaged understands how to use these tools to their benefit to positively impact their health outcomes.
Digital patient engagement strategies incorporate tools that help patients self-manage and understand their condition—they extend access by offering convenient care modalities.
Telehealth, Remote Patient Monitoring, and Digital Patient Engagement
Telehealth and remote patient monitoring (a type of telehealth) are both digital patient engagement tools. They both provide care to the patient where, when, and often how, they want to access it.
Telehealth and remote patient monitoring enable the patient to self-manage their condition, often independently, and sometimes with support from a caregiver.
3 Real World Patient Examples
To understand how digital patient engagement strategies work in practice, let's explore 4 unique patient experiences.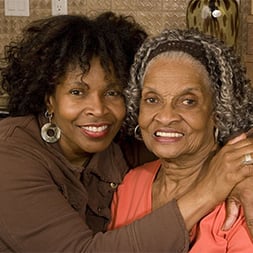 Sue's patient profile:
Age: 65
Condition(s): COVID-19 and Urinary Tract Infection
Telehealth product used: PatientConnect Mobile
Sue was enrolled in the NVNA and Hospice telehealth and RPM after she was diagnosed with COVID-19 and a UTI. Sue, with support from her caregiver, used the HRS mobile application, PatientConnect Mobile, to recover. Using the mobile application, Sue tracked her medication compliance, answered symptom questions, and recorded her vitals each day until she had recovered from the UTI and her COVID-19 symptoms had dissipated. The program helped Sue understand her condition, and provided her with the tools to improve her health.
---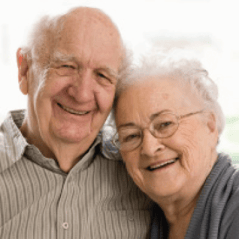 Rose's patient profile:
Age: 83
Condition(s): hypertension, asthma, diverticulitis, non-sustained ventricular tachycardia
Telehealth product used: PatientConnect Complete
Rose, an eviCore member with hypertension, asthma, and diverticulosis, was admitted to the hospital following a fall which resulted in leg and hip fractures. After surgery, and a stay in the hospital, Rose was discharged to home health and enrolled in the telehealth program. Fearful that she'd lose her independence, Rose relied on telehealth to help her recovery at home. Throughout the day, Rose received medication reminders, alerts to record her vital signs, and watched educational videos and completed teach back quizzes to assess her understanding of her care plan and condition.
Due to telehealth, Rose was able to maintain her independence and remain at home with her husband.
---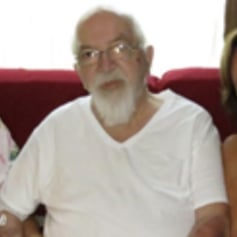 Leon's patient profile:
Age: 68
Condition(s): Chronic Systolic Congestive Heart Failure
Telehealth product used: PatientConnect Complete
Leon suffers from chronic systolic congestive heart failure, and has experienced many complications that have required dozens of hospitalizations and rehab stays.
After receiving a Biventricular ICD implant to improve his condition, Leon was discharged to home with a PICC line insertion via CADD pump that enables continuous medication through an IV. At discharge, Leon was immediately enrolled in Cornerstone VNA's telehealth program.
When first enrolled in the telehealth and RPM program, Leon was hesitant to use the technology, but with the support of his family and the assistance of daily virtual visits with his nursing team, Leon became more confident and more engaged in his care. Leon engaged in daily virtual visits, recorded his vitals, remained adherent to his medication regimen, and was able to incorporate his daughter into his telehealth care plan, helping them both understand their responsibilities in his recovery.
---
"With telehealth in my home, utilizing the education videos, it taught me the importance of monitoring my weight and blood pressure on a daily basis helping to keep my chronic condition controlled. I like the security of knowing that the telehealth nurse is always there to talk with via phone or video call for any questions or concerns."
- Leon
---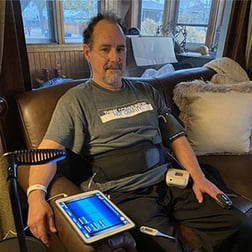 Greg's patient profile:
Age: 63
Conditions: COVID-19
Telehealth product used: PatientConnect Complete
Greg was admitted into Allina Health's Hospital Home Care Program in May 2020 after being admitted to the ER with shortness of breath. Sent home with the full telehealth kit, PatientConnect Complete, Greg had the tools he needed to receive the same level of care he would at the hospital, at home.
With telehealth in his home, Greg's care team was able to monitor his vitals 24/7 and perform daily virtual visits to provide personalized care while reducing the risk of exposure. Because of telehealth, Greg was able to recover safely and effectively in the comfort of home.
---
Healthcare today is patient-centric. The patient has control of where, when, and how they engage with healthcare providers. For this reason, it's essential that healthcare organizations employ the tools that patients expect—tools like telehealth and RPM, that make access seamless, healthcare delivery equitable, and sustainable patient engagement possible.