While many aspects of telehealth work to directly treat elderly patients, a big misconception is that telehealth is reserved for senior care only. Younger populations, including children, can benefit greatly from telehealth and remote patient monitoring (RPM).
A Flexible Solution for Families and Providers
Telehealth is rapidly evolving as more and more providers turn to it as an acceptable means of care delivery. For pediatric patients, and especially pediatric patients who are high risk or who have a chronic condition, telehealth can be a great resource.
When sick, or even injured, children often become distressed during an exam with their clinician. With telehealth and RPM, children are able to see and work with their clinicians from the comfort of their own home. Pediatric patients monitored tend to demonstrate significant positive results, including but not limited to improved health outcomes, cost savings (for both patients and providers), and a decrease in likelihood of adverse health effects.
RPM Critical in Pediatric Diabetes and Cardiovascular Care
RPM in pediatrics can prove especially valuable for continuous glucose monitoring (CGM) and monitoring of cardiovascular implantable devices. With CGM, glycemic levels in pediatric patients are closely monitored to shorten the length of hypoglycemic events in children. One study found that this type of CGM successfully prevented adverse health outcomes typically associated with hypoglycemic events, and families felt RPM was easy to use and understand. Some families also noted an added sense of comfort and security knowing there was a clinician team available 24/7 in case of an adverse event.
Researchers in a 2015 study found numerous benefits from using RPM to monitor pediatric patients with cardiovascular implantable devices. Throughout their study, 72 clinic visits were prevented, an average of nearly 2.5 hours of travel prevented, and 87% of families and young patients "were very satisfied when using remote monitoring to replace out-patient visits." Researchers concluded that remote patient monitoring for the pediatric patients was a viable replacement for out-patient device checks.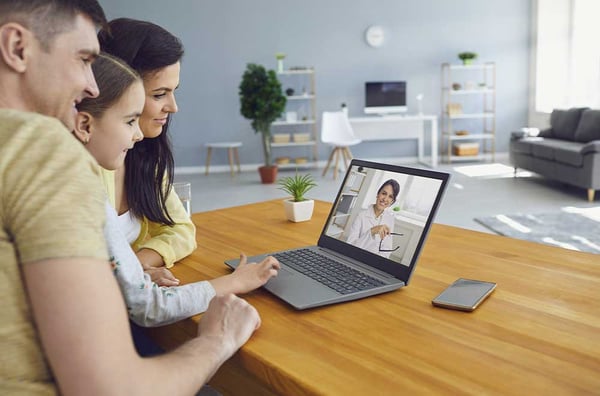 Essential for Rural and Chronic Care Pediatric Patients
The challenges of accessing care rings true even more so for families living in rural areas. Children can grow uncomfortable quickly on long car rides, and scheduling issues often become complicated during the school year. Families with children with chronic conditions often require frequent care, resulting in the burden of constant traveling and stress.
Approximately 14% of all children have a special health care need--chronic, physical, developmental, behavioral, or emotional conditions that require more frequent care. Most pediatric specialists and subspecialists are also located in more urban areas, leaving these families at a disadvantage with increasing costs and sacrifices. For example, in large states such as California, the number of these pediatric specialists and subspecialists are 80-90% lower in rural areas than cities such as San Francisco and Los Angeles. With 40 subspecialists for every 100,000 patients in rural areas compared to 134 for every 100,000 patients in urban areas, this scarcity puts a large proportion of pediatric patients in rural areas at a heightened disadvantage.
The University of Minnesota and Children's Hospitals and Clinics of Minnesota ran the TeleFamilies Project, where 163 families of children with neurological impairment, heart conditions, and other conditions were recruited to participate in a randomized controlled trial. Families who participated in telehealth visits with a nurse practitioner prevented a total of 277 clinic visits and 27 ED visits over the course of the study. These video visits allowed for increased ease in care coordination and more involvement in other family members while video conferencing beyond just one caregiver of the pediatric patient.
Setting Up Pediatric Patients for Lifelong Success
RPM and telehealth in pediatric care can help young patients and families transform their care and engage in healthy behaviors that can leave an everlasting impact. Learning how to engage in one's care earlier in life, especially for chronic conditions, can ensure children are equipped to manage their care efficiently in the future. As RPM and telehealth continue to permeate through the healthcare space, an increasing amount of pediatric patients and their families will see the benefits of telehealth: increased accessibility, peace of mind, optimized and improved care delivery.