You've completed your evaluation of telehealth vendors and selected your new telehealth provider. What comes next? At HRS, every healthcare organization we partner with is assigned an Implementation Lead and a Client Success Manager from our Client Success Team. These dedicated points of contact help ensure a smooth implementation process. This team works with you to understand your organization and your program goals to create a project plan for implementation.
In this blog post, we'll walk you through a standard telehealth implementation process and answer commonly asked questions.
Telehealth Implementation: A 4-Step Process
A commonly asked question during telehealth implementation is "What should I expect to occur during implementation?". In our experience, the implementation process can be categorized into 4 basic steps. These steps are designed to ensure a smooth and successful launch of your telehealth program.
Step 1: Implementation Kick-Off
The implementation kick-off is a crucial phase that sets the foundation for the entire program. During this phase, we will schedule a formal kick-off call to introduce you to your Client Onboarding Manager, who will take you through the full implementation process. You'll also meet the Client Success Team who will be your main point of contact after your program has enrolled the first few patients. These two team members along with our team of subject matter experts (SMEs) will conduct a needs assessment and review your current processes.
We aim to understand the goals of the program and will tailor the implementation plan to support your team's vision. After your kick-off call, we will provide an overview of the entire implementation plan with proposed target dates to get your program up and running quickly. We believe in open communication and collaboration, so this kick-off call is the perfect opportunity to align our goals and expectations.
Step 2: Clinical Program Strategy
Once the kick-off phase is complete, we dive deeper into the team's overall clinical program strategy. It is important to approach implementation with a clear understanding of available resources and barriers that we may need to overcome. From there, we will recommend a program strategy that fits your program's current state. As we go through the different facets of your program, we will ensure that the scope of the project is clearly documented to ensure we cover key milestones.
Here, we introduce you to our suite of SMEs who will help educate the team on best practices and guide you through every aspect of your program. We will start the discovery process for systems integration, including EHR integration, and review our Clinical Standards to ensure the highest quality of care. We will also introduce you to our Reimbursement Team to explore reimbursement opportunities for your Telehealth and RPM Program.
Additionally, we will work closely with your key stakeholders to develop a robust marketing plan that targets referral sources, internal buy-in, and community outreach. This phase is also the perfect time to review and refine your clinical processes to ensure seamless integration with the telehealth program.
In the third step, we focus on operationalizing your clinical program's strategy by creating custom workflows to suit your organization's unique needs. Internal adoption of the new program is essential to success. The workflows are designed to support your team and optimize their day by enabling a seamless blend of RPM and patient care. We will also work with our HRS Logistics Team to develop an efficient inventory management plan, allowing your team to focus on patient care while we handle equipment management. This step is crucial for finalizing your organization's policies and procedures documentation, ensuring compliance and smooth operations moving forward.
Step 4: Preparing for Go-Live
As we approach the end of implementation, it's time to prepare for the "go-live" of your telehealth program. We will collaborate with your team to define the success metrics for your program, ensuring that we are aligned in measuring the impact and effectiveness of the program. Training is also a crucial component of this step, as it ensures that all end-users who will be interacting with enrolled patients are well-versed in using the telehealth platform. We will work closely with your core team to create a tailored training plan that meets your organization's specific needs. Onboarding Managers with expertise in RPM programs will train your clinicians.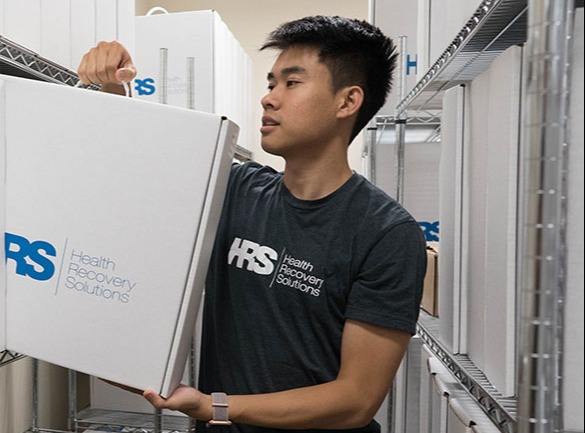 Simple, Convenient Healthcare Logistics and Inventory Management
Increase the return on your investment in remote patient monitoring and telehealth. By outsourcing to HRS Logistics, our clients reduced failed kit returns by 14% and increased patient adherence by 13%.
Explore HRS Logistics
Telehealth Implementation FAQs
How much does it cost to implement telehealth?
The cost of telehealth implementation varies. With some vendors, there may be a separate fee for implementation or third party vendors that charge extra to assist with implementation. At HRS, we include the cost of implementation in your contract and manage all aspects of implementation in-house to avoid unnecessary additional costs.
To get a sense of overall telehealth pricing, review our Pricing Guide.
How do you implement telehealth in rural areas?
There are different strategies for implementing telehealth in rural areas. It depends on the size of the geographic region and the WiFi/cellular infrastructure. In one example, MaineHealth Care at Home (MHCAH) used a telehealth grant to expand its program and include telehealth kiosks to ensure quality of care in even the most remote areas of Maine.
In another example, SummitWest Care introduced a telehealth and RPM program in August 2020 to support chronic care patients in Western Colorado that included daily COVID-19 screening questions, vital signs and symptoms triaging, weekly virtual visits for patient care plans, and customized care plans with educational videos.
How can telehealth be implemented to enhance health literacy?
Implementing a telehealth program with educational resources for patients to learn about their condition, medication reminders and symptom surveys to help patients adhere to their care plan, and communication tools (video conferencing, text messaging, phone calls) to help patients stay connected to their care team enhances health literacy and improves patient outcomes.
Implementing a Telehealth Program with HRS
By following the four steps to telehealth implementation outlined above, we can successfully implement your new telehealth program in just a few weeks. Our industry-leading solutions, combined with a clear and defined process, allow us to implement and launch your new program quickly and efficiently. With HRS as your partner, you can embark on your telehealth journey with confidence and achieve positive outcomes for both your organization and your patients.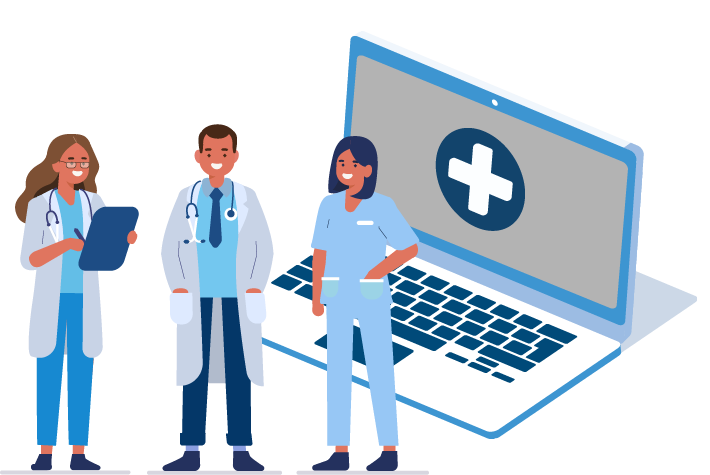 Maximize the ROI of Your Telehealth Program
Over the course of a decade, HRS has partnered with healthcare organizations to design high-performing telehealth programs that drive results for patient snd providers alike. Our customizable suite of remote care solutions can be deployed in every care setting to serve every patient.
View Solutions