As the applications of technology in healthcare continue to grow, training for telemedicine must take center stage in the education of future clinicians.
The Telehealth Era
According to a 2019 AHA statistic, over 75% of healthcare providers are using telehealth to give patients access to cost-effective care at a distance. In the health-tech era, it is crucial for health professionals to adapt to the new technologies and learn the communication skills necessary to maintain patient satisfaction using telehealth.
"It's hard to imagine a future in which telemedicine isn't a growing part of how we deliver care. Understanding the new skills clinicians will need - and how to best train them to use those skills - is essential to providing high-quality care and meeting the needs of tomorrows patients," notes Scott Shipman, MD, MPH, AAMC Director of Clinical Innovations.
Preparing Clinicians for Telehealth
To prepare our medical professionals to utilize telehealth accurately and efficiently, medical schools and teaching hospitals are implementing telemedicine into their curriculum. The range of telehealth education options for students in medical schools varies from required courses to optional electives. Based on AAMC data, in the 2017-2018 school year, 88 medical schools (about 60%) included telemedicine as either a required course or an elective option compared to 57 Medical schools (about 41%) in the 2013-2014 school year.
In 2018, The National Organization of Nurse Practitioner Faculty (NONPF) published recommendations that all nurse practitioners be trained in telehealth. This recommendation urged schools of nursing with nurse practitioner programs to include telehealth into their teaching plans. As of now, there is no mandated telehealth curriculum; however, NONPF believes that telehealth is a developing form of health care and faculty should be trained to provide telehealth support in all clinical settings.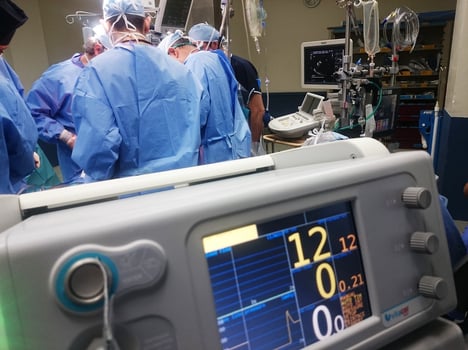 Building a Telehealth Curriculum
With a digital screen separating the patient from the provider, one of the biggest challenges in telehealth is creating a positive patient-provider relationship. To ensure a positive relationship, training programs are teaching students a wide range of topics to improve patient outcomes within a digital environment.
To utilize telehealth, students must first understand the privacy requirements and learn to explain the efficacy of telehealth to patients. Gathering patient medical history is critical to providing comprehensive care, and thus clinicians must understand how to comfort patients concerned with the privacy of their medical history. Ethical issues involving patient information and privacy are paramount for all telehealth programs are required to clearly address this topic.
In these programs, students utilize telehealth to learn its capabilities - specifically with regards to virtual examinations. The ability to read a patient's physical appearance and body language cues during virtual visits is an increasingly important skill for clinicians to possess. Telehealth courses provide students the opportunity to shadow physicians via video conferencing to learn telehealth terminology and communication skills.
A key benefit to telehealth services is the remote monitoring of patients and their vitals, often done through wearable devices or Bluetooth monitoring devices. Nurses utilize patient vitals and daily health surveys to recognize high-risk patients. Telehealth clinicians and nurses are then able to contact their patients directly, as well as their referring physicians, following a change in health status. This allows doctors and nurses to intervene in patient care before the patients status becomes an emergency. Understanding how to most effectively monitor a large group of patients remotely and the best workflow procedures for doing so are imperative for new clinicians.
References:
1. A model for mHealth skills training for clinicians: meeting the future now
https://www.ncbi.nlm.nih.gov/pmc/articles/PMC5505927/
2. Telehealth and eHealth in nurse practitioner training: current perspectives
https://www.ncbi.nlm.nih.gov/pmc/articles/PMC5498674/
3. How Telehealth Training Programs Drive Positive Patient Experience
https://patientengagementhit.com/news/how-telehealth-training-programs-drive-positive-patient-experience
4. https://www.nonpf.org/news/388719/NONPF-Statement-in-Support-of-Telehealth-in-NP-Education.htm