Remote patient monitoring (RPM) pricing can be a complex subject with many factors involved, including but not limited to: what products are being used, what patient populations are being served, how large those patient populations are, how procurement is done, and what the contract term is.
On top of that, there are operating costs, logistics and management costs, implementation costs and a slew of other things that can make RPM seem like a significant investment to take on.
However, when the value of reducing readmissions, improving patient care and satisfaction, and reimbursement from CMS is factored in, it becomes clear that the value of RPM and telehealth is much higher than the costs it incurs. If you think of your program in terms of ROI instead of an expense, you'll set yourself up for long-term success.
In this blog, we'll give you a clear and concise breakdown of what factors go into the cost of remote patient monitoring and give you a better picture of how we handle the pricing of our RPM solutions. So, if you must go back to your finance team or CFO with a cost-benefit analysis for RPM, you'll be equipped to do so as the expert on RPM pricing.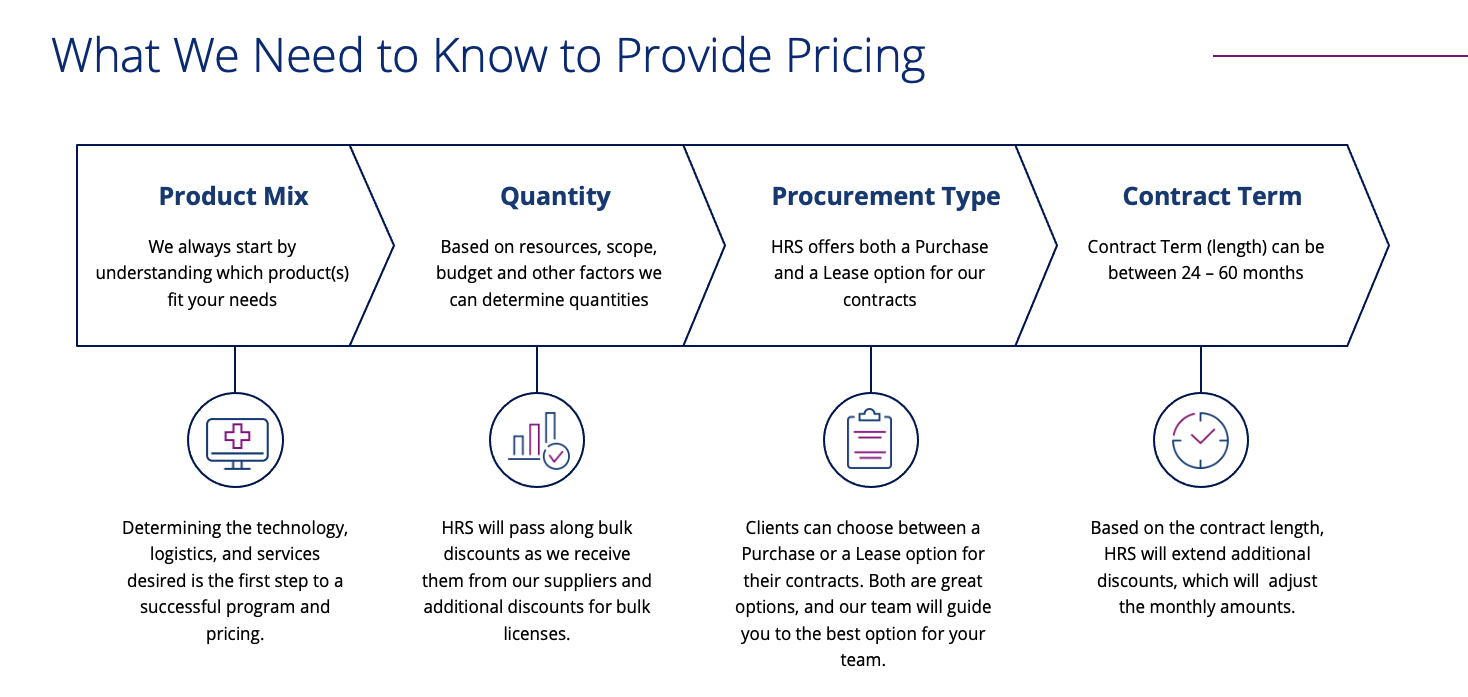 Product Mix
At HRS, we always start by understanding which products fit your needs. We determine the technology, logistics, and services desired as a first step to launching your program and determining the price point.
Logistics
Part of the cost of running a remote patient monitoring and telehealth program is the logistics and inventory management involved for shipping, tracking, and making sure all the equipment gets returned in working order. Most organizations don't have staff available to take this on. With our programs, we take care of this for our clients and take it off their plates completely.

Logistics services are optional, but many of our clients enjoy this service and we highly, highly recommend it. Through our HRS Logistics solutions, we handle all the logistics and supply chain management. What's more, we don't contract this out to another third party to manage the inventory – we have our very own warehouse, so our clients can rest assured that everything is handled in-house to minimize any issues.
Quantity
Based on resources, scope, budget and other factors we then determine the quantity of RPM kits needed based on your patient program goals. In addition, we pass along bulk discounts as we receive them from our suppliers and additional discounts for bulk licenses.
Our standard pricing model is based on a per kit per month out of the box set up. There's a set price per kit (hardware) which you can lease or purchase. Included in the software charge is all telehealth capabilities, 4G connection with AT&T and Verizon, unlimited clinical and caregiver licenses, 24/7 support, and much more. Lastly, we factor in the cost of logistics and inventory management, as mentioned earlier.
Another benefit to our pricing is that we don't charge a price per virtual visit—your visits are unlimited to help with program success. Some other vendors, however, may charge based on the quantity of visits performed. This can be detrimental if you're trying to scale up your telehealth programs – over time, a cost-per-visit model can significantly add up.
Procurement Type
HRS offers both purchase and lease options for our contracts. They are both great options, and our experts can help guide you to the best option for your team.
Lease vs. Purchase
Determining whether to lease or purchase remote patient monitoring and telehealth technology can be a tricky subject. From our experience, we usually find that if healthcare organizations have a lot of capital on hand or grant funding to use, purchasing the hardware is usually the route they take – sometimes they don't even have a choice! This is typically the better option for larger providers.
On the other hand, we find that organizations who prefer to refresh their equipment every 2-3 years might find the leasing option to be the better of the two. For them it's like leasing a new car - every three years, they might get some new equipment to add onto the car. But, overall, they will keep leasing as long as it makes sense financially.
Every organization is slightly different in how they think about lease versus purchase. In general, however, leasing is better for short, quick pilots, while purchasing might be better for longer contracts and grant-funded programs. Our specialists can help you navigate this complex process and determine the right model for you and your team.
Contract Term
Our contract terms can be anywhere from 24-60 months. Based on this contract length, we will extend additional discounts, which will adjust the monthly invoices.
How to Determine Your Contact Length
In our experience, most larger providers are looking for a strategic partner. They don't want to jump around to different vendors every couple of years. When they find the right vendor, if they can lock them in for the next five years or so, they can have a great, strategic partnership with us to help them build their digital strategy from the ground up and make it truly exceptional. We always say that a 5-year partnership is better than a 1-year contract; a 1-year contract is like a science experiment, while a longer-term partnership represents a tried-and-true digital strategy.
If you're a smaller provider, it may make sense to go with a shorter contract length. Many smaller health organizations are simply trying not to get dinged on Medicare payments and want to keep patients out of the hospital and keep their referrals coming in. So, if you're just testing out a pilot, a shorter contract length might be the better option.
Pricing Flexibility
We work with our partners to make sure we find a solution that best works for them, and, in that regard, we find that flexibility is the best policy. In some cases, we may advise a lease-to-own model for our hardware. In other cases, we offer discounts for extended contract lengths and bulk purchases. No two RPM deployments are the same, and we treat each deployment and pricing structure in a unique way.
While we aren't always the least-expensive solution on the market, HRS provides top-tier value with our programs. Our clients have consistently highlighted our value as the reason they continue to renew year after year and it's why HRS has maintained a 95% client retention rate over the last 5 years. What we might not match in RPM pricing, we more than cover in value.
While some vendors may supply your medical equipment and leave the rest up to you, at HRS, our goal is to not only give you our Best in KLAS technology, but also to be your strategic partner in building a highly successful program. We do this by providing you with world class wrap-around services, including implementation teams, clinical support, reimbursement and grant assistance, client success specialists, 24/7 technical support, marketing for your programs, and logistics and inventory management.
If you're interested in learning more about our RPM and Telehealth pricing, get in touch with a digital health specialist today!