Telehealth encompasses a broad range of technologies and services—included under the umbrella of telehealth is telemedicine, remote monitoring, provider training, non-prescription delivery, health education, provider-provider communication and more.
When launching a new telehealth program, it's important to consider whether the telehealth tools used will be asynchronous, synchronous, or both. Both are types of telehealth that offer impressive benefits to patients and providers. To determine whether to use asynchronous or synchronous telehealth, it's important to understand the difference between the two and applications of each.
Asynchronous Telehealth
The ATA defines asynchronous telehealth as a "term describing store-and-forward transmission of medical images and/or data because the data transfer takes place over a period of time, and typically in separate time frames. The transmission typically does not take place simultaneously."
Simply, asynchronous telehealth, also known as "store-and-forward" is communication between parties that is not live. In asynchronous modalities, patient information is forwarded (sent), and then stored until the provider has the opportunity to review. This is especially beneficial for providers experiencing bandwidth strains as it allows the provider to review the patient's materials or communication when their schedule permits. On the patient side, asynchronous telehealth allows the patient to engage with their healthcare at a time and in a setting that is convenient for them.
The asynchronous "store-and-forward" approach is very popular amongst specialties that require image and/or video sharing like dermatology, radiology, orthopedics, ophthalmology, and cosmetic surgery. That being said, asynchronous telehealth can be used by any patient population that will benefit from store-and-forward communication.
Examples of asynchronous telehealth include:
Texting between a patient and provider
Wound imaging
X-Ray or MRI sharing
Physical therapy exercise sharing via video
Patient report sharing
Symptom survey questionnaires
Education quizzes
Texting between a patient and provider is a very common method used across disease groups. Many providers use texting to check in on their patients symptoms or remind patients about an upcoming in-person or virtual appointment. HRS provides the opportunity for providers, patients, and caregivers to communicate via secure HIPAA compliant chat directly through the patient's telehealth tablet or smart device.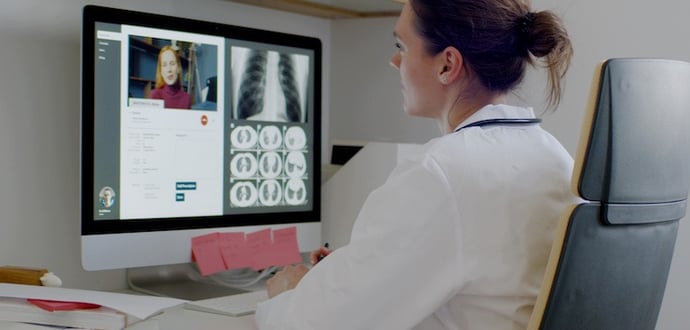 Want to learn about telehealth technology? Check out our free, in-depth guide today!

Synchronous Telehealth
Synchronous telehealth, on the other hand, happens in "real time." The ATA defines synchronous telehealth as "interactive video connections that transmit information in both directions during the same time period."
Synchronous telehealth, or virtual visits, enable in-depth patient-provider interaction, allowing an efficient exchange of information. It offers the provider the opportunity to evaluate the patient face-to-face and acquire important information pertaining to the patient's care and disease state.
Examples of synchronous telehealth include:

Live video evaluations

Real-time behavior observation

Quality of life consults for patients receiving hospice care

Live physical therapy sessions

Consultation between primary care provider and medical specialist

Phone call about patient symptoms

Real-time care plan education video video or phone
Synchronous telehealth improves convenience, access, and efficiency by allowing the patient to communicate with their provider from outside the hospital or clinic. With synchronous telehealth, patients are able to access specialists virtually who they otherwise may not have access to due to geographic, financial, or transportation constraints.
Building Unique Telehealth Programs
Identifying that different patients have different needs, healthcare providers are getting increasingly more creative with how they deploy telehealth. Many advanced telehealth programs offer an omni-channel approach, meaning, their telehealth program includes both asynchronous and synchronous offerings.
HRS supports omni-channel telehealth strategies, by providing tools for text messaging, wound imaging, symptom surveys, medication reminders, education quizzes, virtual visits, phone calls, and more.
Ready to learn more? Check out HRS' award-winning telehealth solutions today: