Wound care is a necessary treatment for numerous conditions and patient populations, as wounds can be both acute and chronic. Acute wounds include surgical wounds, pressure sores, and diabetic wounds such as foot ulcers. Chronic wounds are wounds that do not properly heal, and while less common, they impact patients daily, inflicting long term pain and discomfort.
To assist clinicians in wound care treatment, and control patient discomfort, HRS' telehealth and RPM platform offers wound care imaging.
---
Wound Care in Patient Recovery
Wound care plays a vital role in a patient's recovery process, or for patients with chronic wounds, in their care management. There are three key goals to patient wound care, all of which contribute to improved patient outcomes and reduced hospitalizations:
Avoid infection

: Surgical site infection (SSI) are often recognized late and thus result in a high number of avoidable hospital readmissions. In a study published in The American Journal of Surgery, looking at nearly 400 post-surgical patients,

over 50% of the patients whose SSI was diagnosed post-discharged were readmitted to the hospital

, indicating the need for consistent and close monitoring of patient wounds.


Accelerate healing: Properly cleaning and dressing wounds helps to prevent infections, and speeds the recovery process. Many patients rely on a caregivers or healthcare professional to dress their wounds


Minimize scarring: Scarring can occur due to both minor wounds or major surgeries. Some scars, like hypertrophic and contracture, can cause long term pain, discomfort, or even restrict a patient's movements when located near joints.
Wound Imaging: An Essential Telehealth Feature
Wound Care Specialists are healthcare professionals trained specifically in both acute and chronic wound care. These healthcare professionals can be nurses, specialty care physicians, physical therapists, or other providers who work together across facilities, including but not limited to emergency rooms, home health agencies, nursing homes, and clinics.
Clinician Benefits
Wound care imaging allows clinicians to evaluate patients wounds anytime, from anywhere. Patients, family caregivers, and clinicians can coordinate with wound care specialists through telehealth and RPM platforms, working together to understand necessary changes to patient care and prevent hospitalizations.
Wound imaging also enhances communication between telehealth providers and referring physicians. Along with patient vitals signs and symptom surveys, wound images can be provided to referring physicians on a weekly or monthly cadence, or prior to an in-person visit with their patient, allowing them to properly prepare and assess a patient's recovery.
Finally, wound imaging helps reduce clinician workload by allowing wound care specialists to evaluate more patients virtually than they otherwise would be able to in person. A shortage of wound care specialists (particularly in rural communities) combined with an increasing wound care population (making up 36% of home health patients) has placed a heavy burden on these specialists. Wound imaging allows wound care specialists to be brought into patient care virtually during an in-home visit.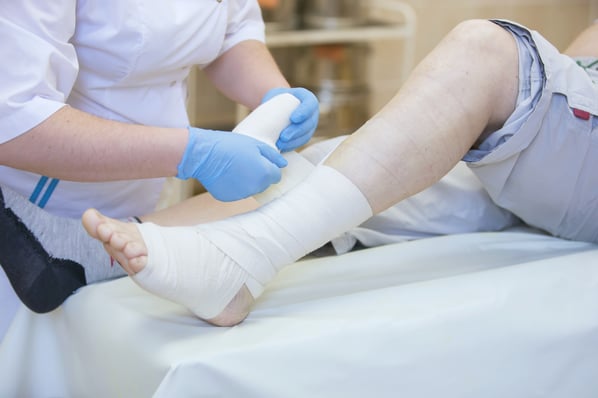 One Patient's Wound Care Story
At the age of 80, Geraldine considers herself in excellent health. But after falling on a walk with her husband, Geraldine was first admitted to the hospital and later discharged to the hospital's home health agency.
Thankfully, Geraldine did not suffer any broken bones, but she did hit her head during the fall and received a deep wound on her lower, left leg. To help support Geraldine through her recovery and protect her from another fall, Geraldine was enrolled in the telehealth and remote patient monitoring program through the home health agency.
After several days on the telehealth program, Geraldine's physical therapist came to her home, to review her progress, walk through her care plan, and answer any questions she had about her treatments during recovery. During the visit, the physical therapist was concerned by the slow recovery and Geraldine's wound and recognized potential signs of infection.
Using the tablet provided to Geraldine through the telehealth program, the therapist took a picture of the image and sent it to the RN, responsible for monitoring patient vitals, as well as a wound care specialist at the agency. After reviewing the wound images, the wound care specialist worked with the patient, their physician, and the nursing team to develop a new care with additional virtual visits and an updated medication regimen, ensuring a safe and steady recovery for Geraldine.