The presence of wounds and the cost to care for them has become a growing problem, needing an urgent solution. HRS has partnered with wound experts to provide our customers a much-needed solution to this growing social and economic burden.
Wound Care Consultants & Your RPM Program
At Health Recovery Solutions, our aim is to provide our partners with a unique and valuable service that combines the expertise of highly trained Wound and Ostomy Certified (WOC) nurses with our award-winning remote patient monitoring solution. This new wound care consultant service, WoundConnect, will be directly accessible to clinicians attending to patients at home, in the doctor's office, or in any outpatient setting with limited access to WOC nurses.
The WoundConnect service brings together four key elements to address the current challenges of wound care management:
Experts - Highly trained expert Wound and Ostomy Certified Nurse Consultants
Process - Direct to clinician consultation, utilizing standardized, evidenced based wound recommendations by care setting and wound type
Technology - A remote patient monitoring and patient engagement solution that provides for wound imaging, education, survey assessment and biometric readings
Data - Crafted wound data and outcomes for your organization to prove clinical and financial outcomes
How Virtual Wound Care Consultations Work
Your clinician will capture images of the wound and gather background information about the patient during the admission or initial visit. This information will then be reviewed by expert WOC nurses using standardized, evidence-based recommendations tailored to the specific care setting and wound type. Within 24 hours, they will provide a consultation that includes recommendations for wound treatment, such as the use of specific products and cleansers.
In addition to treatment recommendations, our nurses will also provide guidance on the wound's etiology or pressure injury stage. This is particularly beneficial for home health agencies and nurses conducting their OASIS assessments, as it helps answer questions and enables them to make recommendations to physicians regarding the wound etiology and pressure stage. By ensuring the right products and treatments are administered at the appropriate frequency, we can optimize healing outcomes.
This service can be offered during the admission or initial visit, with follow-up visits as frequently as desired. For home health, we recommend a start of care visit and at least one follow-up visit, allowing us to monitor the wound's progress and make any necessary adjustments.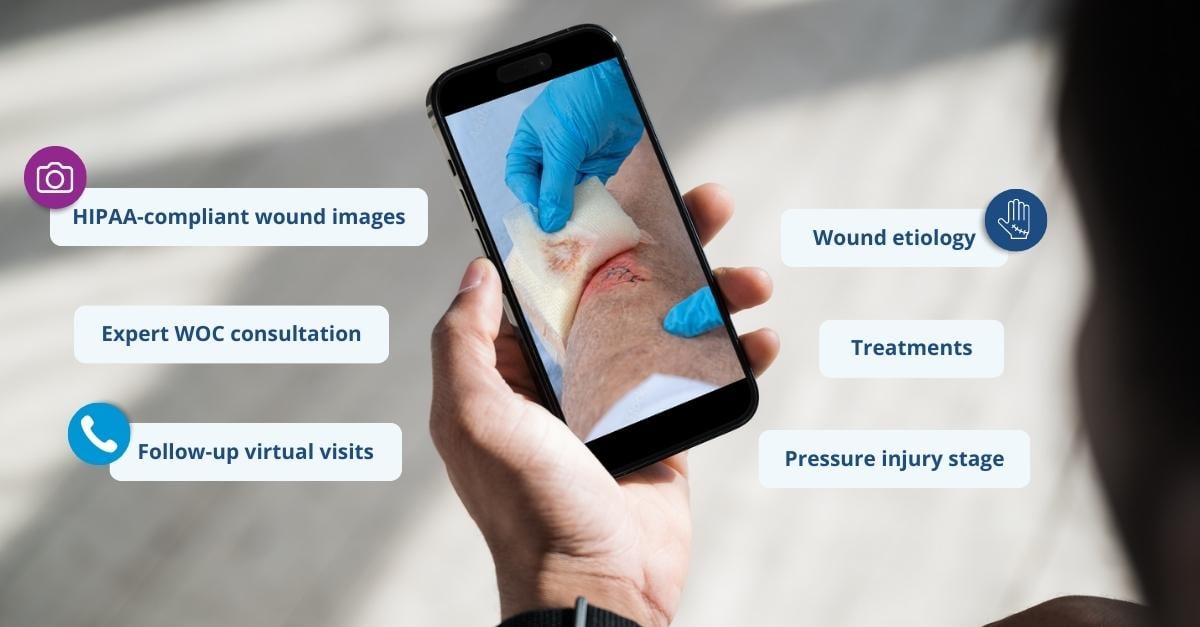 Combining Virtual Wound Care and Remote Patient Monitoring
To achieve improved patient outcomes, this program not only encompasses wound care consultations but also remote patient monitoring and patient engagement solutions. For patients requiring biometric tracking, such as diabetic patients, we will monitor blood glucose levels, medication adherence, and provide educational videos through our PatientConnect® platform. In some cases, virtual physician appointments via tablet may also be arranged.
By combining remote patient monitoring with our consultative process, we can gather valuable information on patient adherence, engagement, and track trends in biometric readings and survey responses. Our goal is to bring healthcare providers a groundbreaking program to address patient needs in the home setting, providing exceptional care and support throughout the healing process.
Determining Your Ideal Patient Inclusion Criteria
So you might be wondering, who would be the ideal patient for a program like this? We discussed this with wound care experts and took into account our own experience and expertise in remote care delivery across different settings. After careful consideration, we landed on the following criteria:
Any patient with a new, chronic or worsening wound
Any patient with a hard to heal wound or history of infection or sepsis
Any patient currently requiring 3X's week to daily wound care and/or Nursing visits
Patients that have had multiple Home Health episodes, clinic visits or readmissions
Any patients that are struggling with self-management, and could benefit from a triad support from their provider as well as a caregiver
If wound closure confirmation is needed and/or plan for prevention of recidivism
Additionally, some of the common conditions and wound types that can be monitored using RPM and the WoundConnect service include: Diabetic ulcers, pressure ulcers, wound sepsis, arterial ulcers, venous ulcers, cellulitis, post-op wound infection, and non-healing wounds.
Commonly Asked Questions
1. How can current HRS clients sign up for the WoundConnect service?
Current HRS clients can reach out to the Customer Support team. We are available to schedule a meeting to discuss the program in more detail and determine what would be most relevant for you. We can also go through the calculator together to determine the number of consultations your team may need per month. Please don't hesitate to reach out to us - we're excited to explore this opportunity with you!
2. For current HRS clients, is there an additional fee for this wound care consultant?
Yes. There is a per consult fee which can be purchased in bundles. If you have the HRS remote patient monitoring equipment already, you don't need to purchase any additional equipment.
3. How many wound care consultations will I need?
We've developed a process for calculating the number of wound care consultations you will need and will work with you to determine the best package. We'll start by multiplying the Average Daily Census (ADC) by the percentage of ADC with a wound diagnosis, then dividing by the percentage of patients with chronic/non-healing/infected/high-risk wound etiology. This will give you your total addressable population, including conditions such as pressure ulcers, diabetic ulcers, venous ulcers, wound sepsis, cellulitis, and non-healing wounds.
*Example: ADC 1000 Multiplied by % Wound Dx 30% Divided by 25% = 75 patient potential per month
4. Does the work data come through the HRS ClinicianConnect portal?
Yes, it is uploaded from the patient's tablet or mobile app into ClinicianConnect where our wound consultants will be able to view and provide consultation.
5. Can the HRS PatientConnect Mobile application be used for the wound consults?
Yes. The HRS PatientConnect Mobile application can be used for the wound care consultations. The app can be downloaded on Android or Apple iOS devices and has wound imaging capabilities as well as all of the RPM capabilities.
Getting Started with WoundConnect
In conclusion, Health Recovery Solutions' WoundConnect service is a groundbreaking program that combines the expertise of highly trained WOC nurses with the power of remote patient monitoring to improve wound care outcomes. The program is ideal for patients with new, chronic, or worsening wounds, as well as those with hard-to-heal wounds or a history of infection or sepsis. By combining virtual wound care consultations with remote patient monitoring, WoundConnect can help to improve patient adherence, engagement, and healing outcomes.
If you are a healthcare provider interested in learning more about WoundConnect, please contact us today. We would be happy to discuss how this program can benefit your patients.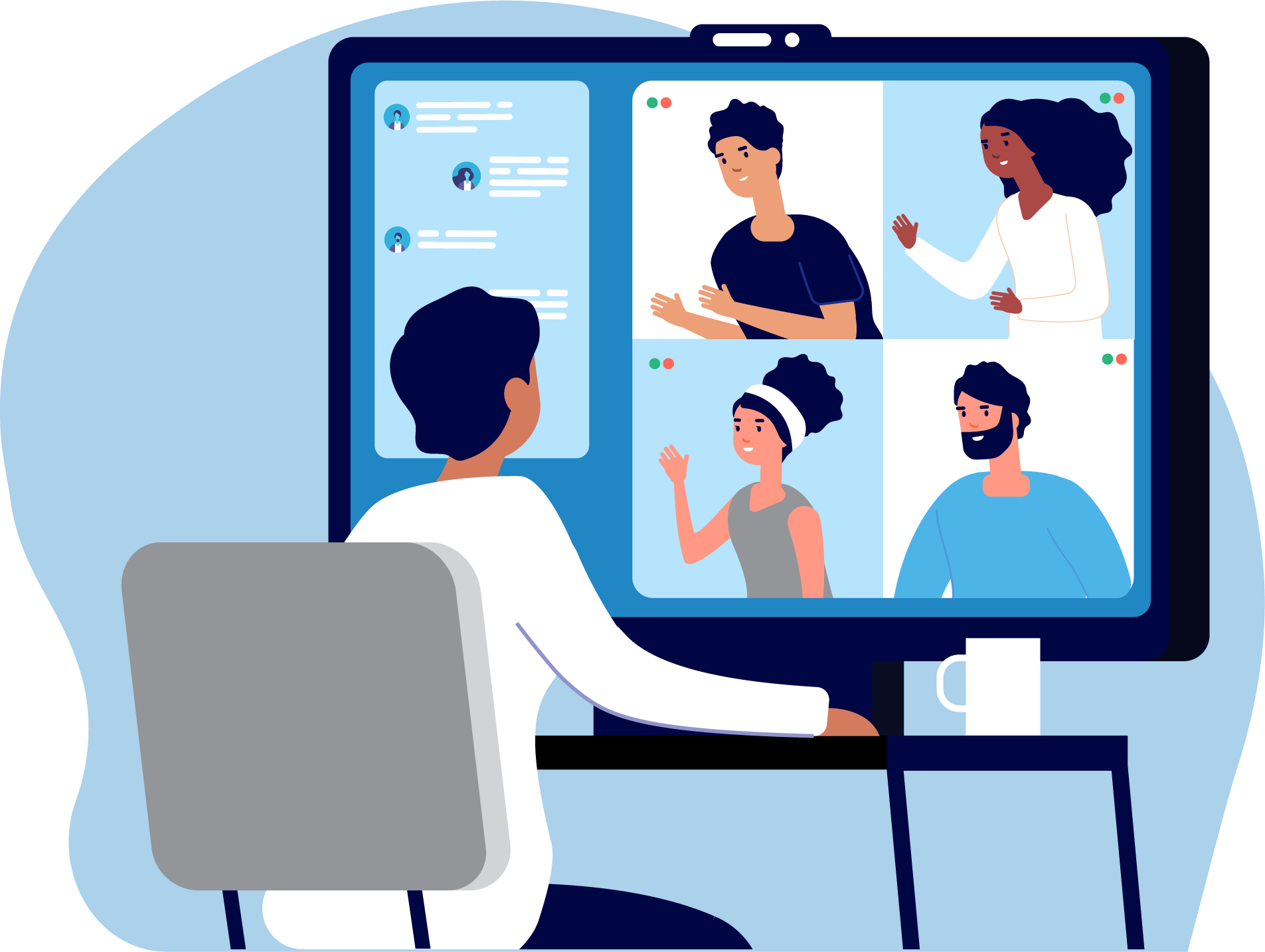 Connect with an HRS Digital Health Advocate
Learn more about the new HRS WoundConnect service for virtual wound care consultations and explore all of the features of our award-winning remote patient monitoring solution.
Get My Free Demo