Did you know that the first ever phone transmission was a telemedicine call of sorts?
When Alexander Graham Bell said "Mr. Watson, come here, I want to see you," he'd spilled acid on his leg and needed assistance! A few years later, in 1879, The Lancet reported the case of a mother who, in the middle of the night, was told by her doctor to have her child cough into the telephone. "That's not the croup," he said, giving the world's first real telemedicine diagnosis.
Fast forward roughly 150 years, and today's telemedicine has reshaped our healthcare system. The '90s saw research and pilot programs from NASA, academic institutions, the U.S. military, and healthcare organizations, but it was the urgency of the COVID-19 pandemic that catapulted telemedicine into millions of American households and made it routine.
Wound Care at Home, A Perfect Fit
Caring for wounds is an area where telemedicine has the potential to make a significant impact. The task is complex and demanding, with challenges that include the need for specialized care, management of anxiety, depression and social isolation, multidisciplinary care coordination, high costs of treatment, and patient compliance and education, among other factors.
A very real problem is our current shortage of qualified wound, ostomy, and continence nurses (WOCNs), especially in remote or rural areas. Only 0.2% of nurses are certified in wound care. That's one WOC nurse for every 900 patients with a chronic wound. Nine hundred!
This shortage can result in poor documentation and coding, often leading to costly authorization and reimbursement denials.
Telemedicine can greatly mitigate these issues. Let's explore how.
Efficacy of Remote Wound Care
The first thing to ask is "does it work?"
Both randomized controlled trials and cohort studies have shown that wound care using telehealth is as effective as conventional methods, with no meaningful differences in healing times. In some areas, such as reducing the risk of amputation, telemedicine outcomes are quantifiably better.
Diagnosis and treatment plans depend heavily on visual assessment, making wounds an ideal candidate for telemedicine. Wound location, sloughing, color, size, granulation, and necrosis can all be accurately evaluated via patient-acquired photographs.
Specialized, Patient-Centered Wound Care
Telemedicine puts the patient at the heart of the healing.
High-quality care delivered in the familiar surroundings of a patient's home reduces stress and anxiety, often resulting in increased satisfaction and improved quality of life. Removing the need to get to a clinical facility—which for some can be hours away—saves time and money, and eliminates travel-induced stress. A study of cancer patients published in JAMA this year found that every televisit saved an average of 2.9 hours of driving time and 1.2 hours of time in the clinic. That's significant.
Another benefit is a reduction in the risk of picking up an infection in the hospital or clinic, a real danger for wound patients.
Cost Benefits
Telemedicine saves money for both patients and providers. A rare win-win in the healthcare world.
The JAMA study referenced earlier found that televisits saved patients between $147 and $186 per encounter. Less time traveling and spent in waiting rooms can also reduce lost income. Easy access to care and monitoring can catch complications before they become acute or chronic, avoiding potential hospital admission and future patient spending.
Providers can realize lower overhead costs from a reduced need for physical office space. Increased efficiency comes with the ability to see more patients in a day. Fewer no-shows and the ability to see patients from further afield can boost the bottom line.
With the scarcity of WOCNs, telemedicine's ability to utilize existing staff most efficiently is a big deal, reducing the need to constantly find and recruit qualified nurses.
Experts on Tap
A multi-disciplinary approach to wound treatment is effective and efficient, but often impossible in remote settings.
Telemedicine facilitates streamlined patient access to wound care specialists, effortless clinician-to-clinician consultations, seamless care coordination, and access to expert advice and support for providers. In rural regions and underserved urban areas, this can mean the difference between a smooth and speedy recovery and a difficult, potentially life-threatening progression.
What to Look for in a Remote Care Program
To reap these considerable benefits, you'll want to make sure that your telehealth program provides the following:
Skilled wound and ostomy certified nurse consultants with extensive training
Direct consultations between clinicians, using standardized, evidence-based wound care guidelines tailored to both the care setting and specific wound type
A comprehensive remote patient care solution offering wound imaging, educational resources, survey evaluations, and monitoring of biometric data
Reporting on wound data and outcomes, tailored to your organization, demonstrating both clinical success and financial benefits
Wound Care Reimagined
Telemedicine isn't just a shiny new tool—it's a sea change for the healthcare ecosystem. Using technology to improve the human condition and care experience is genuinely transformative, and the advantages for both providers and patients are profound.
The use of telemedicine in wound care is a meaningful evolution in healthcare delivery. It's simplifying patients' lives, enhancing collaboration, improving outcomes, personalizing care, and realizing substantial cost savings, all while driving a more connected and compassionate approach to wound care. More than just healing wounds, it's enriching lives and empowering providers to deliver the best care possible.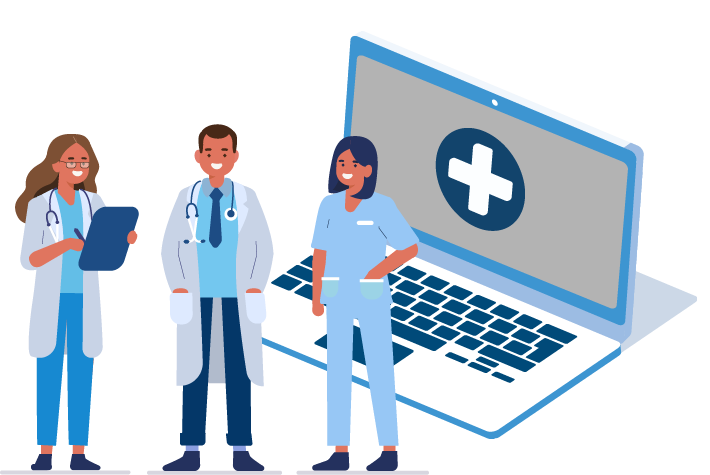 Boost the ROI of Your Telehealth Program with Specialized Wound Care
For over ten years, we've partnered with healthcare organizations like yours to design high-performing telehealth programs. From general telemedicine to specialized wound care, our configurable suite of remote care solutions can be deployed in every care setting to serve every patient.
View Solutions