Launching a new telehealth program can be an intimidating task, especially for those who have never leveraged the service before. Even for those who are switching vendors or expanding their existing program, it can be difficult to know where to start.
Take 5 minutes to explore the 6 essential steps to get you started with telehealth and remote patient monitoring (RPM).
Want even more detail?
Check out our white paper on the topic.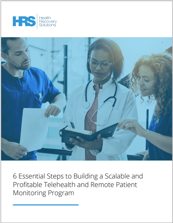 ---
1. Define goals and objectives—establish your program's vision
It's essential to have a clear understanding of what you're hoping to achieve with the telehealth program. For your program to be considered successful, what key metrics are necessary to achieve?

Common goals include reducing readmission, ED utilization or total cost of care, optimizing clinical workflow, increasing patient engagement and satisfaction, increasing referrals and in-network utilization, etc. During the COVID-19 pandemic, many organization's telehealth goals have shifted. In 2020 and into 2021, the goal of many telehealth programs has been to reduce length of stay, divert from the emergency department, and/or monitor and triage COVID-19 symptoms.

Your program should not set out to fix or improve every organizational metric. Focus on the goals that will provide the most value to your clinicians, patients and organization. Remember, just because you set a goal at the onset, doesn't mean it won't change. You can always add more goals, or iterate on your initial ones.
2. Select a technology partner (vendor) aligned with your goals and project scope
When you're evaluating potential vendors, be sure the technology they offer aligns with the goals you outlined in step 1. Consider what technological capabilities are needed to reach the goals. For example, if one of your goals is to "increase access to care," then it's important for your vendor to offer virtual visit technology.

Consider ease of use, integrations, the role of implementation and client success, the product roadmap, cost, logistics, and clinical support and reimbursement resources.
3. Identify telehealth project champions and leaders—build your telehealth team
Across effective programs, a common trend we see is the existence of an engaged and excited telehealth team. Two specific roles are important—the "Telehealth Executive Champion" and the "Telehealth Leader." These two individuals in partnership with the vendor's client success team, are responsible for building and sustaining the telehealth program.
The Telehealth Executive Champion is a change agent who is an inspirational and visionary leader. This person is the spokesperson for the telehealth program, often a clinical, operations or technology executive.
The Telehealth Leader is responsible for the day to day of the telehealth program. This person puts in place all key operational and clinical elements to ensure the telehealth program is successful.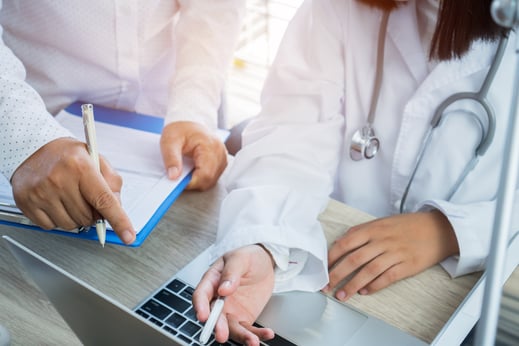 4. Assess financial objectives, rules, regulations, and reimbursement
Every organization approaches their financial objectives and goals in a unique way. For some organizations, financial metrics are the prime objective of the program, for others, financial metrics are a secondary or tertiary factor in their adoption of telehealth. Regardless, programs that begin with a robust financial justification are the most effective.
Consider reimbursement in your state as well as current federal regulations from CMS. During the COVID-19 pandemic, for example, many organizations were able to start programs with grants from CMS' Acute Care at Home Model. Many organizations bill for remote patient monitoring using the CPT codes for RPM.
5. Establish telehealth buy-in and educate your clinical team
Empowered clinicians result in empowered patients. For your program to flourish, the clinicians working with telehealth daily must understand and believe in the benefits of the technology. Start with educating your clinicians. Outline how other organization's have seen success with telehealth and RPM. Discuss how the introduction of telehealth will not hinder their workflow or result in redundancy of work.
Explore with your team how telehealth will enable them to provide better and more efficient care to their patients. Work with your vendor to provide educational materials and offer continuous training opportunities on how to effectively utilize the telehealth platform.
6. Determine your patient populations—set clear enrollment and discharge criteria
Consider which patients will be eligible for the telehealth program and what your enrollment and discharge criteria will be. Based on your goals outlined in step 1, which patients populations align with the goal? Stratifying patient cohorts is a critical first step to telehealth program enrollment. The majority of telehealth programs select their patients by diagnosis related groups (DRGs) or discharge dispositions (home health, home, hospice).
During the COVID-19 pandemic, for example, many organizations enrolled COVID-19 patients who did not need hospital admission into their telehealth program. By providing low-risk COVID-19 patients with care at home, organizations were able to free-up hospital beds for higher risk patients. Now, many organizations are launching the hospital to home model, enrolling patients who meet inpatient criteria, but are able to receive care at home.


---
You're ready to launch your program!
A clear and methodological approach from the beginning will set your telehealth program up for initial and continued success. Through thoughtful planning and a strong partnership with your telehealth vendor, you will ensure your program is always working with the needs of your patients and clinicians at the center.
To learn more about the 6 essential steps, check out our white paper!