This blog discusses how both payers and providers can leverage telehealth and remote member monitoring (RMM) as tools to address their daily challenges.
HRS' Payer Series, which took place in March, covered a variety of topics for both payers and providers. During the 2nd webinar: Leveraging RMM and Telehealth as Tools in Daily Operations, Sudeep Pisipaty, HRS' VP, Strategy & Value-Based Care, was joined by Ken Burkholder, Director of Network Management at Highmark Health and Cindy Vunovich, VP, Clinical Integration & Performance at Healthcare at Home.

Together, they discussed:
The basics of remote member monitoring (RMM) and telehealth for payers
How to bridge the gap between payer and provider
Leveraging telehealth and RMM as tools to address daily operational challenges


The panelists gave examples of how their members and teams have leveraged telehealth and RMM to help achieve their overarching goals. You can access the full webinar for Why Telehealth Makes Sense for Payers, here, and Leveraging RMM & Telehealth as Tools in Daily Operations, here.
How telehealth has changed and adapted
It's no secret that the scope of telehealth and RMM has changed drastically since the beginning of the pandemic. Payers, providers, and patients have all had to adapt to the evolving healthcare ecosystem. For the last decade telehealth has experienced strides in innovation, changes to regulations and increased adoption, all components that evolved further in 2020.

Ken and Cindy took a look at the history of telehealth through the payer and provider lens, respectively. The common theme regarding telehealth has stayed strong through the last decade: telehealth provides an opportunity to remove barriers and respond to challenges that affect the daily operations of both payer and provider organization.
"Many organizations have always supported virtual care, but payment mechanisms have not...Telehealth and RMM have been part of the tool kit, but have also been a challenge to implement into workflows. Once implemented [telehealth] opens the lens and offers more visibility into the [member's] daily routine and care management plan. It's really about using [telehealth] for a myriad of opportunities like monitoring at-risk members for hospital readmission." Cindy Vunovich, VP, Clinical Integration & Performance at Healthcare at Home
On the payer side at Highmark, Ken has seen CMS and private payers adapt when it comes to payment mechanisms, funding, and regulatory components. These have only increased since the beginning of the public health emergency in 2020. From the provider lens, Cindy has always seen the need and opportunity for telehealth and RMM for providers and patients—both have benefited from the increased use, flexibility, and accessibility.
"Mother May I": The synergy between payer and provider
The relationship and balance between the payer and provider can offer a unique advantage to both organization. Using Ken's analogy of "mother may I" comes a simple conclusion: the payer can only help if the provider asks assistance. Payers should be leveraging data insights from a provider's telehealth and RMM program to address challenges and develop better patient care plans.

Ken shared an example of how Kim, who oversees a small provider's telehealth program within the Allegheny Health Network, approaches the payer-provider relationship and uses it to best care for their patients. There was a particular member—we'll call him Andrew—who went to the hospital for each exacerbation event, no matter how small or manageable. Since Andrew has not been consistently compliant with his care plan, the data was reflecting a high readmission rate and showed the care he was receiving was not good enough to keep him out of the hospital. Using this data the team came to the conclusion that Andrew may be experiencing loneliness or isolation and needed human interaction. By sharing Andrew's scorecard with Highmark, Kim and her team at Healthcare at Home were able to develop a better action plan for his needs—both physical and emotional. The earlier the provider can intervene in scenarios like this, the better the outcome will be for all involved.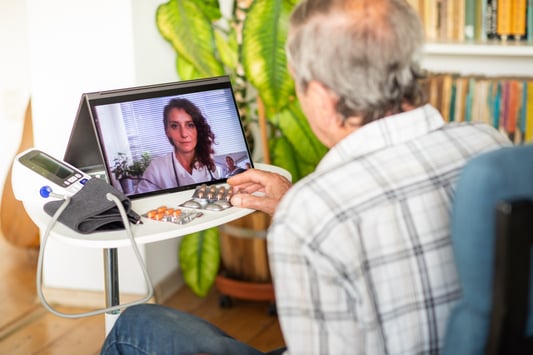 The importance of aligning the healthcare continuum
Without the pandemic, nobody really knows how long it would have taken for the telehealth shift to take place. For a long time, ACOs and private insurance carriers have focused their advertising and push for telehealth and RMM on physicians and hospitals. Physicians and hospitals aren't the only groups that can benefit. It's best to understand the capabilities of individual organizations, hospital systems, and home health providers in order to properly deploy a successful telehealth and RMM program. Payers and providers can ask questions such as "do we have the proper operational setup?" "Do we have a dedicated clinical or telehealth team?" "Do we have the bandwidth to take this on?"

Many payers and providers are on the same page about the importance of healthcare continuum alignment and the role telehealth and RMM has in the future. If a provider can keep readmissions low, the payer may pay them more for each occurrence—this is where the scorecard of a patient like Andrew is so important! Payers can act as the glue to provide the payment opportunity since they can't provide the care. They'll collaborate on the front end to convey the message of better care—in this example, low readmissions—to the network and make sure the message is being conveyed properly.
What's in store for telehealth and RMM
There are still many hurdles to overcome with funding, reimbursement, and payment mechanisms. Payers and providers are just scratching the surface of communication, incentive alignment, funding, and telehealth reimbursement. The recent announcement of CMS' new funding for phase two of the COVID-19 Telehealth Program is just the beginning for the future for telehealth and RMM initiatives and programs. While telehealth hasn't been adopted as a replacement for care, it's a huge pillar of care for many healthcare systems across the country. Clinicians and members can benefit from ease of access, availability, and education.
---
Want to read about the 6 reasons why telehealth makes sense for payers? You can check out our eGuide below.