The COVID-19 pandemic has rapidly and unequivocally affected businesses around the world. From educational institutions, to restaurants, to grocery stores, to entertainment venues, and of course, to healthcare organizations, the Public Health Emergency (PHE) has shifted business models entirely - forcing most to completely rethink how they operate and how they relate to their customers (or patients, members, students), suppliers and employees.
The healthcare industry was turned on its head. Common questions proliferate, going to the very basic dynamics around how care is offered. Providers have had to determine solutions to quandaries such as: "How will patients access care? Is there even hospital capacity? Are there enough providers? What is the cost of treatment? What even is a viable treatment? How is infection avoided? What will the lasting impact be? Questions have reverberated throughout the industry and many longer term issues await resolution.
The COVID-19 pandemic has caused health systems to turn to telehealth and remote patient monitoring (RPM). What started as a necessity, has now been embraced as a valued and essential method of care delivery. Many health systems say that going forward, telehealth will remain a vital pillar in their care model.
But what about payers? Are they adopting telehealth as health systems across the country are? Have they accepted telehealth as an effective model for their large, and many times very diverse, member groups?
In this blog, we will start the conversation, exploring not only how, but also why, payers are implementing telehealth across their member networks.
Payers Turn to Telehealth & RPM
Across health systems and other provider organizations, telehealth and RPM helps patients manage their condition from home. Better managed health means lower utilization, effective use of the healthcare system, lower readmissions, and increased patient satisfaction. These improvements translate into reduced and avoided costs.
Payers, upon seeing these results and many other positive outcomes, have begun leveraging telehealth and RPM to holistically manage and understand their members' health. Of course, the payer telehealth model is not a one size fits all approach. Instead there are common themes across all models, demonstrating that telehealth and RPM help payers:
Deliver value based care bundles
Be proactive with and understand member data
Keep members home


By keeping their members home and better understanding member data, payers can make data-driven decisions, while also delivering value-based care.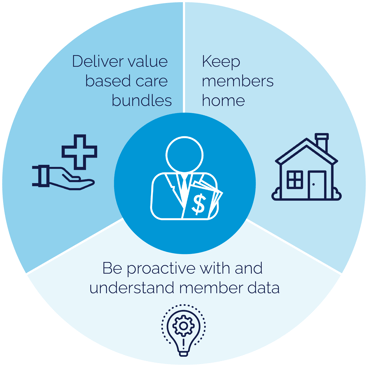 Improving Value Based Care
In the United States, 25%, or close to $1 trillion of total healthcare dollars are spent annually on non-value adding aspects in the healthcare system, dollars that are considered waste. What if these resources were not wasted, and instead was invested in improving patient outcomes?
By working together, payers and providers can create patient/member centric models that reduce fragmentation and incentivize seamless and collaborative care delivery. Telehealth and RPM is one of these patient/member centric models. The payvider model is appearing more and more across the country as an effective way to deliver care to members. With telehealth, payviders are able to reduce costs AND improve outcomes, essential pillars of effective value based care.
Shifting From Reactive to Proactive - Understanding Member Data
RPM arms providers and payers with essential data. I'd argue this is one of the most compelling reasons for why payers should leverage telehealth and RPM across their member populations. Telehealth and RPM provide payers with real-time insight into their members':
Vital signs (blood oxygen, blood pressure, glucose, weight, temperature, heart sounds, EKG and more)
Symptom Management
Patient Adherence
Patient Satisfaction

With this data, payers can make informed decisions. By tracking their members' health, case management teams can 1) intervene before crises arise; 2) make informed decisions on member escalation measures and, 3) ensure their members are directed to the correct form of care, i.e effective use of the healthcare system and lower utilization. Every data point from RPM goes into the member health record or desired data repository, allowing the payer, over time, to, understand key trends. Identifying trends enables the payer to ensure that their members are getting the right care at the right time at the right place, saving both money and time for the member and the payer.
Beyond the data above, payers can collaborate with providers to offer video visits, a tool that provides a glimpse into the members' environment, helping the provider and payer incorporate the social determinants of health into care delivery. This type of data, otherwise not ordinarily found in a medical record, helps the payer understand the environment in which their member lives, resulting in more impactful and thoughtful decision making.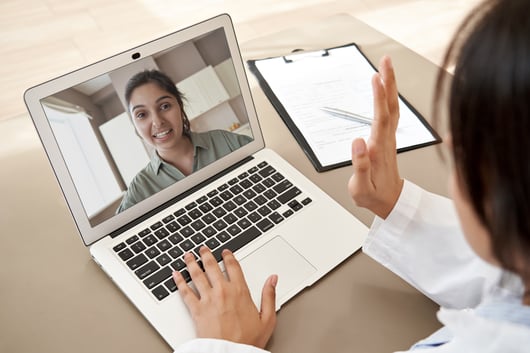 Keeping Members Home
Care in the home is the future of healthcare delivery. Patients want to receive care at home, given their strong desire to remain out of the hospital or clinic (especially with the COVID pandemic and the risk of infection).
Many payers have identified this trend and have started to create payvider models by partnering with health systems to deliver care to their members. One example is Aetna and Landmark Health, who have come together to help Medicare Advantage members manage their chronic conditions at home. To Aetna's Medicare Advantage members in the NY region, Landmark is providing a broad range of at-home services, including acute and urgent care services, health screenings, home safety checks, and more. The goal is to improve quality of care and prevent adverse outcomes, ultimately reducing healthcare spending.
When a patient receives care at home, they can avoid the higher cost urgent care sites where they would normally receive treatment.
Beyond COVID-19: Telehealth & RPM for Payers
The pandemic has underscored the importance of providing accessible care, not just during a PHE, but always. More than ever, members are demanding convenience in how they access their healthcare. Many want solutions that they can access in the palm of their hand. Telehealth and RPM solve many needs - they meet patients where they are, improve outcomes, increase patient engagement and save costs. In the coming months and years, payers must harness technology to provide innovative methods of care delivery that will improve member health and reduce unnecessary healthcare spending.
In blogs to come, we'll discuss medicare advantage, payment structures, the importance of social determinants of health, primary prevention, and a robust population health strategy. We will also consider how payviders can lead the charge in reducing readmission and ED utilization amongst their members.