Healthcare's digital front door has arrived. Patients expect to access their healthcare just as they would other industries like food delivery, entertainment, retail, and sports. Today's healthcare system is patient-centric, driven by consumerism—patients value flexibility and convenience, and expect healthcare to "meet them where they are," just as other industries do.
---
What is the Digital Front Door?
A digital front door strategy engages patients at every major touchpoint throughout the patient journey. When executed correctly, an effective digital front door strategy can improve patient activation, engagement, communication, and satisfaction throughout their experience with the healthcare system, even before the patient seeks care.
A good example is a public health campaign for vaccination education. A proactive initiative like this engages the patient before they even need care. Other examples include digital patient engagement tools like exercise trackers or nutrition surveys. These consumer applications engage users in their health before they show up at the doctor's office or hospital.
Benefits of the digital front door include:
Increased patient visibility and access
Optimized patient access points throughout the patient journey
A seamless navigation process
Increased patient retention and loyalty
Improved patient engagement and opportunities for re-engagement
A strong digital front door strategy leverages technology to its advantage—to expand access, improve productivity, and increase patient satisfaction. The strategy recognizes that patients will always do the convenient thing; technology makes convenience possible.
The Digital Front Door and the Patient Experience
To unlock the digital front door, providers must meet patients where they are. Per the Advisory Board Company, this includes the following stages:
1. Awareness
In the awareness stage, consumers, or patients, are engaging with the health system before they are actively seeking care. This includes things like education around where to go when care is needed, public health education, advertising on health system services, social media campaigns, and preventative health tools like symptom surveys.
2. Search
In the search stage, patients are looking for a stress-free provider search experience. They are favoring convenience and ease, looking for an online presence that is intuitive, mobile friendly, and helps them understand what the health system or provider offers. Patients are looking for price transparency in this stage.
3. Selection
In the schedule and pre-care stage, patients are expecting an easy scheduling experience that values pre-appointment education. During this stage, the health system's goal is to meet the administrative needs of the patient including financing options (insurance, out-of-pocket, etc) and ensure all patient pre-visit steps are completed. The health system makes this possible by leveraging technology to improve accessibility and ease—providing things like appointment reminders, chat functionality, real-time wait times, self scheduling, and checklists for what needs to be done before the visit occurs.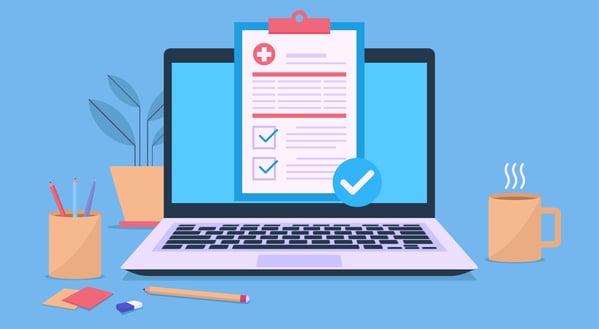 4. Receive Care
In the receive care stage, the digital front door offers digital touch points that cover needs at the actual site of care. At a facility, things like mobile check-in and digital maps may be included. Patients expect a seamless patient experience from the moment they drive into the parking lot or arrive at the facility. Technology helps make this possible.
5. Post Care
In the post-care stage, the patient is leaving the site of care, and expecting continuous connection and information beyond the visit. For the health system, this includes ensuring the patient is set-up for success beyond the visit, providing tools to avoid readmission and a return to the ED.
In the post-care stage, telehealth is a common strategy deployed, one that helps engage the patient in their care beyond the site-of-care, resulting in improved engagement and reduced readmission.
Telehealth's Role in Unlocking the Digital Front Door
The role of telehealth and remote patient monitoring extends beyond just the post care stage—it can be leveraged for all stages of the digital front door, throughout the patient journey. It can be used for prevention, public health and condition-specific education, care delivery (virtual visits), ongoing monitoring between visits (symptom surveys, biometric monitoring), caregiver engagement in post-care, and much more.
Telehealth enables health systems to build a digital ecosystem, defined by connected care. Today, telehealth technologies are integrated in the EHR, ensuring all patient data is captured over time in one centralized location.
Incorporating telehealth allows health systems to expand access, provide more touch points and reach more patients across more patient populations, all in a shorter amount of time.
Inherent in a digital front door strategy is the use of technology to enable seamless care—telehealth is an essential piece in the puzzle.