Telehealth has numerous benefits and clinical applications that can be seen in various medical centers around the country. The usage of telehealth is increasing at a rapid rate, but not just for its innovative approach to patient care. Telehealth technology presents a cost-effective and efficient way to increase patient engagement, maximize patient reach, and deliver a high caliber of care.
Cost-Savings, Program Diversity, and Telehealth
Telehealth technology can be used in many different ways in order to improve population outcomes and increase patient engagement. Whether it is used in aging care, postpartum behavioral health, rural population health, and many more, telehealth has proved to help healthcare facilities and patients alike save hundreds to thousands of dollars each year.
At the end of the day, the cost-effectiveness of telehealth is extremely attractive. Not only does telehealth offer a total return on investment, but it allows medical centers to achieve their overall patient care goals. Additionally, it allows patients to take control of their health by making clinician visits more accessible and affordable.
The remainder of this article shows innovative ways that medical facilities have utilized telehealth in order to deliver quality care, and the tremendous cost savings associated with the program and technology.
In-Ambulance Telemedicine
Stroke is the third-leading cause of death in the United States, and over 140,000 people in the United States die from stroke each year. If not death, stroke can cause debilitating and long-term disabilities that can seriously alter a person's quality of life. With strokes, early identification and intervention are the keys to delaying the effects of the negative outcomes. This is why medical centers around the country have been utilizing telehealth technology in their ambulances, also known as mobile stroke units (MSU's), in order to deliver care to stroke victims as quickly as possible.
In this particular study, the cost-effectiveness of telehealth-based stroke intervention units in ambulances was analyzed. The goal of the MSU is to deliver a prehospital diagnosis of a stroke, and subsequently deliver the intravenous recombinant tissue plasminogen activator to help stop the progression of the stroke. Additionally, a CT scanner is on the ambulance that helps the medical responders transmit diagnostic data to the hospital ahead of time.
In the base case of this study, MSU's increased the probability of a favorable outcome after the intravenous thrombolysis injection by 2.3%, reduced unfavorable outcomes by a factor of 2.42 patients, and led to an overall time gain of 6 minutes (in comparison to traditional stroke care), which is monumental for this condition.
In terms of costs, implementation fees averaged at $159,425, but the cost savings were monumental. In a cohort of 1000 patients, $4040 in long-term costs were avoided after 3 months, and this program yielded a $201,557 incremental cost-effectiveness ratio after 3 months.
Improving Antibiotic Prescriptions in Pediatrics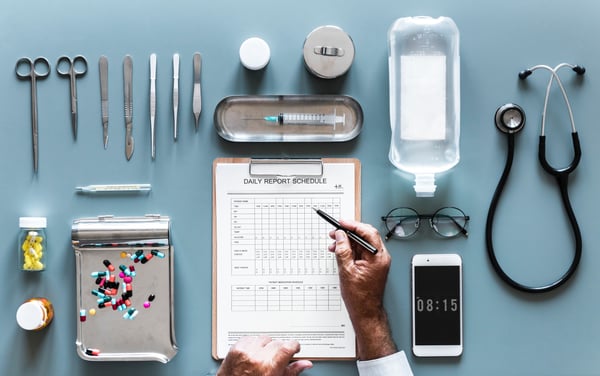 Antibiotic resistance is a growing global issue, and it is primarily caused by the over-prescription and misuse of antibiotics that causes the creation of antibiotic-resistant bacteria. This can lead to bacteria and infections that are untreatable with standard antibiotics, which can be fatal for those afflicted. This is especially true in children, as their immune systems are not fully developed, so it is important to prescribe antibiotics efficiently and effectively.
In this study, this remote stewardship program was carried between the Centro Cardiologico Pediatrico del Mediterraneo and and The Bambino Gesù Children's Hospital, and the telehealth technology used included video conferencing and remote sharing of patient files. Physicians at both locations would hold bi-weekly tele-consultations to discuss the treatment progression of their patients, and brainstorm the most effective and responsible ways to implement the usage of antibiotics into the treatment plan.
These tele-consultations had amazing results for both the patients and the healthcare facilities. The cost associated with prescriptions of antibiotics decreased from 25,000 euros to 15,000 euros, and the hospital infections in ICU rate per 1000/person days decreased from 9.5 in the pre-intervention period to 6.1 post-intervention. This program allowed the hospitals to both cut costs, and lower the instance of antibiotic resistant bacteria.
On-Demand Telehealth Visits
Direct-to-consumer virtual medical visits have been growing in popularity, as it is a more convenient, cost-effective, and direct way for patients to interact with their healthcare providers and clinicians. Virtual medical visits are especially beneficial for rural patients that may not have the ability to easily get to a hospital or doctor's office, whether it be for distance or economic reasons.
In this study, 650 patients participated in on-demand video visits, and of these patients, 429 answered post-visit survey questions. The survey revealed that 67% of patients would have gone to a hospital or urgent care if the online video visit was not available. The fact that these patients were able to speak to a clinician from their own homes on their own time is an amazing benefit of telehealth technology, and ultimately saves the patient money by avoiding expensive hospital and urgent care visits.
Emergency department visits range from $358-$1595 and urgent care visits range from $98–$163, while the telemedicine visits were only $41-$49. The net cost savings per telemedicine visit for patients ranged between $19-$121. This exemplifies the fact that hospital facilities are not the only entities that can benefit from the cost-savings of telehealth - patients can too.
References:
http://www.strokecenter.org/patients/about-stroke/stroke-statistics/
https://www.ncbi.nlm.nih.gov/pmc/articles/PMC5722977/#__ffn_sectitle
https://www.ncbi.nlm.nih.gov/pubmed/30130033
https://www.ncbi.nlm.nih.gov/pmc/articles/PMC5722977/
https://www.ncbi.nlm.nih.gov/pmc/articles/PMC5693570/pdf/13052_2017_Article_423.pdf
https://www.cdc.gov/antibiotic-use/community/about/antibiotic-resistance-faqs.html
https://reader.elsevier.com/reader/sd/pii/S0735675718306533?token=B3E6DE6741FAECEAD1C3B73D0761CCD1A0E2494382EDF9AD1C2B08F90A87D5772147B1D6501C473AF7346436DBE26A7F