COVID-19 has presented a unique challenge for healthcare providers throughout 2020. Organizations already using telehealth and RPM rapidly expanded their existing programs to identify, screen, and monitor patients for COVID-19, while still providing care to their existing patient populations.
During this Vision to Virtual session, telehealth program leaders including Donna Turlington, Vice President of Homecare and Post-Acute Care Services at Liberty HomeCare & Hospice Services, Danielle Flynn, Clinical Director of Homecare at Penn Medicine, and Kelly Pollard, RN and Telehealth Administrator at BayCare Home Care, discussed and expanded on various topics relating to pivoting a telehealth program including:
Their team's initial response to the COVID-19 pandemic
Effects of COVID-19 on patient populations and patient groups
The increased use of PatientConnect Mobile and virtual visits
Using the COVID Care and Recovery Plans as a tool
Challenges of telehealth and RPM implementation and program pivoting
Future trends of telehealth and virtual visits beyond the pandemic
---
Don't have enough time to watch the full session?
Spend just 6 minutes reading the blog below for 5 best practices to bring back to your telehealth team.

---
Key Themes from the Session: 5 Topics to Consider When Pivoting A Telehealth Program
1. Initial Response to COVID-19
From the beginning of the pandemic, nobody knew what to expect. Information, symptoms, and treatments changed daily, making it difficult for healthcare providers to be proactive in their response. Both the BayCare and Penn Medicine teams knew that telehealth would be a vital tool in their pandemic response - early on they harnessed the technology to extend patient care.

BayCare Home Care Leveraged Existing Hospital Partnerships
At BayCare Home Care, Kelly Pollard and her team leveraged the existing partnership with BayCare Health System to offer their patients the best care they could. With a patient population averaging 65-106 years old, BayCare began by partnering with the hospitals within the larger health system to help alleviate the stress they would inevitably feel from the influx of potentially infected patients. Most of BayCare Home Care's telehealth patients were accepted through an ER mitigation program - evaluation of patient health symptoms and risks that came through the ER - and provided with virtual visits at home. Telehealth enabled BayCare's patients to have nursing staff at the tips of their fingers, it allowed patients to communicate with their clinicians as needed. Patients reported feeling a deeper sense of comfort and safety because they knew their clinicians were just a phone call, or virtual visit away.

Penn Medicine at Home's Utilized Additional Skilled Professionals
Taking a slightly different approach, Danielle Flynn and her team at Penn Medicine sought outside assistance, bringing in skilled professionals from acute care, ambulatory, and Home Health agencies, to help safely care for patients with COVID-19. Working with nurses throughout the Penn Medicine Health System, Penn Medicine at Home provided patients with two virtual visits per day coupled with vital monitoring until the patient was either symptom-free. Any suspected COVID patients were referred to the Penn Medicine at Home program. Penn medicine would deliver RPM peripherals to the patient's home ahead of their hospital discharge, so that immediately upon returning home, the patient was ready to begin with the telehealth program. When the patient arrived home and needed follow-up treatment, the virtual visits were initiated immediately on the telehealth tablet.

2. Effects on Patient Population
COVID-19 impacted every person across the country differently. With all the unknowns surrounding the virus, BayCare patients were understandably wary about home health visits, as well as in-person appointments. Safety and exposure was (and continues to be) the number one concern. With high-risk patients like those with CHF, COPD, and diabetes - telehealth has been an added benefit in care to reduce hospital readmissions and understand patient symptoms. BayCare's CHF patient group reacted so well to the integration of telehealth in their care management that they expressed wanting to use it beyond their CHF, i.e. check-ins, virtual visits, etc.

BayCare partnered with healthcare facilities within the BayCare Health System that had COVID-positive patients through COVID ER mitigation to develop an O2 protocol where they monitored a patient's saturation level at home. They needed to ensure symptoms were being managed and intervention was happening promptly.

BayCare patients enjoyed the engagement because they were often at home feeling lonely and isolated. Virtual visits and check-ins were sometimes the only contact they would have with another person, especially since so many were unable to have family members visit.
3. Use of PatientConnect Mobile and Virtual Visits
Providers across the country have adopted HRS' Bring Your Own Device (BYOD) solution, PatientConnect Mobile (PC Mobile), to extend care to more patient populations during the pandemic. PC Mobile is downloaded directly onto the patient's personal device and provides communication tools, education, symptom surveys, and medication reminders. Additionally, the application integrates with Bluetooth peripherals for remote monitoring.
Donna Turlington and her team at Liberty found PC mobile helpful to continue to provide routine care - annuals and follow-up appointments - to those who were missing their regular in-person appointments. These patients did not necessarily need to check their vital signs or keep on top of their chronic care management (CCM) but did require the communication tools that PC Mobile offers.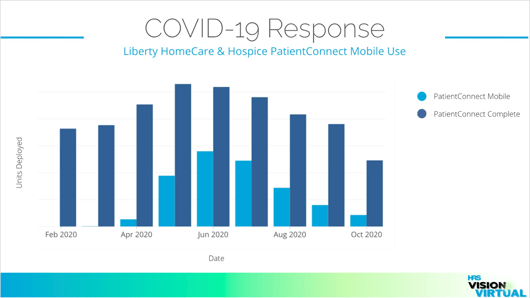 HRS data from February 2020 - October 2020 on Liberty HomeCare & Hospice
PatientConnect Mobile Use
When possible, they utilized PC Mobile in conjunction with in-person visits - this also ensured they were meeting reimbursement criteria. Instead of sending out tablets to patients who just needed a virtual visit, Liberty leveraged PC Mobile. Liberty partnered with their cell phone carrier to purchase and provide inexpensive tablets with the PatientConnect software to patients in rural areas of North Carolina who did not have their own personal device to download the application onto.
During the height of the pandemic, the Liberty team added up to 900 patients to their telehealth program for COVID-19 screening and monitoring. These 900 patients were monitored by their Central Station LPNs, who made daily calls to check on their patients' health status and assist in managing their illness.


4. Using the COVID Care and Recovery Plans as a Tool
HRS developed the COVID Care and COVID Recovery Plans as a tool for healthcare providers delivering telehealth during the pandemic. The COVID Care Plan was created to guide patients through a COVID screening process, recognizing symptoms and potential infection; The COVID Recovery Plan gives patients guidance in their recovery process. Both consist of symptom surveys, custom education, and accompanying clinical best practices on symptom survey cadence and video visits. The Plans were developed as a set of best practices for the screening and recovery of patients while keeping healthcare providers as safe as possible.

Penn Medicine used the COVID Care Plans to screen patients for the virus. Flynn's team found that an added benefit from the COVID Care Plans was being able to have a watchful eye over patients that were COVID confirmed or suspected and intervene when necessary.


5. Future Trends for Virtual Visits
The Penn Medicine team has found virtual visits are not just beneficial for reducing the risk of infection. They've found virtual visits directly impact the reduction of hospital visits and readmissions. When patients have virtual visits as part of their daily routine, behavioral change to improve their health is more likely. They've already seen positive patient engagement with patient's performing more complex care virtually - chest tube changing, dressing changes, and disconnections. Patients enjoy having control over their health and enjoy it even more from their own homes.



The BayCare team expanded to a pediatric virtual group beyond COVID-19 screening and monitoring. They started this group to provide follow-up care for pediatric patients post-open heart surgery. As for their future, the team is planning to expand its telehealth and RPM programs to support physical, occupational, and speech therapies. They'll incorporate virtual visits as a follow-up to an in-person visit. Pollard sees virtual visits and the accompanying technology as the future of home care.
---
Throughout the session, Pollard, Flynn, and Turlington focused their discussion around their initial responses to the COVID-19 pandemic, the increased use of HRS technology like PatientConnect Mobile, and outlooks on the future of virtual visits beyond the pandemic.

As COVID-19 continues to be a daily challenge, healthcare providers are tasked every day with staying ahead of the resurgence of virus cases across the nation. The future of virtual visits - and their various daily uses - seems inevitable across most healthcare disciplines. As healthcare systems continue to experience shifts, it's important that providers are doing everything they can to provide care to patients safely, and at home.
---

Fill out our form to schedule a demo to see how HRS' telehealth and RPM solution will work for your organization. And watch the full Vision to Virtual session to hear more from our speakers.