Remote patient monitoring, coupled with in-home clinical care, enables the provision of high-quality care for Medicare Advantage members—particularly high-acuity, high-cost members. Remote monitoring and telehealth allow members the opportunity to heal in the comfort of their homes with their loved ones.
Saddled with multiple health concerns, Medicare Advantage members are prone to complicated and complex care plans that often involve multiple visits to physician(s) across specialities and care settings.

Improving Transitions of Care While Curbing Unnecessary Costs

As members move from the acute to post-acute care setting, they're often discharged without the proper tools to successfully support their transition of care. In fact, 57% of Medicare patients are released from the hospital without any post-discharge monitoring. When members are not supported with digital enablement tools, we see a higher incidence of ED utilization and readmissions tied to poor medication adherence, lack of caregiver support, and/or poor health literacy.
To control utilization, Payers see opportunity in remote monitoring and telehealth strategies, pairing coordinated outreach at (or soon after) discharge to improve member engagement and control total cost of care. Remote monitoring is a clinically effective tool that allows providers insight directly into the patient's care.
Managing Chronic, High-Risk Conditions, and Complex Care Needs
Many Medicare Advantage members discharged from acute care return home with pre-existing conditions and other complications exacerbated by co-morbidities. A recent profile report of adults aged 65 or older with Medicare Advantage coverage indicated that 63% had two or more chronic conditions. Common complex conditions include: dementia (32%), diabetes (45%), heart disease (55%), and/or hypertension (90%).
By using remote monitoring and telehealth for Medicare Advantage members, providers can track member reported outcomes and gather data to support clinical decision making. The care team uses tools to address gaps in care and analytics to stratify members who are at the highest risk for adverse events and readmission. Real-time data tracking and predictive models also help determine triggers for non-compliance.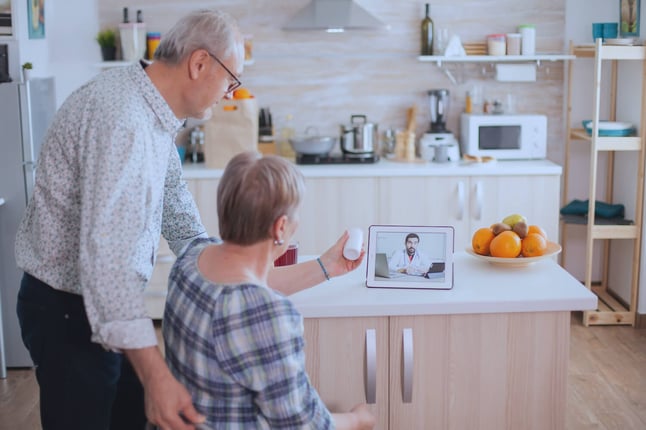 Enabling Active Collaboration Between Members and Their Care Team
Outside the four walls of the hospital, aimed at building a longitudinal care view, care teams seek solutions for not only educating members, but engaging members in the management of their care. Educational resources, surveys, and communication tools like video, call, and text chat create seamless communication.
Through provider-member communication tools, patient compliance is better enforced and engagement improves, while biometric monitoring and symptom surveys enable progress to be tracked over time. This data-informed approach to care is at the core of remote monitoring and telehealth for Medicare Advantage members. The care team collaborates to keep members healthy and safe, which steers them away from the vicious cycle of multiple physician visits, urgent care, ED visits, and readmission.
Members who take an active role in their health recovery are more likely to experience a successful return to better health. Initiatives that enhance care delivery and improve the member experience can positively affect member satisfaction, HEDIS measures, Star ratings, and overall member retention.
Improving Health Outcomes, Member Satisfaction, and Reducing Medical Costs
Remote monitoring and telehealth give providers and payers real-time, actionable data to deliver proactive, preventative care. Remote monitoring technology continues to advance with expanding diagnostic tools and data collection capabilities. Using a member-centered clinical solutions platform is something all Medicare Advantage plans should consider as a way to increase member satisfaction, improve health outcomes, and reduce the total cost of care.