As the healthcare industry increasingly grapples with capacity issues, rising costs, and patient-centric care demands, the Centers for Medicare & Medicaid Services (CMS) Hospital at Home model has emerged as a viable solution.
Here's what you need to know to implement a successful Hospital at Home program of your own.
What is a CMS Hospital at Home Program?
The Hospital at Home program, also known as CMS Acute Hospital Care at Home, is a CMS-approved model that allows eligible patients to receive acute-level care in their own homes. Developed to support models of at-home hospital care, the program offers unprecedented regulatory flexibilities to enable hospitals to address capacity constraints and extend services to patients who are unable to travel or have difficulty accessing care.

Unlike more traditional home health services, this healthcare model is designed for individuals in need of acute hospital admission and frequent medical assessments by a physician and healthcare team, leveraging remote patient monitoring (RPM) tools and providing telehealth care as well as in-home visits. To participate, hospitals must meet CMS' Hospital at Home requirements.
Hospital at Home's Growth in Popularity
Since its launch in 2018, the Hospital at Home program has gained popularity, with over 100 health systems and nearly 300 hospitals in 37 states approved for the CMS Hospital at Home waiver. CMS increased flexibility for telehealth programs during the COVID-19 pandemic, allowing clinicians to remotely monitor acute and chronic conditions for both new and established patients.
Recent telehealth policy updates have made Hospital at Home feasible for patients with complex medical needs extending beyond the end of the federal Public Health Emergency on May 11, 2023. This increases patient accessibility and is especially impactful for traditionally underserved communities.
On the provider side, health systems and hospitals have also launched initiatives like the Home Hospital Early Adopters Accelerator, which offers tools to support home hospital programs.

Effective Hospital at Home Programs: Success Stories
Michigan Medicine's PMAH Program
Michigan Medicine's Hospital Care at Home program—known as Patient Monitoring at Home (PMAH)—offers telehealth and RPM to patients during the 30-day post-hospitalization period, with the goal of increasing capacity, being innovative, and avoiding unnecessary hospital and ED visits.
Enrolled patients receive home-based care, digital remote monitoring, and access to a physician and paramedics for urgent needs. The program optimizes hospital capacity and has been especially helpful with surge capacity during the pandemic, keeping patients out of the hospital while providing the same acute-level care needed, just in a home setting.
Avera Health's Avera@Home Care Transitions Program
Avera Health's Hospital at Home program, called Avera@Home, began eight years prior to the pandemic, aiming to reduce hospital readmissions and ED visits, and then shifted to meet the needs of COVID-19 patients. The Care Transitions program leverages telehealth and predictive technologies to identify, monitor, and treat high-risk patients from the comfort of their homes.
The program served over 3,000 COVID-19 patients from April through November of 2020, with a 6.1% hospitalization rate and 7.9% ED visit rate, and over 95% patient satisfaction. Avera@Home has proven to be an effective way of providing quality care while mitigating the spread of respiratory viruses, especially during critical surge periods of the pandemic.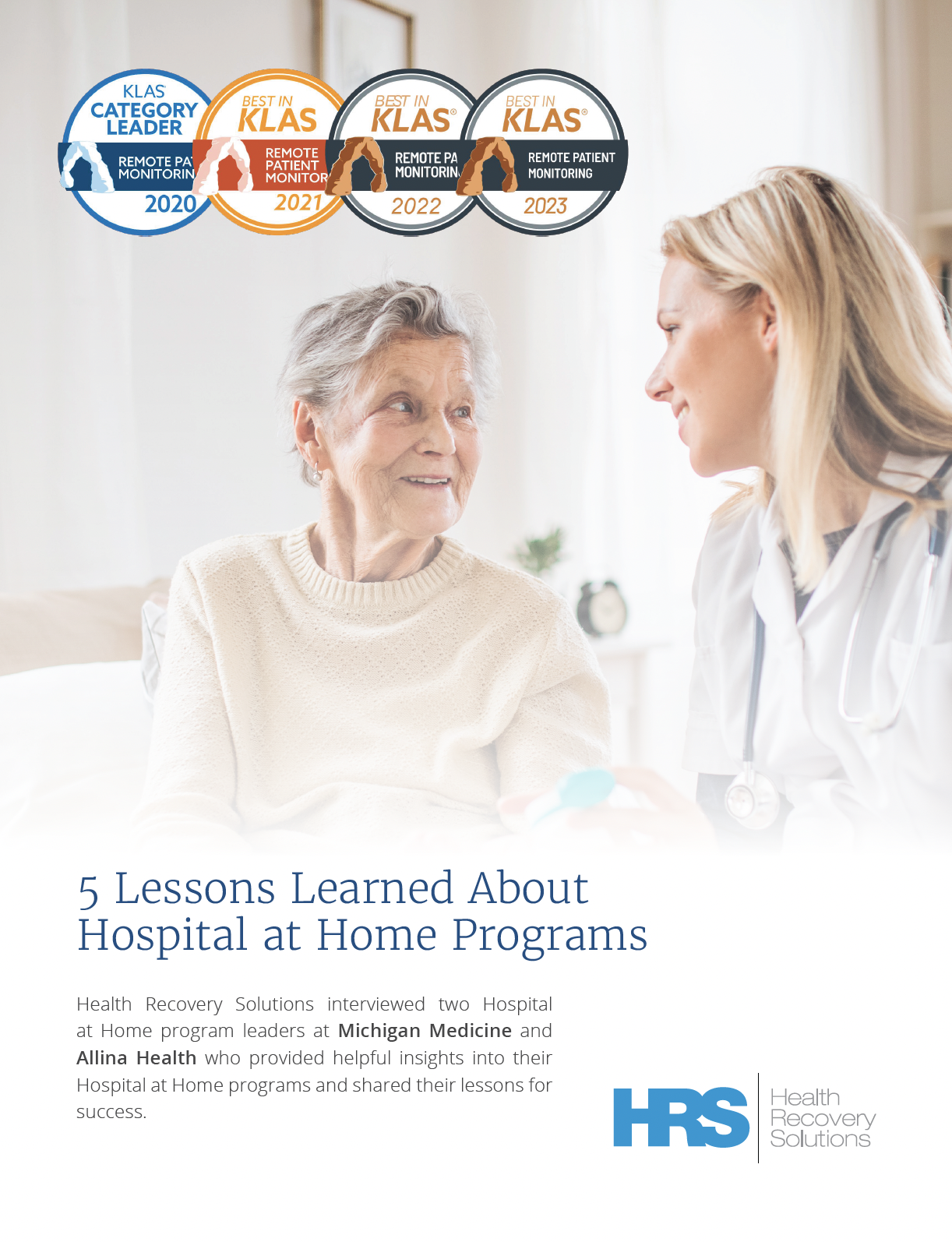 WHITEPAPER
5 Lessons Learned About Hospital at Home Programs
View the lessons learned from program leaders at Michigan Medicine and Allina Health about their Hospital at Home programs and how to set your program up for success.
Download Whitepaper
Key Benefits of Hospital at Home for Healthcare Providers
The CMS Hospital at Home model offers several key benefits:
Quality care at a lower cost

: Providing hospital-level care at home can reduce patients' length of stay and total cost of care while achieving the same clinical outcomes.

Better patient satisfaction

: Patients may experience greater comfort and familiarity with their surroundings when they receive care at home.

Relieving ED crowding

: Health systems can manage some acute patients outside the hospital, reducing staffing burdens and influx of ED patients.

Reducing hospital acquired infections:

Providing high-quality, acute-level care in the home also reduces the risk of hospital-acquired infections.
Reduced readmissions:

By providing follow-up care directly in the patient's home, providers can decrease readmission risk and ensure patients remain safe after discharge.

Increased competitiveness

: Providers can gain competitive advantage and improve operational efficiency by optimizing patient throughput and expanding services.



5 Tips for Launching a Hospital at Home Program
1. Define your goals
Consider carefully why a Hospital at Home program makes sense for your organization. Set clear program goals and ensure your health system is equipped to handle this significant change management initiative.
2. Determine patient eligibility
Define inclusion and exclusion criteria for your program and determine which patients qualify for admission. Ensure that the program prioritizes patient safety and addresses risks appropriately.
3. Build a dedicated program team
Establish roles and responsibilities for your program team—including physicians, nurses, and other staff—to streamline implementation. Provide continuous internal education and optimize workflows to address any gaps in care.
4. Plan for technology and logistics
Prepare for the logistical challenges that come with launching a Hospital at Home program, such as transportation. Identify the technology required to support your program, comply with the CMS waiver requirements, and ensure ease of use for both patients and staff.
Help your patients understand their condition and what to expect from their care team. Provide training and support prior to discharging patients to make sure that they can perform the tasks required for their care, which typically include the use of RPM and telehealth technologies.
The role of RPM in a Hospital at Home Program
Remote patient monitoring (RPM) is a crucial component of Hospital at Home programs as it enables healthcare providers to remotely monitor and manage patients' health conditions in real-time. It includes the use of video platforms for virtual visits, collection of patient vitals using peripherals, and emergency response systems. RPM helps providers meet CMS requirements for acute care at home, facilitating communication between patients and their care teams to ensure a smooth transition from traditional hospital care to at-home care.

Deploy Your Hospital at Home Program with HRS
HRS provides health systems with the tools they need to manage patients' care safely and effectively outside the hospital setting. Our telehealth technology suite offers advanced RPM tools—including biometric monitoring, virtual visits, medication management, and symptom surveys—to help ensure consistent, high-quality care for patients. Find out how we can support your Hospital at Home program.