It can be difficult to differentiate between telehealth and telemedicine, two terms that are often considered interchangeable across the healthcare industry. Telehealth and telemedicine are different ways of administering health services via technology. Simply put, telemedicine falls within the realm of telehealth. Telemedicine is telehealth. Telehealth, however, is not telemedicine.
Telehealth
Telehealth includes a broad range of technologies and services used to provide care and services at a distance. It refers to remote healthcare services, including telemedicine, remote monitoring, provider training, non-clinical training, prescription delivery, health education, provider-provider communication and more. On a hierarchy, or a taxonomy - telehealth is at the top.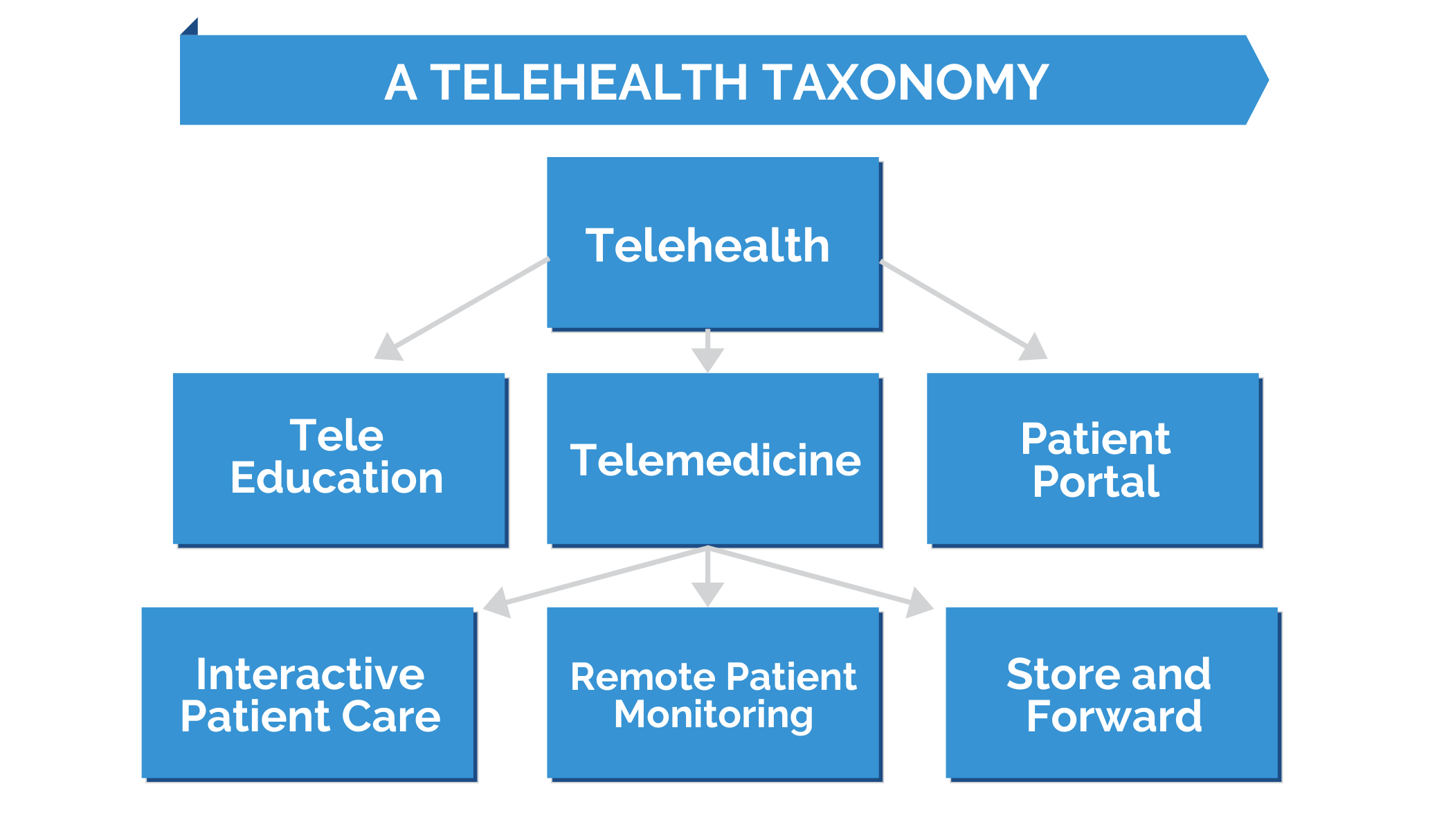 Telemedicine
Telemedicine is a type of telehealth. It is defined as "practicing medicine at a distance" - healthcare providers examining, observing, and treating patients is telemedicine. A virtual visit, for example, falls within the realm of telemedicine, as does medication management, specialist consultation, and chronic disease management.

There are 3 central methods by which telemedicine is delivered:
Remote Patient Monitoring (RPM) - "periodic, asynchronous, or continuous monitoring and transmission of vital signs, including weight, blood pressure, oxygen saturation, glucose levels, heart rate, or heart rhythm." HRS patients use remote patient monitoring to record their vitals via bluetooth biometrics. Their provider monitors these vitals in real time on HRS' clinician dashboard, ClinicianConnect, or in some cases, directly within their EMR.
Interactive Patient Care (ICP) - live and interactive communication between a patient and provider. This includes phone consultations, video examinations, secure consults, etc. HRS clients and patients leverage ICP when they are utilizing the video visit functionality of the HRS platform on either the mobile application, tablet, or for providers, directly from the clinical dashboard.
Store and Forward - asynchronous capture and transmission of images, videos, and sound. Patients on the HRS platform leverage store and forward technology when using the wound imaging capability on the HRS tablet and mobile application. The patient takes a picture of the wound, which is then delivered to ClinicianConnect for the provider to review.
All telemedicine is telehealth. All remote patient monitoring is telemedicine. Both are essential in improving and expanding access to quality care across the continuum.
View this brief, 2-minute overview video to learn more about telehealth, telemedicine, and remote patient monitoring.