This past summer, the U.S. Centers for Medicare & Medicaid Services (CMS) released its FY 2022 home health proposed payment rule. Arguably the most notable change in the new ruling is the proposed nationwide expansion of the Home Health Value-Based Purchasing (HHVBP).
Per the proposed rule, these changes will roll out in January 2022, making CY 2022 the first performance year. Quality performance from CY 2022 will then be used to calculate payment adjustments in CY 2024.
Understandably, the HHVBP has been a hot topic since the proposal was announced this past summer, with home health leaders discussing how the change will affect their strategy. Many home health leaders already value quality - the key pillar of the HHVBP. Simply, home health agencies that value quality are effectively already responding to the new value-based model. For those that haven't considered the shift to value over volume, the model might be an operational challenge.
What is the Home Health Value-Based Purchasing Model (HHVBP)?
The HHVBP was originally implemented by CMS' innovation arm on January 1st, 2016 as a pilot demo across Medicare-certified home health agencies in 9 states representing each geographic area in the nation: Massachusetts, Maryland, North Carolina, Florida, Washington, Arizona, Iowa, Nebraska and Tennessee. The model aims to tie reimbursement to quality of care—home health providers are paid based on how well they keep their patients healthy and out of the hospital. Outcomes are center-stage. The demo has proven successful—performance data from "2016 to 2018 showed an average 4.6% improvement in Medicare-certified home health agencies' quality scores and an average annual savings of $141 million to Medicare."
Per CMS, "The HHVBP Model supports the Department of Health and Human Services' efforts to build a health care system that delivers better care, spends health care dollars more wisely, and results in healthier people and communities."
How Telehealth Supports the Shift from Volume to Value
The majority of home health agencies today value quality. They acknowledge that to be successful, focusing on quality is essential. Telehealth and remote patient monitoring help home health providers deliver quality patient care, rooted in improving patient outcomes. By providing tools for self-symptom management and real-time clinical monitoring, home health agencies are able to more effectively manage patient care and avoid unnecessary ER visits—resulting in the avoidance of costs and improved patient outcomes.
With telehealth, home health agencies are able to provide the right care for the right patient at the right time—helping keep patients engaged and healthy at home. Offering patient education, vital monitoring, symptom surveys, virtual visits, and medication reminders allows home health agencies to engage their patients, monitor symptom trends over time and ultimately, supplement costly in-person visits.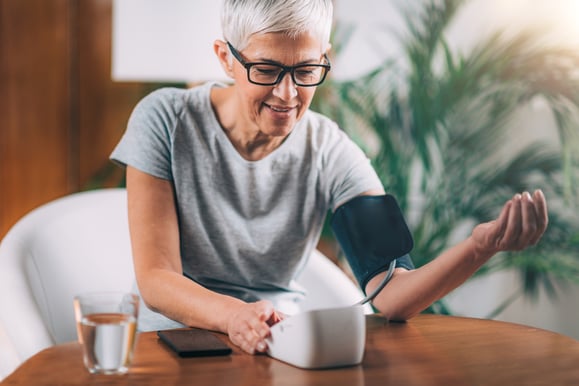 A successful telehealth program drives outcomes:
Liberty Home Health and Hospice, a home health agency that serves patients in North Carolina, South Carolina and Virginia, achieved an average 30-day hospital readmission rate of 7.1% and a patient satisfaction rate of 93% over a six-month period.
NVNA and Hospice, a home health agency in Massachusetts, maintained an average 30-day hospital readmission rate of 5% across their telehealth patients throughout 2020, while facing extensive challenges due to the pandemic. While drastically expanding the number of patient populations enrolled in the telehealth program, NVNA and Hospice received average patient satisfaction scores over 93%, with 90% of patients stating that they are more involved in their own healthcare as a result of the telehealth program.
SummitWest Care, a home health agency in Colorado, uses telehealth to monitor COVID-19, diabetes, hypertension, CHF, COPD, and kidney disease patients. Since August 2020, SummitWest Care averaged a 6.6% 30-day hospital readmission rate, 90% telehealth program adherence, and 96% patient satisfaction with the telehealth program.
Community VNA, a home health agency in Massachusetts, recorded an average 7% 30-day hospital readmission rate for its telehealth enrollees from January through June 2021. Specifically, among telehealth patients diagnosed with COPD and CHF, Community VNA averaged hospital readmission rates of 0% and 2.2%, respectively.
3HC, a home health agency in North Carolina, achieved an average hospital readmission rate 29% lower than the North Carolina Medicare average over a 6 month period across numerous high-risk patient populations, including heart attack, AFib, cardiac surgery, and joint replacement surgery.
---
Ready to learn more about how telehealth and RPM can help improve your home health agency's quality metrics? Request a meeting with our value-based care team.