Healthcare staffing shortages are a growing problem in the United States. Industry estimates indicate that the healthcare workforce lost 20% of its workers during the pandemic, including 30% of nurses, and the fallout continues today. According to the latest McKinsey survey, 31% of nurses say they are considering leaving their jobs in direct patient care in the next year.
This healthcare worker shortage negatively impacts patient care and outcomes even as the U.S. population ages and the demand for care grows. Currently, more than 1 in 6 Americans are 65 or older and one in four adults have two or more chronic diseases.
Fortunately, there are a number of strategies that healthcare organizations can use to address staffing shortages and improve patient outcomes.
In this blog post, we will explore some effective strategies for managing healthcare staffing shortages, including easing the workload for your staff through technology, as well as employee retention and engagement strategies.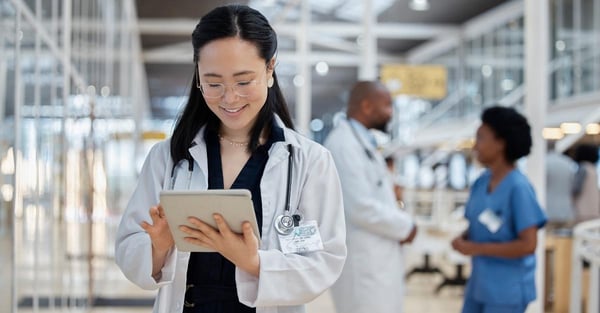 1. Improve clinical workflows with technology
One of the most promising solutions to mitigate healthcare staffing shortages is the utilization of telehealth technology. By embracing virtual visits, clinical monitoring and triage services, and logistics support, healthcare organizations can serve more patients while reducing the burden on their staff.
Tele-triage, in particular, allows healthcare providers to assess patients remotely, determine the urgency of their conditions, and allocate resources efficiently based on patient acuity. Services like HRS' CareConnect® support your clinical team with round-the-clock remote monitoring and customized clinical workflows for escalations based on patient condition.
Additionally, leveraging data and analytics on your telehealth program performance can help identify operational efficiencies and streamline workflows, ensuring that staffing resources are optimally allocated.
Case Study: Southcoast Health VNA's Virtual Visit and Remote Patient Monitoring Program
Let's consider the example of Southcoast Health Visiting Nurse Association (VNA), a healthcare organization that partnered with Health Recovery Solutions in 2017 to launch an RPM program with the goals of reducing clinician burden and improving patient outcomes. Through the RPM program, patients are monitored daily, with clinicians responding to risk alerts based on their reported vitals and symptoms. To quickly evaluate patients and address any concerns, providers can contact patients directly via a virtual visit or text messaging.
This innovative care model replaces one nursing visit a week with a virtual visit. This effectively reduces the overall cost of care and allows the clinician to connect with the patient as often as necessary. The model offers more care, more patient encounters at a lower cost.
The focus of the RPM program has now shifted to address growing challenges in the healthcare industry—including staff retention and value-based care.
2. Retain your current staff
Employee turnover is costly in any industry, and the healthcare sector is no exception. To address staffing shortages, healthcare organizations should prioritize retaining their existing workforce. Implementing a clinician recognition program, offering flexibility, and providing meaningful work can significantly improve job satisfaction and reduce attrition rates. Recognizing nurses for their contributions and using data to drive retention efforts have been identified as effective initiatives to support staff well-being.
Additionally, leveraging technology that showcases staffing productivity and engagement can highlight opportunities for increased efficiency. As an example, clinician productivity reports in HRS Analytics help managers determine whether their team is meeting established productivity standards and identify opportunities to improve to ensure that the team is operating at the optimum level.
By increasing productivity and providing additional training or resources when needed, health systems can maximize the output of their staff and take steps to prevent burnout.
3. Encourage former employees to come back
In addition to easing the burden and retaining current staff, healthcare organizations can explore strategies to entice former employees to return – which may not be as hard as it sounds. Many healthcare workers left for less stressful and demanding jobs as a result of the pandemic, but they may consider returning for the chance to do more meaningful work. Data on healthcare workers returning to their jobs is sparse but, in at least one example, Henry Ford Health was able to attract 25% of its workforce back.
Some of the tactics health systems can use to encourage former employees to come back include offering flexible work opportunities and creating roles that accommodate nurses' preferences, such as weekend-only positions or telehealth nursing jobs. Proactive communication, such as texting campaigns or mass emails, can inform former employees about available opportunities and highlight the advantages of returning, such as higher pay or the chance to work in different settings. These initiatives can help reestablish relationships and provide attractive incentives for clinicians to come back to the organization.
4. Attract new talent to the healthcare workforce
To address long-term staffing challenges, healthcare organizations must focus on attracting new talent to the healthcare workforce. This can be achieved through university partnerships that increase access to education or scholarship funds that remove financial barriers and promote equity in healthcare. Another option being explored by some health systems is offering training programs for new nurses and other entry-level healthcare workers.
In Michigan, the Michigan Health and Hospital Association is working with local health systems to create opportunities for young people to explore healthcare careers by shadowing healthcare workers and getting hands-on experience in hospital and health care settings.
Through an increased focus on education and creating opportunities for the next generation of healthcare workers, healthcare organizations can ensure a pipeline of skilled professionals to meet future demand.
How to Fix Staffing Shortages in Healthcare
Addressing healthcare staffing shortages is a complex challenge that requires a multifaceted approach. By implementing strategies such as utilizing telehealth technology, retaining current staff, encouraging former employees to return, and attracting new talent to the healthcare workforce, organizations can mitigate the impact of these shortages. By prioritizing these initiatives, healthcare organizations can ensure that they are providing safe and quality care to patients, even in the face of ongoing staffing challenges.