Anne Carle, RN, Telehealth Clinical Coordinator and Danielle Welch, RN, IV Coordinator at Cornerstone VNA share a powerful story about how telehealth helped a patient reclaim control of his health and improve his quality of life.
Leon Frank, a very pleasant 69 year old gentleman, was diagnosed with a severe heart condition called Chronic Systolic Congestive Heart Failure with an ejection fraction of 25%. The left ventricle of Leon's heart is unable to pump enough force to push the amount of blood needed for circulation. Leon has been living with this severe heart condition since January 2018.[1]
With an ejection fraction of 25%, Leon needed to undergo a Biventricular ICD (implantable cardioverter defibrillator) implant. Since his diagnosis, Leon has faced numerous complications requiring multiple hospital readmissions and rehab stays for several months. When the doctors felt that Leon's condition was stable, he was finally able to return home. On May 26, 2018, Leon was discharged from Southern Maine Medical Center on with a PICC line insertion via CADD pump that enabled him to continuously receive a special IV medication called Milrinone.[2][3]
Milrinone is a vasodilator that works by relaxing the muscles in your blood vessels to help them dilate (widen). This lowers blood pressure and allows the blood to flow more easily through your veins and arteries. Milrinone also helps to increase the heart's contractility without increasing the pressures of the heart improving its pumping action. Milrinone is used as a short-term treatment to treat life-threatening heart failure.
Patients are required to be monitored closely on a daily basis. When Milrinone is stopped, the next option is L-VAD placement. This is a device that connects to the left ventricle of the heart that aids in the pumping ability of the heart and continues to deliver adequate blood supply to all organ systems. This device is used while a patient awaits a heart transplant. Depending on the severity of the heart, sometimes an R-VAD (right ventricular-assist device) or B-VAD (biventricular-assist device), which uses both ventricles, may be implanted. Not all patients are a candidate for L-VAD placement.
The day Leon was discharged home from the hospital, he was admitted to Cornerstone VNA. As the Telehealth nurse for Cornerstone VNA, I immediately communicated and worked with the admitting nurse to install a Telehealth monitoring system in Leon's home.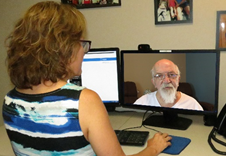 Anne Carle, RN, Telehealth Clinical Coordinator, uses the video conferencing feature to talk to Leon from her office.
The Telehealth monitoring system, used by Cornerstone VNA, is a product of Health Recovery Solutions (HRS). The HRS Telehealth units are 4G Samsung tablets that come with Bluetooth enabled remote patient monitoring devices, including a blood pressure machine and cuff, pulse oximeter, and scale. Through the telehealth unit, a patient's blood pressure, heart rate, O2 saturation, weight, and survey questions are transmitted back to my office via a web portal. This allows me to monitor patients on a daily basis and detect irregularities in medical status.
Soon after Leon returned home, I received a telephone call from his daughter who expressed her concerns for her father's safety in the home due to his poor physical endurance. I was able to reassure his daughter that I would be closely monitoring her father through our telehealth system, and that I would be notified immediately of any irregularities. I further explained that the system allows me to conduct visual assessments through the video chat feature, communicate with his doctor to prevent a situation from turning serious, and schedule a nursing visit if needed. Leon's daughter expressed relief and security from knowing her father was being closely watched, even on days without a nursing visit.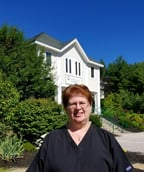 The next day, Leon's nurse, Vicki Sullivan, RN (pictured on left), discussed his condition with me at time of admission and stated, "Leon had no energy, was using a wheelchair, and was very pale in color." She explained that he had to move from his home in Maine to a house in New Hampshire, with his supportive wife, and receiving only part-time help from his children. Unfortunately, the pacemaker that Leon had received was not working like it should have been. According to Leon's cardiologist, IV Milrinone was his last chance. Without it, Leon's prognosis was very poor.
Leon was so deconditioned that he was in need of physical therapy and occupational therapy in the home. I collaborated with physical therapist, Karen Dawley, PT, who stated: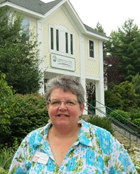 "On my first visit with Leon he was having great difficulty even getting from his wheelchair into his bed and needed assistance to get from sitting on the edge of the bed to lying down. He was extremely nervous about falling whenever he was trying to get out of his wheelchair. He needed to have a family member staying with him 24/7 and was only able to walk a few feet with someone holding on to him. He would become very short of breath just walking the five feet from the bathroom door to the toilet."
Leon's occupational therapist, MaryKay "Katie" Poulin, stated: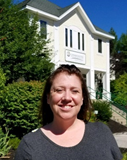 "When I first met Leon, he was so overwhelmed and sad by the complexity of his medical condition. He seemed to be afraid to be alone in his home and was asking a lot of questions. We did our best to ease his fears and to problem solve some of the concerns he had about daily tasks like washing, dressing, and preparing his own meals. Once I gave him some ways to make things simple, he took off on his own and started to push himself to regain as much independence as possible."
Once Leon started to regain his independence and overcome his fears, he quickly started to engage with the telehealth tablet. Leon utilized the educational videos in an effort to learn more about managing his CHF and how to prevent exacerbations. Leon can now control and follow an adequate fluid intake protocol to prevent fluid overload and maintain a low sodium diet. He also understands blood pressure parameters, knowing when to hold his cardiac meds or to call his doctor.

On a daily basis, I have the pleasure of connecting with Leon using the video chat feature to do a visual assessment, address any concerns he may have, and assess his PICC line for any complications. I am delighted to be part of his journey and I am grateful to watch his condition improve each day.
In Leon's own words:
"With telehealth in my home, utilizing the education videos, it taught me the importance of monitoring my weight and blood pressure on a daily basis helping to keep my chronic condition controlled. I like the security of knowing that the telehealth nurse is always there to talk with via phone or video call for any questions or concerns."
Leon will remain on telehealth as long as he is on IV Milrinone. Patients who are on IV Milrinone, if stable and knowledgeable, can be transitioned to using their own equipment in the home and educated on parameters of when to call their doctor. In Leon's case, due to the severity of his heart, he will remain on telehealth permanently. Leon has been on our home care services since May 2018 and since that time he has only had one emergency room visit (due to IV complications) and has not been readmitted to the hospital.
While I was on vacation, Danielle Welch, RN, IV Coordinator, managed the Telehealth program during my absence. She therefore had the pleasure of watching over Leon. In her own words: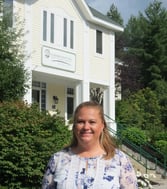 "Over the past year, we have seen a significant increase in the number of referrals to Cornerstone VNA for patients who are on IV Milrinone. I believe this is related to studies that have shown the benefit of patients being able to be home while on this medication, as well as the reduced health care costs and decreased rate of re-hospitalizations. Studies have proven that patients on IV Milrinone, with telehealth in the home, are able to manage their symptoms and remain stable. As the IV Coordinator at Cornerstone VNA, it is my job to educate the staff on this medication so they have the most up to date information and are able to care for these critical patients. I also fill in monitoring Telehealth when our Telehealth nurse is on vacation. During this time I have the opportunity to interact with these patients via phone/video conferencing. I had the pleasure of interacting with Leon Frank and was very impressed with how he was doing while home on Milrinone therapy. Mr. Frank had spent over a month in the hospital/rehab for advanced CHF and has now been able to come home and manage his condition on IV Milrinone with the monitoring of Telehealth and Cornerstone VNA services. Mr. Frank has taken this very seriously and has been diligent about following his doctor's orders. This has resulted in him being out of the hospital since May. While I was covering for Anne and monitoring Telehealth, I was very impressed with the way that Mr. Frank did his Telehealth readings and responded quickly to my video calls. He is very determined to stay home and I think that is what has made him so successful thus far in his journey".
With the help of PT in the home, Leon is now able to walk a couple of laps around the living room with his walker and is looking forward to being able to go down a few steps out to his new backyard. With the help of OT, he is able to wash up in the bathroom and is capable of making some meals on the stove while sitting in his wheelchair. Leon's nurse stated that he has regained his strength, allowing him to leave his home with the assistance of his family. He continues to walk for exercise as much as he can and uses his wheelchair when needed.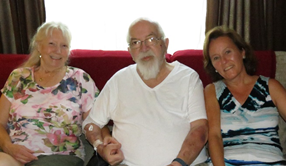 Leon remains at home with his supportive wife. Leon served for 21 years as an E-7 Master Sargent and also served in the Vietnam War working on jets. He retired at the age of 42 from the military and then worked for the US Post Office for 23 years. In 2014, he fully retired at the age of 65. Every day Leon faces many challenges due to his chronic illness, but stands tall as a true champion. Leon and his wife take one day at a time and appreciate the moments they share together. Leon sets a great example for other patients facing this chronic condition and has successfully demonstrated that it is possible to manage and regain quality of life.
References:
[1] Ejection fraction is a measurement of the percentage of blood leaving your heart each time it contracts.
[2] A peripherally inserted central catheter (PICC or PIC line), is a form of intravenous access that can be used for a prolonged period of time.
[3] CADD is a brand of ambulatory infusion smart pumps that safely deliver medication to patients in hospital, home care and alternative care facilities. The pump is used to deliver medication while allowing the patient to be mobile.