When people think of their healthcare provider, they often think of their primary care physician, their home health nurse, maybe their oncologist, surgeon, or other specialty care provider. Most patients do not immediately name one of the most important healthcare providers in their care plan and overall health, their Medical Social Worker (MSW).
As we have seen recently, social determinants of health (the conditions in the places where people live, learn, work, and play) are becoming a more substantial part of patient care. Social determinants that impact health outcomes include, for example, transportation, housing, food access, socioeconomic status, and education. These circumstances are often largely inequitable, and often impact healthcare access and outcomes gravely. MSWs help bridge the gap between the social determinants that impact health and healthcare delivery. They are specifically trained to consider the many factors that influence an individual's health.
For chronic care patients especially, MSWs play a pivotal role in how a patient interacts with the healthcare system and how they manage their health outside the system. There are over 114 million chronic care patients in the US with many living at or below the poverty line, increasing their barriers to care. In this blog, we look specifically at the role of MSWs in home health and hospice settings and how MSWs, like other providers, can leverage telehealth to extend the critical services they provide to patients and their families.
MSWs in Home Health Telehealth:
As stated above, MSWs are an essential member of any home health or telehealth interdisciplinary team. MSWs will be active participants through a patient's episode of care, from initial screening to education and discharge planning.
To properly determine a patient's care plan, a comprehensive biospychosocial evaluation should be completed. This evaluation will look not only at the patient's physical health but also their mental health, financial status, and more to provide a complete picture of their abilities and potential limitations. Many HRS clients will schedule a virtual visit between their patients and an MSW on their care team to perform such an assessment.
Many telehealth platforms will provide disease-specific educational content for patients such as symptom management or dietary guidance. Though the materials are available to the patient through their telehealth platform, it is important that MSW connect with patients to provide education regarding the social issues the patient might face post-discharge. This education might include entitlement programs or community resources the patient can enroll or access to improve their physical, emotional, or mental wellbeing. HRS' Client Success Team can help provide a broad library of educational resources to support your patients and telehealth team.
Upon discharge from home health (and telehealth), MSWs coordinate across care providers to ensure patients have the resources to execute upon their care plan and continue managing their conditions.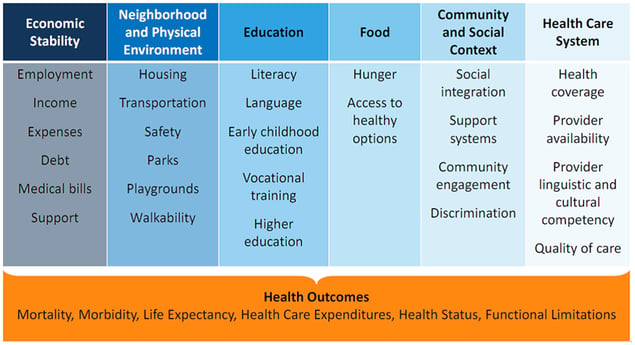 Image Source: Kaiser Family Foundation
MSWs in Hospice Telehealth:
As with home health services, MSWs play a critical role in end-of-life care including bereavement care, counseling, and advanced care planning. Particularly for hospice patients and their families, MSWs take on the role of mental health providers and patient advocates. Now more than ever, patients and families navigating the emotionally taxing end-of-life process need access to this essential advocate.
Connection is essential for MSWs in hospice care. The ability to offer comfort and support is unparalleled and grows increasingly difficult with social distancing restrictions. As with other providers, MSWs are leaning on virtual visits to provide the necessary comfort and care. However, unlike other care providers, the Center for Medicare and Medicaid Services (CMS) has been slow to remove the barriers to receiving reimbursement for hospice services during the COVID outbreak.
CMS has waived hospice regulations to allow for increased use of telehealth, including routine home care visits and face-to-face recertification. For MSWs specifically, CMS has agreed to allow hospice agencies to explore providing spiritual support and bereavement through virtual platforms by expanding the eligible provider list for telehealth services.
Hospice Telehealth & Reimbursement
During the COVID-19 pandemic, health care providers can bill Medicare for advance care planning services conducted via audio-only telehealth consultations on a temporary basis. The 1135 waiver allows for the use of audio-only telehealth services for evaluation and management, behavioral health counseling and educational services.

CMS reimbursement codes for hospice services provided through telehealth are outlined below:

99497 - Advance Care Planning, 30 minutes
99498 - Advance Care Planning, additional 30 minutes
G0459 - Telehealth Pharmacologic Management

Visit the CMS website, for a more extensive list of billing codes that apply to allowable telehealth services during the COVID pandemic.
References:
Vossel, Holly. "Social Workers Adapt to Hospice Care In a Pandemic." Hospice News, 15 May 2020, www.hospicenews.com/2020/05/15/social-workers-adapt-to-hospice-care-in-a-pandemic/.
Artiga, Samantha, and Elizabeth Hinton. "Beyond Health Care: The Role of Social Determinants in Promoting Health and Health Equity." KFF, 9 July 2019, www.kff.org/disparities-policy/issue-brief/beyond-health-care-the-role-of-social-determinants-in-promoting-health-and-health-equity/.