The past several months has forced not only our country, but the world, to reevaluate our preparedness to confront a global pandemic. During the first wave of COVID-19 the US was among many countries that came face-to-face with the shortcomings of their healthcare system. In the blink of an eye, stores closed, companies transitioned to remote work and healthcare providers had to quickly and dramatically shift how they functioned day-to-day.
Now, as half the country experiences a surge in cases and the other half prepares for a potential second wave, it's time to ask ourselves, "what can we change and how quickly can we change it?"
In states along the Northeast, initially hit hard by the virus, the recent decline in cases has given clinicians time to reflect and look forward. Clinicians in these states highlight the need to establish a proactive approach to extending care services – particularly to those most vulnerable populations.
At the onset of the COVID pandemic, the country experienced a boom in digital health. Healthcare providers across disciplines raced to implement telehealth and remote patient monitoring solutions, specifically virtual visits. As providers outline a proactive approach for confronting a second wave, what role will telehealth play?
Preparing for a Second Wave
Telemonitoring was and will continue to be an essential tool to address the COVID-19 pandemic. Digital health platforms such as telehealth and RPM enable providers to rapidly scale services to meet the needs of diverse patient populations. In the case of the COVID outbreak, telehealth and RPM has allowed clinicians to quickly deploy technology to screen, educate and monitor patients across urban and rural communities.
The rapid spread of COVID-19 presents a unique situation for healthcare providers. How can providers quickly, safely, seamlessly and cost effectively monitor COVID-patients, potential COVID patients and high-risk patients?
Telehealth platforms available directly on a patient's mobile device provide a solution with the ease of no strings (or wires) attached. It is one of the fastest ways to bring a substantial number of patients online to begin remote monitoring and care. In regions where COVID infection rates are hitting record numbers, and in regions where preparation for a second wave is already underway, a direct to mobile solution is an essential tool to enhance screening, monitor recovery and protect at-risk populations.
Mobile Devices to Manage COVID-19
At HRS we offer a PatientConnect Mobile application to deliver care directly to patients. PatientConnect Mobile not only allows patients to record their biometrics, but also access educational tools, answer daily health surveys and communicate directly with their clinical team via call, video or text. Clinicians can receive the same vital patient information with limited patient training and few enrollment requirements. Any patient with a smartphone or patient whose caregiver or family member has a smartphone is a candidate for PatientConnect Mobile.
Beginning in March, when the COVID pandemic hit the US in full force, HRS saw a significant shift in the use of PatientConnect Mobile, particularly from our partners located in high infection areas.
As COVID infections soared and providers shifted to a mobile solution, HRS launched a COVID-specific care plan to assist clinicians and their patients made available on all HRS platforms including PatientConnect Mobile. The care plan incorporates a COVID-specific algorithm to instruct clinicians in patient assessment and triage as well as COVID education daily symptom surveys, and a mental health questionnaire for patients to learn about COVID, understand how to protect themselves and to engage in their recovery. Bluetooth biometric devices such as temperature and oxygen monitoring are also playing an integral role in patient screening.
An array of biometric monitoring devices can be wirelessly paired to the patient's phone and used to record daily vital signs. Because of the flexibility granted by utilizing patients' personal devices, there is no minimum or maximum amount of time a patient can be monitored on PatientConnect Mobile.
PatientConnect Mobile Enrollments During the COVID-19 Pandemic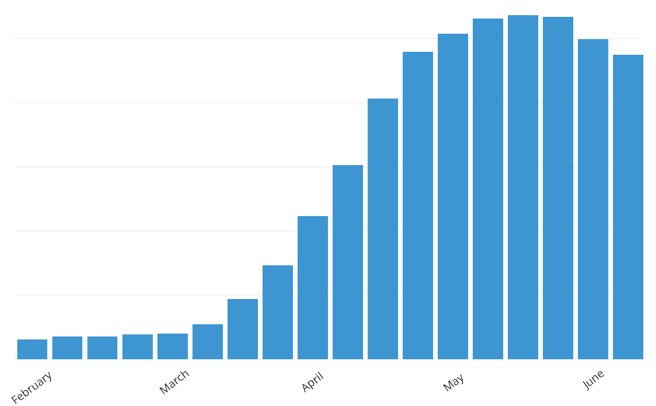 PatientConnect Mobile enrollment is simple and straightforward and ensures rapid program deployment. A unique one-time login code is generated from HRS' clinician portal, ClinicianConnect, and input by the patient once they have downloaded the app on their phone.
Key HRS partners in some of the hardest hit regions of the country enrolled hundreds of patients in the mobile app and trained their clinicians in the easy to navigate Clinician Connect platform. Scalable and easy to use, HRS Patient Connect Mobile is a game changer in the battle against COVID.
As COVID-19 remains at the forefront of our minds and continues to challenge our healthcare landscape, we must prepare solutions that are practical, accessible, logistically feasible and financially responsible. We must prepare with telehealth and remote patient monitoring.