Telehealth can play a critical role for both hospice patients and their caregivers as they navigate complex symptoms and medication regimens, difficult prognoses, geographical constraints and care plan confusion.
From making care more data-driven, to supporting symptom management, caregiver engagement, and providing peace of mind, the argument for incorporating telehealth into hospice is strong.
Let's explore 4 reasons you should incorporate telehealth into your hospice program:
Reason 1: Telehealth can assist with symptom management and medication adherence
Telehealth helps providers understand trends in the symptoms of their patients over time, as opposed to at a specific point in time. Through customized daily symptom surveys and medication reminders, patients are engaged in their health and quality of care is improved. The provider, on their side, is able to see any declines or exacerbations a patient experiences, allowing for timely intervention. Telehealth serves as a necessary tool in the provider's toolbox as they support their hospice patients, many of whom struggle with pain management and adherence to medications.
Through video visits, text messaging, and voice calls, the provider can check-in on their patient as needed, as opposed to only at the time of visit. The provider and caregiver can work together to ensure the care plan is adhered to. Telehealth allows for more continuous, proactive care.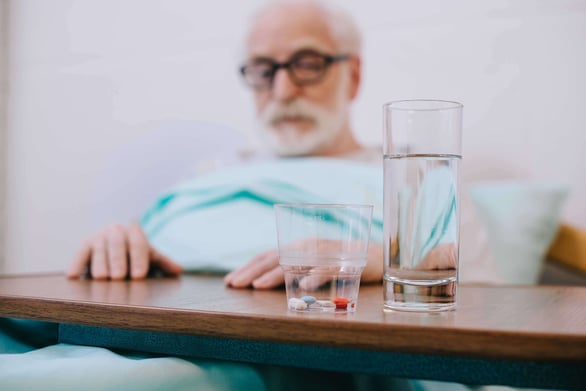 ---
While drastically expanding the number of patient populations enrolled in the telehealth program, NVNA and Hospice received average patient satisfaction scores over 93%.


---
Reason 2: Telehealth offers tools for caregiver engagement
For hospice patients, the caregiver (formal or not) is often an essential component of their care plan. With telehealth, the caregiver can receive the support they need from the provider team, while also helping the hospice patient adhere to their medications. Telehealth allows family members and other caregivers to attend opportunities for teaching, patient check-ins, and provider updates, helping them feel more on top of what is going on with the hospice patient.
Telehealth enables advanced care planning conversations and goals of care conversations to happen remotely—something that is a huge benefit to caregivers who can not travel to the office setting.
Reason 3: Telehealth supplies providers with data to inform decision making
Telehealth makes care delivery more data driven, which in turn, makes it more effective. When a provider can see what is happening with their patients in real time, every day, they're able to make more data-driven decisions. They're able to understand symptom trends overtime.
Telehealth helps reduce acute care re-hospitalization by helping the provider intervene with the patient before a hospital visit is necessary. This not only improves patient outcomes and satisfaction, it reduces total cost of care. In scenarios when the caregiver or patient is unsure about what to do, during a symptom exacerbation or when they have questions about a medication, they can use telehealth to contact the provider, as opposed to turning to a 9-11 call and an emergency room visit.
Reason 4: Telehealth provides peace of mind to the patient, provider, and caregiver
Knowing that the provider is just a phone call, text message, or virtual visit away provides peace of mind to the patient and caregiver. In addition to the added support, telehealth also provides peace of mind by increasing the patient's confidence in the management of their condition and care plan. It provides patients and their caregivers with reassurance that they are being taken care of.
---
Telehealth provides patients, caregivers, and providers with excellent tools:
For patients it provides resources for symptom management and provider communication, helping to improve care plan confidence,
For caregivers it improves condition understanding and peace of mind
For providers it allows for proactive, data-driven decision making that improves the outcomes of their patients
While telehealth does not replace in-person care in the hospice model, it does enable the provider to prioritize what can be done in person and what can be done remotely. This expands access to care, increases staff productivity, eliminates travel challenges, and optimizes hospice staff resources.