August 25, 2021
Note: To help our partners prepare for the upcoming changes to ClinicianConnect and the anticipated downtime, HRS delayed ClincianConnect Version 1.100 deployment and scheduled downtime until Wednesday, Sept. 1st at 9 PM (EDT). Our integration with Tableau continued on Wednesday, Aug. 25th, as originally scheduled.
ClinicianConnect features polished, more efficient clinician workflows and higher-quality patient services with the release of ClinicianConnect Version 1.100. Users benefit from the introduction of our billing interface function, while a multifaceted redesign of our PatientDirect Inventory page improves its layout and functionality. We continue to enhance your overall experience through bug fixes and performance improvements as well.
New Features: ClinicianConnect's Enhanced Billing Reports
ClinicianConnect's Enhanced Billing Reports and Video Call functions become more convenient with additional note capabilities.
Clinicians can now add notes directly from the video call screen via the new "Add Note" button. "Add Note" will appear after the call ends, as well as if the call goes unanswered or is denied.
Within the Note functionality, the "Time Spent" and "Communication Type" fields will automatically populate upon completion of a call. "Time Spent" is measured in hours, minutes, and seconds. "Communication Type" will auto-populate as Video.

Both fields will also populate in a note's free text section.

The Video Call Screen now features the most recent incoming call from, and outgoing call to, a patient.

The "Last incoming call" line includes date, time, and the call status (declined, missed, or complete). The "Last outgoing call" line includes date, time, the clinician that made the call, and the length of the conversation.

The Add/Edit Note screen now includes "Add Encounter Type" so clinicians can quickly and easily document patient interactions for billing purposes.

The new "Add Encounter Type" functionality is a single-select list that matches existing fields within the Add/Edit Notes modal.
"Encounter Type" auto-populates if a clinician edits a previously-submitted note.
Clinicians can select from these Encounter Types:

Equipment Set-up (RPM-99453)
Device Supply, Summary of services (RPM-99454)
Patient Communication (RPM-99457, RPM-99458)
Consult/establish care plan or care plan review (CCM-99487)
Extended consultation, establish/review care plan (CCM-99489)
Minimum 20 minutes of care plan review (CCM-99490)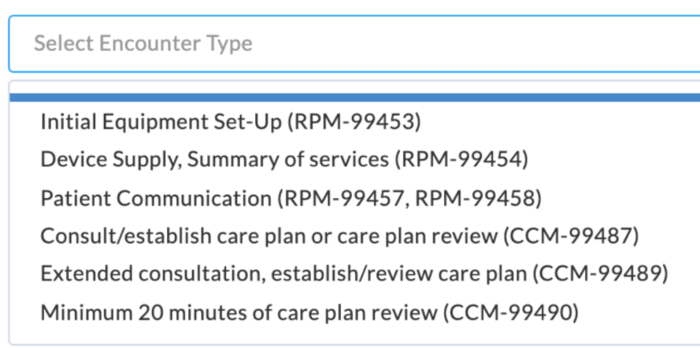 New Feature: PatientConnect Mobile Consent Form Reset
Clinicians now have the ability to reset a PatientConnect Mobile user's consent form status. This can be done through the ClinicianConnect "Reset Metrics" button.
If a clinician resets a patient's consent form, the PatientConnect Mobile app will prompt the patient to complete the form again.
Improvement: Tab-Based Redesign Of Inventory Page
ClinicianConnect users now see their Inventory page organized into two tabs:
The Tablet tab will only appear if a user has tablets enabled in their environment.
The Overview and Tablet tabs house all the information present in the previous layout.

The Overview tab displays cards for Total Tablets, Total Assigned Tablets, Total Unassigned Tables, and Active PC Mobile Licenses
The Tablet tab includes your Device Inventory table

Improvement: UI/UX Design and Functionality Within Inventory Page Tabs
The Overview tab is responsive and the cards stack vertically if a user reduces their window size, keeping information visible.
Refinement to the Tablet tab's column nomenclature, order, and functionality, in addition to added row striping, increases user understanding and readability.
Enhanced the Inventory page's CSV export functionality.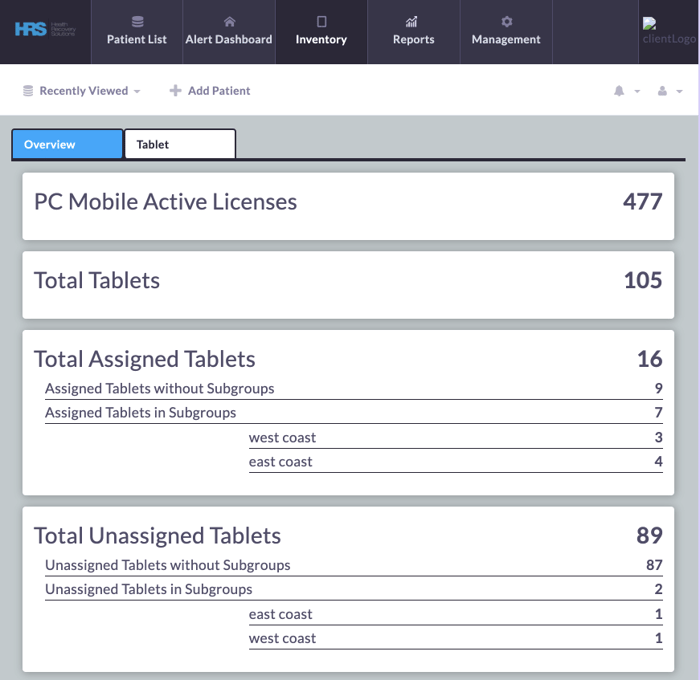 Improvement: Applying Overview Tab Filter Automatically Shows In Tablet Tab
If users select a filter on the Overview tab, it will automatically send the user to the Tablet tab and apply the filter to the Device Inventory.
Improvement: Filters Added To "Tablet" Tab
The Tablet tab now features extensive filter capabilities, based upon the tab's displayed columns.
The filters include Device, Assigned Patient, Device Subgroup, Activity, and Duration (0-7 days, 8-14 days, 15-30 days, 31-90 days, > 90 days).
Selecting a filter on the Overview tab applies that filter to the Tablet tab. Filters are structured to match column order and title.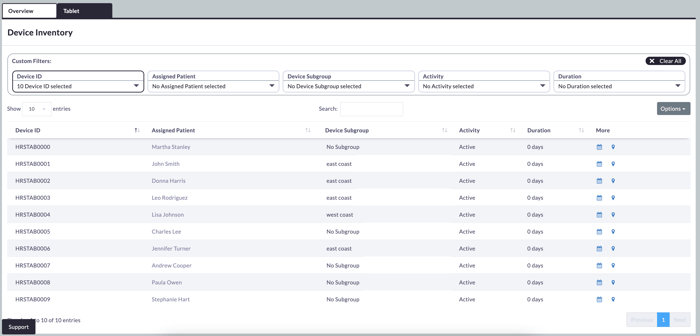 Improvement: Inventory Overview • "Maximum Licenses" Note
Users will now see their "Maximum Licenses" below their PC Mobile Active Licenses, if applicable for their organization.
Any organization with unlimited licenses will not see this text present.
Improvement: Dropdown Menu Multi-Selection Tool
When selecting multiple options within a filter, users will now see a "string" layout counting the number of selections rather than "pill boxes" doing so.

This selection tool refinement appears throughout ClinicianConnect on the following pages:

Add Patient
Add/Edit Clinician
Patient Settings
Reports Tab
Device Inventory Table (Tablet Tab)

Additionally, a search function now exists within a multi-selection dropdown menu if the list contains 10 or more options.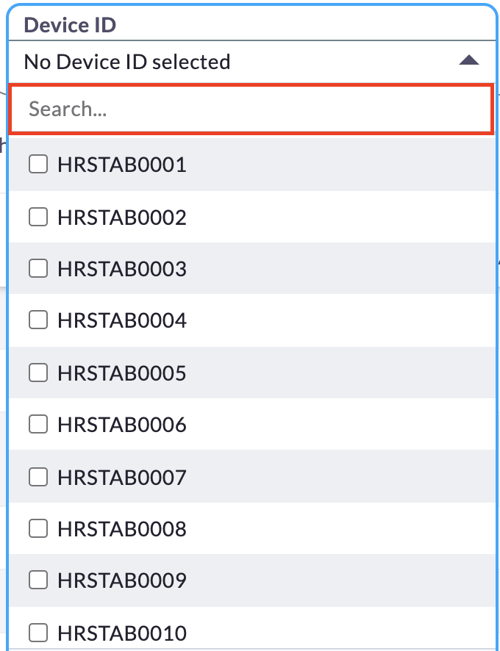 Improvement: Integration with Tableau
HRS is now partnered with Tableau, a visual analytics platform, for reporting.
Users see optimized reporting click paths as a result of this integration.
Population Reports and Patient Reports page parameters will now show Tableau's offerings.
Bug Fixes
Rectified minor issues impacting ClinicianConnect, PatientConnect Mobile, and PatientDirect, resulting in improvements to platform functionality and user experience.