Here is a situation that many of our telehealth partners face daily: a Medicare age patient is being discharged from telehealth. This patient has been using telehealth or remote patient monitoring for the past 60 days and has embraced and benefited from the program. The telehealth program has helped teach the patient about their disease, track their vital signs daily, and interact with clinicians and caregivers. Suddenly, after 60 days, the patient is not only losing their home health services, but also the technology that they have come to rely on to help manage their chronic condition.

A very common question that our partners receive from these patients and their caregivers – is there any way to keep the telehealth equipment?
The Need and Want for Continued Telehealth Access
Patients who have established relationships with their clinicians and developed healthy habits are often hesitant to give up the telehealth equipment as they transition off home health services. In many cases, patients no longer have a skilled need but may still require assistance in tracking their vital signs, or just the comfort of knowing that a clinician they trust is available at the click of a button. In other situations, caregivers or family members just want the peace of mind in knowing that a clinician is available to their loved one if needed.
What is a Private Pay Telehealth Program?
A private pay telehealth program is one solution to counter the dilemma above. With private pay telehealth, the patient, or patient's family, pays the provider organization directly to keep the telehealth equipment in the home. Through these programs, the patient continues to have access to their nurse or clinician, something they and their caregivers had come to rely on during the initial telehealth program.

While not every patient will have the financial resources to be paying out-of-pocket for telehealth services, private pay is a legitimate option when considering the cost of a nursing home ($7,148 – $8,121/month) or independent living facility ($1500-$10000/month).*
What are the Benefits of Establishing a Private Pay Program?
Private pay reimbursement dollars help to fund the telehealth program, allowing organizations to expand their telehealth program and maintain financial viability.

Private pay programs increase patient and caregiver satisfaction by allowing flexible options for patients to stay on service.

Through the monitoring of patient vital signs and physician communication, the provider organization will be able to easily get referrals to home health, palliative, hospice, or any other types of services a patient might require if a skilled need or other intervention is identified.

Private pay is a great marketing tool and key differentiator to help secure referrals and retain patients within the organization's network long term.
What is the CaregiverConnect App and why is it important for private pay?
CaregiverConnect is an application (downloadable on both Android and iOs) that allows family members, friends, or loved ones to connect directly with a patient on the private pay program.
With CaregiverConnect, caregivers and family members can follow along with the patients' care plan to see if they've completed their daily vital signs, and also communicate with the patient through the app via video call, text message, and voice call.
CaregiverConnect adds an extra layer of compliance to help encourage patients to take their vitals and engage in condition-specific education, while also providing a huge selling point for the family members and loved ones who often pay for the private pay service.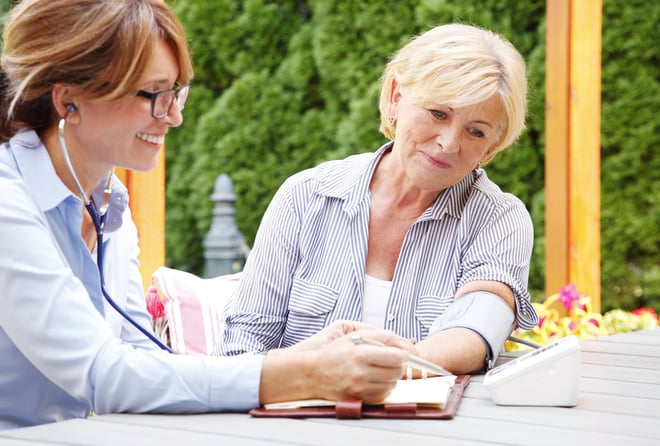 How Much Should I be Charging for a Private Pay Program?
This is an important question and will vary significantly depending on the organization and program structure. Factors to consider when pricing out a private pay model include:
The cost of the software. The cost of the private pay program will directly correlate with the price of the software. The more expensive the software, the more expensive the private pay program. For example, a program based around a mobile solution like HRS PatientConnect Mobile will have a lower cost than a program that uses the full PatientConnect Complete Kit with the tablet and peripheral devices.

A standard private pay program with HRS PatientConnect Complete and clinical monitoring typically costs between $200-300 per patient per month.

What services will be provided during the program? Will the patient have access to a telehealth nurse? Will they be receiving weekly or monthly video calls? Are there any in-person visits included? A simple, scalable way to approach this question is to treat private pay patients with the same level of care that a standard telehealth patient would. This makes the workflow easier on the telehealth clinician and allows them to provide the best possible care.

Is there a need to create multiple models for the program? Some organizations will do this for private pay programs, offering various software solutions and clinical offerings. With multiple models, patients and their families have a menu of options to select from as they enroll in private pay.
My Organization is On-board with Private Pay Telehealth. How do I Get Started?
1. Create a simple consent form to enroll patients in the program (HRS has sample consent forms available if needed).
2. Set up a billing structure.
First, make a final decision about the rates and options your program will be offering.

Then, meet with your billing department to ensure they can effectively bill and collect from the patient and/or family for these services.
3. Start your marketing efforts. Create a brochure that describes the offering and pricing (HRS has samples available and can help you make your own brochure).
Bring a copy of the brochure every time a patient is set up on telehealth to leave with the patient or their family

Distribute the brochures to local physician offices and other key locations. Add content to your website discussing the private pay program.

Make an announcement in your newsletter or other marketing materials to announce the program to the local community.
4. Secure Doctors' Orders
Once these patients request to be enrolled in the program, doctor's orders must be secured in order to enroll the patient on telehealth (assuming they are not receiving other services from your organization at this time).
Private Pay Telehealth Keeps Patients at Home
Following these simple steps will aid your organization in creating the beginnings of a robust private pay telehealth program. Patients can stay on this program for as long as they like, or until they get enrolled in other services from your organization.
Anne Carle, three-time Telehealth Honors winner and Clinical Coordinator at Cornerstone VNA in New Hampshire, has established her own private pay program that she offers to all her patients upon discharge from the hospital. "Doctor's love the idea that their patients will get extra care," Anne explained, "and patients love it for the security."
When asked what advice she would give to other organizations starting a private pay program, Anne stressed that while every agency is different, the most important piece to being successful is putting the patient first and giving your private-pay patients the same amount of time as any other patient.
As healthcare continues to head towards home-based delivery, more and more families will expect and want feasible options to remain at home, comfortable and safe for as long as possible. Private pay telehealth provides patients with the ability to stay connected with their clinicians and receive quality health care, while also helping healthcare organizations offer low-cost alternatives to expensive facilities like nursing homes, or independent living facilities.
*Cost of care determined by Genworth's 2018 Cost of Care Survey